This post may contains affiliate links for your convenience. If you make a purchase after clicking a link we may earn a small commission but it won't cost you a penny more! Read our full disclosure policy here.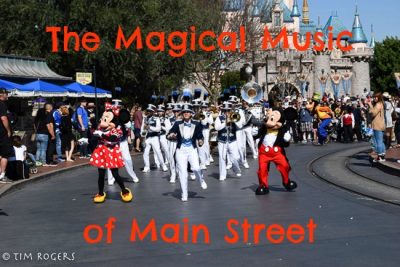 For Disney fans, it is a phrase almost as evocative as any other – Main Street, U.S.A. This first of the "lands" in many Disney parks, Main Street serves as a conduit, not just physically but emotionally. The sites, smells, and overall experience help transport any visitor into the magic that is their day at a Disney park.
One of the things I like most about Main Street is the entertainment, so as I made my way West to see the original Main Street in Disneyland, I knew I wanted to experience as many of the live performers as possible.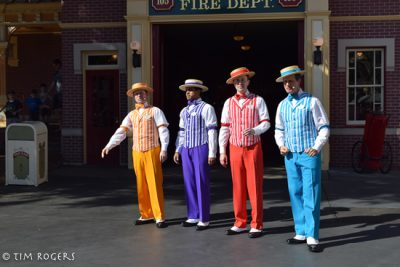 Of course, any conversation about Main Street entertainment has to start with the Dapper Dans. Having performed in Disneyland since 1959, they are one of the oldest continuing running attractions in a Disney park. And they have a dedicated following (as I write this, I am wearing my "Main Street Barbershop Quartet" shirt from this year's March Magic contest).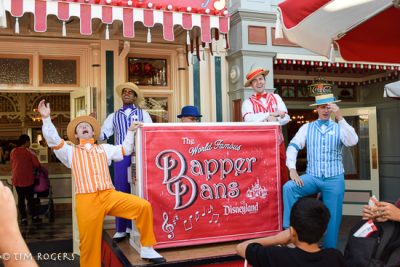 For the most part, their performances will be incredibly familiar to those who have seen the Dapper Dans in Orlando, including close harmonies, bad puns, and Deagan organ chimes. One of the most notable differences to me was a collaborative performance they did with another Main Street entertainer, the Main Street Piano Player. While Disney World also has pianists outside of Casey's Corner, I was happy to see the variety of the Dans and pianist performing together.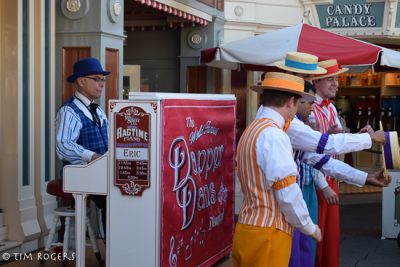 One of the other groups we enjoyed on Main Street was the Strawhatters. This was a small Dixieland-style group that was a lot of fun. Keep your eyes open to fulfill all your banjo needs.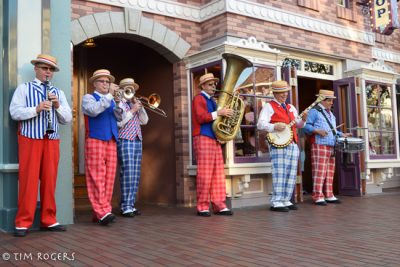 Of course, one thing Disney does well is a spectacle, and the last performing group I want to mention definitely handles that role well. The Disneyland Band is a full marching band that performs all around the Disneyland park, but mainly on Main Street.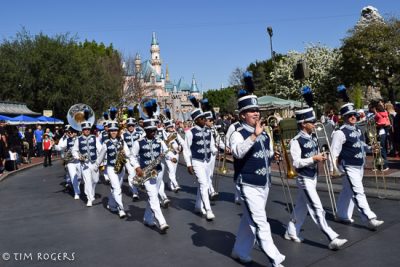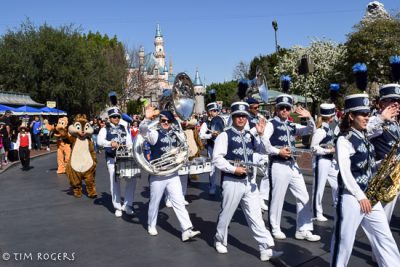 While we were there, they had two types of performances, and while a marching band is itself hard to miss, they also made announcements letting you know when a performance was about to begin. However, if you are wanting to catch a show just keep your eyes open around start time because they can appear from several different directions.
Up to $75 Disney Gift Card!
Deal
Book a Disneyland package of $1500* or more and receive a $25 Disney gift card. Packages of $3000 or more receive a $50 Disney gift card. Packages of $5000 or more receive a $75 Disney gift card. Gift cards are accepted at many Disneyland Resort locations and can be used to pay for shopping, dining, and so much more. We are sure you will find a way to put this to good use!   Read More
More
Less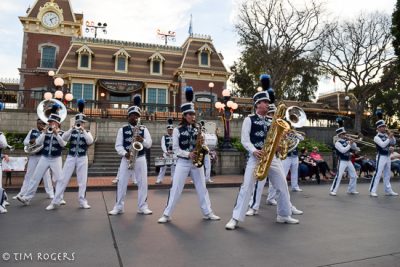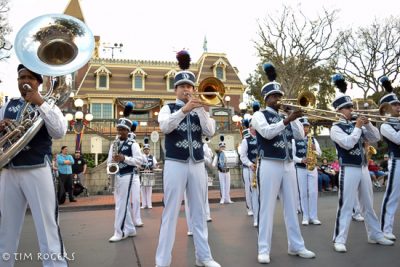 One of the sets was a pretty standard set of music inspired by Disney, including movie themes, attraction music, and more. The second set involved a dancing parade down Main Street with the Fab 5, and lots of dancing. While the Main Street Philharmonic in the Magic Kingdom is also great, and not to be missed, the Disneyland Band is a much larger group, complete with an array of saxophones.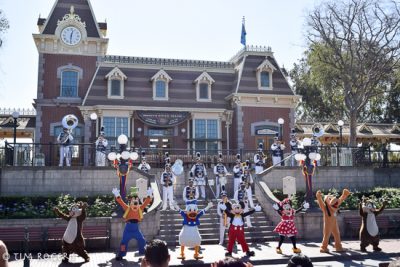 So, as might be obvious, I'm a music nerd and enjoy pretty much any live performance I can find. But even with that said, I think every visitor to a Disney park, and specifically Disneyland, should make an effort to see some of these performers. The quality is great, the performances are engaging and exciting, and it really just adds to the atmosphere of your day.
Which is your favorite performance group on Main Street U.S.A. at Disneyland? Share why in the comments.
Did you like this article? Make sure to share it with your friends! Check below for easy ways to share!