This post may contains affiliate links for your convenience. If you make a purchase after clicking a link we may earn a small commission but it won't cost you a penny more! Read our full disclosure policy here.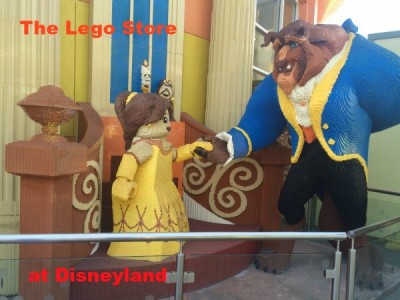 Lego sculpture of Beauty and the Beast
Let's face it: a Disneyland trip is not cheap. After you factor in transportation, hotels, park tickets, meals and maybe a little extra for souvenirs, you're looking at a lot of money.
One of the ways to stretch that vacation budget is to schedule some days when you're not in the parks. Luckily, Downtown Disneyland is located just steps from all the three Disney owned and operated hotels, and also the two theme parks. In fact, it's also comfortable walking distance from some of the off property hotels as well!
At this point you might be thinking, "Okay, so we spend a day at Downtown Disney. It's all shops, restaurants, and movie theaters! We'll be reaching for our wallets again!"
While it's true that there are plenty of ways to spend money here, there are a couple of ways to spend time that won't break the bank. One way is to stop in at the Lego Store.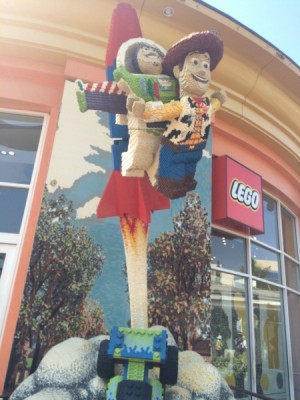 Buzz and Woody welcome you to the Lego Store!
The Lego Store typically opens at 10:00 a.m. and closes at 10:00 p.m. It's hard to miss: just look along the rooptops of the buildings until you find some larger than life Lego creations!
To the left of the main entrance, under some shade, you'll find a fun set up for kids. Bins of Legos sit next to two descending ramps. Kids are invited to come over, build a Lego car, and then race it down those ramps. And there's no charge for any of this.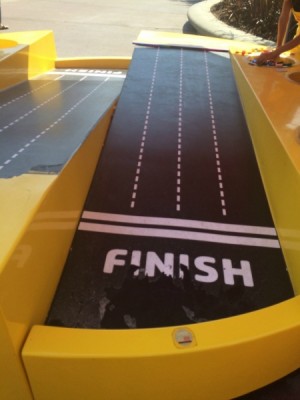 Ladies and gentlemen, start your engines!
Nearby, some tables topped with Lego boards are surrounded by bins. Here, kids can build anything they'd like to, again free of charge. A Cast Member is nearby in case kids get frustrated or need assistance.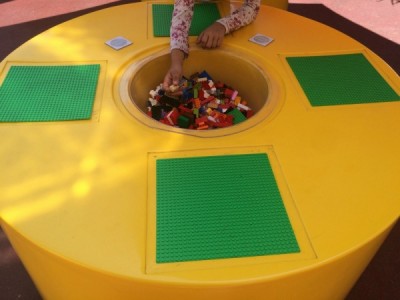 Kids can build to their heart's content
Once inside the blessedly air conditioned store, you're greeted by even more huge Lego sculptures. When we arrived, we found The Incredible Hulk, a character from the Lego Friends series, Jasmine and Aladdin on their magic carpet, and a friendly looking dragon guarding an entire wall of loose Lego bricks in every shape and color imaginable.
If you have tiny tykes in tow, be sure to guide them to the Duplo area. Here, boards and pieces are available for small kids to build things from the larger, more toddler friendly blocks. And once again, there is no fee to let your kids build!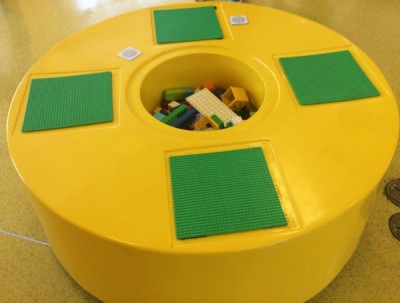 The Duplo building station for younger kids
This is, of course, a store, and you're going to find a whole lot of Lego sets for purchase, including the aforementioned Duplo sets for younger kids. We had a blast browsing the sets. Some of them were only identifiable by the photos on the front of their boxes. But others, like this beauty, were set up behind glass so that we could see what it looked like when it was completed.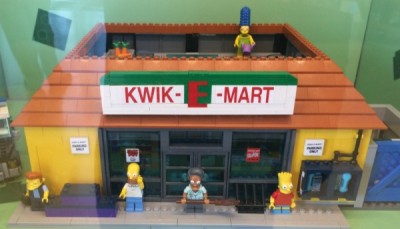 D'oh!
So, if you're enjoying a day off from the parks, or you simply want to escape the parks in the middle of the day for a little break, a stop in the Lego Store can be a fun – and surprisingly inexpensive – diversion.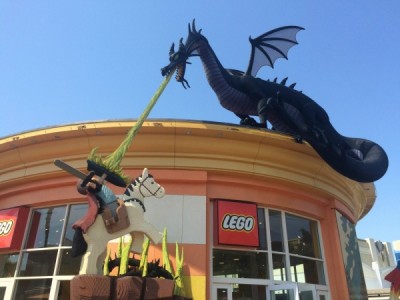 Farewell until next time, Lego Store!
Have you ever visited the Lego Store at Disneyland? What is your favorite part? Share in the comments.
Incoming search terms:
https://www themouseforless com/blog_world/the-lego-store-at-downtown-disneyland/