This post may contains affiliate links for your convenience. If you make a purchase after clicking a link we may earn a small commission but it won't cost you a penny more! Read our full disclosure policy here.
By Erica Colmenares
Photos By Tammy Norman
"Mom, when are we gonna get there?"
Have you ever heard that on a road trip before? What parent hasn't? Multiply that question by 100 if your road-trip destination is Walt Disney World. But if your route takes you down I-75, take a final rest stop that will provide that needed Disney Magic before you drive your final 90 miles- the Disney Information Center.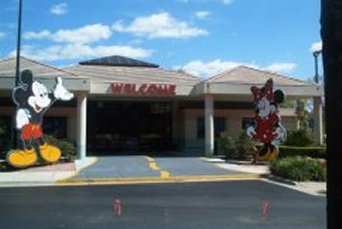 You can't miss it, either. There are plenty of signs on I-75, ensuring you don't pass your turn-off. Take Ocala exit 350 (old 68) and ta-dah! The Disney Information Center awaits! Open since 1987, this is Disney's first (and only) travel reservation center. It's a perfect place to stretch your legs, talk to a genuine Disney Cast Member, maybe buy a souvenir, make a hotel reservation, or see a WDW promo movie. You may even see a hidden Mickey!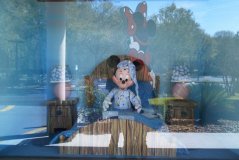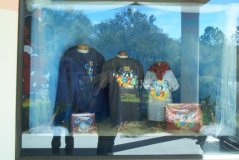 The Disney Information Center has giant two-dimensional images of Mickey and Minnie as you enter; pose here for the first Disney photos of your trip. The building's windows are decorated with characters, mingled with merchandise much as they would be on Main Street in Magic Kingdom. A painted "road" leads through the entrance doors to an interior that is as well-maintained and whimsical as the exterior. There are character cut-outs- practice getting your pictures taken with them! Or "drive" a "car" down the "road" to Guest Services.
The small theater has continuous showings of the "Top Seven Things to Do at Walt Disney World," the same promo they play 'round the clock on TV in the WDW resorts. Watch your hostess, Krissa, do Summit Plummet and search for Goofy in all the parks. This movie will give you an entertaining general overview of Walt Disney World, and provide a nice break in a cool, air-conditioned place. Kind of like the Hall of Presidents at Magic Kingdom! The show repeats every thirty minutes.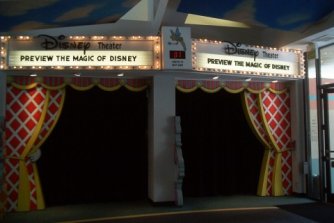 Then there's the gift shop. This is a Disney establishment, after all. The prices aren't any cheaper than at Walt Disney World, but it's still fun to wander around. This might be a convenient place to buy matching Disney tees for the family, or get that Disney plush your niece wants you to bring back for her. If you are on your way home from Disney and forgot a gift for someone, here's your last chance to get something and say, truthfully, "I got this for you in Florida." If you own Birnbaum's Walt Disney World 2005, it includes a coupon for a free "Disney Souvenir" when you present it at the Ocala Disney Information Center (12/31/2005 expiration).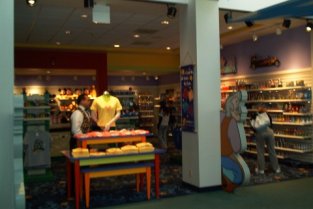 Guest Services is at the end of the "road," and offers assistance with tickets, reservations, dining, and information. You can get guide maps for the theme parks and waterparks, make on-site hotel reservations, and the cast members will help you with all of your priority seating arrangements. Park tickets are for sale, but don't expect any bargains- tickets here go for gate prices! Several years ago, you could find deeply-discounted rooms at the Disney Information Center, but now the only discounts offered are to AAA, Florida residents, and Annual Passholders, the same ones booked by calling 1-407-WDISNEY or through Disney-specialty travel agents.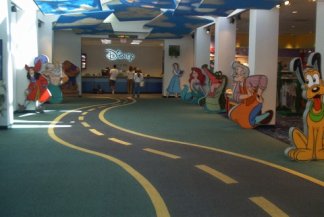 Before you leave, don't forget to take advantage of another good photo-op: the cut-outs from Mission Space and Stitch. And use the restrooms- they're spacious and CLEAN! And are you wondering where that Hidden Mickey is hiding? Look up! He's in the clouds, specifically in the painted clouds of the seventh blue and white ceiling panel on the left as you enter the building.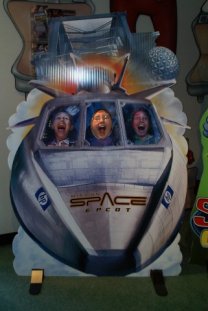 The Disney Information Center is open from 9 AM to 6 PM daily, with somewhat extended hours during the summer months. Call (352) 854-0770 to confirm.
Magically Speaking Featured Article
Library of Congress ISSN:1556-3863