This post may contains affiliate links for your convenience. If you make a purchase after clicking a link we may earn a small commission but it won't cost you a penny more! Read our full disclosure policy here.
It's well known in my family that my brother and I are "park people". Not necessarily limited to Disney, but parks in general. He and I live for the thrill rides and glorious fried delicacies that only theme parks can do just right. Somehow we got this gene when our parents are decidedly different. When I think back, I realize that I never appreciated that as well as I could have. Our parents would take us all, spend the day hoofing it through whichever park was nearby our chosen vacation destination all the while, they never would have chosen to do so without my brother and I and our insatiable need to explore another theme park. Our family's first visit to a Disney Park was no exception.
We loaded up Griswald style in the 4-wheel drive sleigh for a Christmas vacation road trip from Arkansas down Route 66. I was 18 and my brother was 10. The ultimate destination was Las Vegas, where we landed a few days later. My brother and I always loved perusing the massive stands of brochures and in doing so, there it was, shining like a beacon: A brochure for Disneyland. Here? In Vegas? Why? Turns out, it was less than 5 hours away by car. What!? Much to my surprise, our parents said we could go!
Before I knew it, we were on our way to Anaheim. We stayed in a motel that was walking distance to the Disneyland entrance. The next day we had a quick breakfast and headed over. This was before the days of smartphones. I didn't even have a laptop. We went in completely blind. We joined the masses waiting to buy tickets then funneled inside, no clue what to expect.
The first ride we came upon was the Astro Orbitor so we jumped in line. We waited maybe 15 minutes to ride in our shared rocket. It didn't matter. We were at Disneyland. We were inside a place I'd only ever dreamed of visiting but never really thought I would. We'd made it. Let's do it all!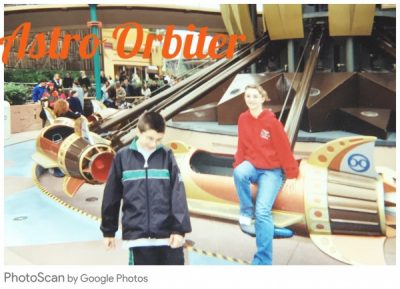 Being that it was still the holiday season, the park had seasonal touches. Especially important was that we were there on New Year's Eve, not by plan but a happy accident. Our family went to see a stage show next. Our mom has always been a master of snacks and somehow she knew that popcorn and real Mickey bars were just what we all needed while we enjoyed the show. Then, as the show reached its end, it snowed. Disney snow, but SNOW! I hadn't a clue that Disney snow even existed until that moment.
From there, we ventured over to a Disney classic that a first-timer couldn't miss: Mad Tea Party. The teacups, you guys! I remember noticing a crowd forming when we were getting on the ride. I had no clue that a parade was about to start. As we were spinning away, here it came. Our mom snapped a photo of my brother and me that will always be my favorite. The magic just kept coming.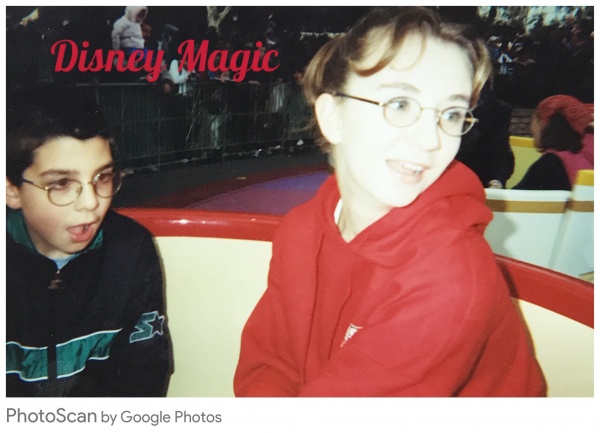 At some point, our parents went to do their own thing. My brother and I kept going strong. We rode everything we could, braved the crowds that grew thicker and heavier as we inched closer to midnight. Finally, he and I decided to try to make our way to the front of the park. We were against the current of people who were trying to get closer to the castle for the midnight firework show but finally, we made it back to Main Street. Waiting there, unknown to us, were our parents. They'd come for the fireworks! We stood together and watched them as a family before cruising the gift shop and walking back to our motel.
Once in bed after the day was over, I remember thinking that nothing could top today. We went nonstop to the very end. We were nowhere close to seeing everything Disneyland had to offer, but it didn't matter. We'd been bathed in magic.
These days, my dad jokingly say in response to my Disney-itis, "You've got a sickness!" The truth is, I've always had it. I hope I always do.
Considering taking your own trip to Disneyland? Check out what's new for Disneyland in 2019!
Did you like this article? Make sure to share it with your friends! Check below for easy ways to share!
Want to visit Disneyland? Contact The Magic for Less Travel for more information and a free, no-obligation quote.