This post may contains affiliate links for your convenience. If you make a purchase after clicking a link we may earn a small commission but it won't cost you a penny more! Read our full disclosure policy here.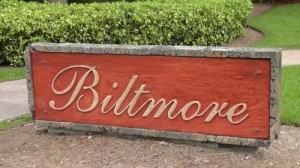 With the Disney Cruise Line now offering cruises from the Port of Miami, you might be wondering where to stay or what to do if you find yourself wanting to add a pre- or post- stay.  We had an opportunity to stay at the Historic Biltmore Hotel and Resort recently and found it to be an amazing place.
Just 20 minutes from the port of Miami, this historic hotel has quite a past but sits comfortably in the present with modern amenities like WiFi service and luxury accommodations.  The service is absolutely amazing whether you are at the front desk, in one of the restaurants or out by the pool.
Opened in 1926, it was a destination during a period when the area of Coral Gables was being built as "an elegant and stately suburb" by George Merrick.  You can read more about the hotel's varied past, including a period as a wartime hospital, at http://www.biltmorehotel.com/resort/history.php.
We were impressed from the moment we pulled up in front of the hotel and a doorman opened the car door for us.  The façade of the hotel is currently being restored and yet is still remarkably impressive.  You instantly feel as if you've walked back in time when you enter the lobby.  We arrived at about 3pm and a lovely woman was handing out cold glasses of water with lemon slices as we waited in line to check-in to our room.  In the center of the lobby were two bird cages easily 6.5 to 7 ft. tall with pretty little finches and other small birds singing sweetly.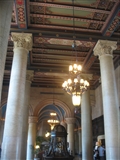 We had the opportunity to stay in a king bed suite while our teenage girls were in a two queen bed suite.  This is not something we normally do but was a wonderful treat and the fact that the suites were connecting meant that we could easily supervise when necessary.  Because of a daily service charge that is charged to the room, bell services were included and our bags were brought up to our rooms promptly.  When my husband attempted to give him an additional gratuity, he politely refused and explained the hotel's policies.  I recommend that you check each receipt carefully too to make sure that a gratuity has already been included since many Americans are used to gratuities being separate.  We found it to be automatic in most circumstances which made purchases in the restaurants and by the pool very easy.
We ate breakfast at the Fontana restaurant on both mornings and after my older daughter ordered the steak and egg breakfast, it was ordered again the next day by three of us because she declared it so tasty.  They also have a breakfast buffet which has many continental breakfast items but can also be expanded to include their omelet station.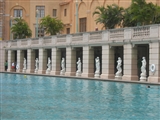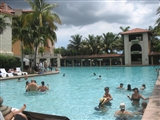 Besides the lovely hotel accommodations, this resort boasts the largest hotel pool in the United States.  Not just large, it's beautiful.  My daughters and I spent the day by the pool while my husband was out at a business meeting.  There are servers available for pool side drinks and light dining options.  One of my daughters ordered a grilled chicken Caesar crepe which she enjoyed.  My Mojito was absolutely delicious and my younger daughter and I shared a lobster salad sandwich and a slice of key lime pie at the pool side café which was lovely.  The kitchen staff graciously prepared us each a plate for our lunch which was served to our table instead of us having share one plate as we'd planned.  The entire time we were there, we felt pampered and treated like royalty.  There are other hotel amenities like golf and we noticed several couples there for wedding receptions and photos.
It was a special treat for us and we would definitely consider staying there again if we were vacationing in the Miami area again.
Incoming search terms:
https://www themouseforless com/blog_world/the-historic-biltmore-hotel-resort-a-great-option-for-pre-or-post-port-of-miami-cruise-stay/