This post may contains affiliate links for your convenience. If you make a purchase after clicking a link we may earn a small commission but it won't cost you a penny more! Read our full disclosure policy here.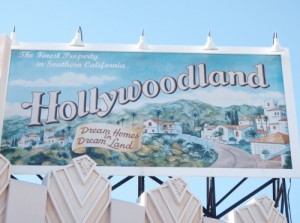 I'm moving in. ; )
I think we all want look for ways to carry the magic of our Disney trips over into our every day lives at home, or to find a way to get ourselves excited for an upcoming trip.  I like to research and learn more about the history of Disney as well as the attractions – sometimes it's a lot of technical information and other times it's a lot of fun.  The Great Movie Ride is one of the fun ones.  What better way to add to the anticipation of your trip then watching some or all of the movies you'll see in the attraction?
I've compiled a list of movies from the ride, as well as from the finale, including some that used to be in the finale.  Of course, not all of the movies are appropriate for everyone in your family – I have to admit there are a few I won't be watching but Chris and I are having fun crossing off the ones we've seen!
Movies from the Ride:
Footlight Parade
Singin' in the Rain
Mary Poppins
The Public Enemy
The Searchers
Alien
Raiders of the Lost Ark
Tarzan the Ape Man
Casablanca
Fantasia
The Wizard of Oz
Movies from the Finale:
The Cure
The Rink
Behind the Screen
The Great Train Robbery
The Birth of a Nation
The Kiss
Wings
The Jazz Singer
Show Boat
42nd Street
Dirty Dancing
Yankee Doodle Dandy
Grease
Jailhouse Rock
Sister Act
Chicago
Babes in Arms
Cabin in the Sky
Mary Poppins
Snow White and the Seven Dwarves
Anchors Aweigh
Airplane!
Saturday Night Fever
Cops
Take the Money and Run
Down and Out in Beverly Hills
The Three Stooges
Blazing Saddles
Arthur
Bright Eyes
A Night at the Opera
Three Men and a Baby
Broadcast News
Arsenic and Old Lace
Beverly Hills Cop
Trading Places
The Godfather
The Godfather Part II
Taxi Driver
Shanghai Knights
True Grit
French Connection
Pirates of the Caribbean: The Curse of the Black Pearl
North by Northwest
Raiders of the Lost Ark
San Francisco
Butch Cassidy and the Sundance Kid
Never Say Never Again
The Terminator
Rambo: First Blood Part II
Alien
A Nightmare on Elm Street
King Kong
Young Frankenstein
The Wizard of Oz
The Chronicles of Narnia: The Lion, The Witch, and the Wardrobe
2001: A Space Odyssey
Star Trek II: The Wrath of Khan
Fantasia
Top Gun
The Absent-Minded Professor
Platoon
The Karate Kid
The Bridge on the River Kwai
Amadeus
Chariots of Fire
10
Tootsie
Funny Girl
Giant
Pal Joey
The Public Enemy
Adam's Rib
Gone with the Wind
From Here to Eternity
Shakespeare in Love
Pearl Harbor
Wuthering Heights
Notorious
The Way We Were
Lady and the Tramp
Who Framed Roger Rabbit
Grand Hotel
Queen Christina
A Place in the Sun
Stagecoach
Sunset Boulevard
The Grapes of Wrath
Gentlemen Prefer Blondes
Casablanca
A Streetcar Named Desire
Klute
Roman Holiday
Gilda
Hud
Good Morning, Vietnam
Apocalypse Now
All About Eve
Lawrence of Arabia
Armageddon
Finding Nemo
Thelma and Louise
High Noon
Unforgiven
Honey, I Shrunk the Kids
Lassie Come Home
Patton
Malcolm X
Forrest Gump
It's a Wonderful Life
The Sound of Music
The Ten Commandments
Ben-Hur
Star Wars Episode IV: A New Hope
Swing Time
Singin' in the Rain
The Band Wagon
The Three Musketeers
The Adventures of Robin Hood
Cocoon
Independence Day
Star Wars Episode VI: Return of the Jedi
Fatal Attraction
The Seven Year Itch
Big
Million Dollar Mermaid
Aladdin
The Lion King
An American in Paris
It Happened One Night
High Society
Crocodile Dundee
Terms of Endearment

So, how many have you seen?   ; )