This post may contains affiliate links for your convenience. If you make a purchase after clicking a link we may earn a small commission but it won't cost you a penny more! Read our full disclosure policy here.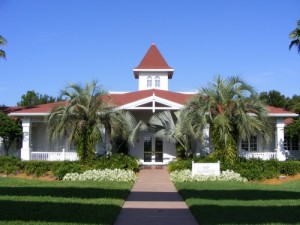 As I was sitting in the dentist's chair this morning, I was desperately trying to find my "happy place."  Of course my happy place is at Disney, as I'm sure yours is, if you're reading this.  Where did I find myself today?  Great question – the Grand Floridian Spa!
For my birthday last year, my wonderful husband decided he was going to give me a massage at my choice of locations at Disney.  Since we were staying at the Polynesian, I figured I'd stick close to home and went with the Spa at the Grand Floridian.  I decided that I'd go with a 50 minute massage and booked a late morning appointment, so basically all I had to do was roll out of bed, fall into some clothing and wander the short distance over to the Spa.
Chris walked me over and got me checked in at the front desk and then I left him behind to enter the wonderful world of serenity.  After checking in, I was escorted back to the locker room, and taken on a brief tour of the area.  The locker room houses a resting area where you can sit and relax with some fruit or tea, another room with a sauna, steam room and whirlpool, a separate locker and dressing area, and then a room with showers.  I was given a locker, a robe and some slippers and left to change and relax until it was time for my treatment.
I changed and then settled down with some tea and just soaked up the atmosphere while waiting.  I like to get to the spa a few minutes early just so that I have some time to stop and breathe; kind of make a conscious break and try to start relaxing before I enter my treatment room.  It's just the way my mind works – I feel like I need to make it shift gears and it helps me make the most of my treatment.
In just a few moments, it seemed, it was time for my treatment and I was taken through the dark, quiet hallways to a treatment room.  My therapist introduced herself, and we went over the standard details.  Before any treatment the therapist will ask some questions about you, what you hope to get out of the treatment, and if there are any issues that they need to be aware of – are there any injuries, etc.  Luckily I wasn't sunburned, which was something I'd been afraid of.  I explained the areas that I tend to hold the most tension and the sort of pressure that I like.  (I like to consider myself a spa junkie, so if this is your first time, don't be afraid, let the therapist know, and always speak up if the pressure is too light or too firm)
Then the therapist explained that they had a new massage option that they could do, and that she was one of the few therapists who is trained in that particular technique, and she offered to upgrade my scheduled massage to the new technique.  Remember that spa junkie thing?  I asked a little more about it, and I learned that it was an Aurum Manus Massage and that it was similar to a hot stone massage.  I like those, and hey, it WAS my birthday, so I was sold!  She excused herself while I got settled, and she came back in to start the massage.
With a hot stone massage, the technique is fairly self explanatory; the therapist uses smooth, flat stones that have been heated as part of the massage.  They can use them to press into the muscles, to glide over to help warm them up, or just rest them in certain places to help loosen the muscles before they begin to work on that spot.  The Aurum Manus massage is similar in that it has implements that are used to work the muscles.  The implements are semi-precious stone spheres, and they are used both heated and cooled.  This allows the massage to have almost a whole other dimension to it as they can work more fully because they aren't limited in the motion of the implement.  With a stone, if you're using one side of it to work a muscle, you have to hold the stone in place while you work the muscle.  With the sphere, you can roll it and vary the pressure while it is rolled – and the difference is incredible.  When they are able to quickly follow the heated sphere with a cooled sphere, it's just amazing.
I had a wonderful treatment, and was sad when it ended.  I really wished that I had booked the 80 minute one, and that I could take my therapist home with me, to live in my spare room, along with Tim Gunn (I know, it's weird, but I just feel like he'd always offer good advice if he was there).
After excusing herself so I could re-dress, the therapist brought me back to the lounge area, where I rested for a bit and finished my water.  It is always important to make sure you drink lots of water after a massage.  I then hit the showers where I discovered another gem – the signature products from the Grand Floridian Spa.  They have a yummy Ruby Red Grapefruit scent to them.  I washed and lotioned every inch of me with them so I could extend my experience, and then slowly got re-dressed, to head back into the outside world.
There, I found Chris waiting for me where he had already paid for my treatment.  If you decide to give the spa a try, remember that they do offer an Annual Pass discount.  If you do not have an Annual Pass, there are often coupons on the Spa website, and there are discounts included in most of the Walt Disney World Packages.  Just ask your Travel Agent.