This post may contains affiliate links for your convenience. If you make a purchase after clicking a link we may earn a small commission but it won't cost you a penny more! Read our full disclosure policy here.
By Kate Abbott
Anniversary trip to the Grand Californian: check.
Spa gift certificate: check.
Big baby and aching back: double check.
It's time to go to the spa!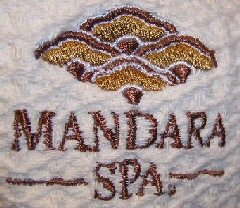 The timing was perfect: on our anniversary stay at the lovely Grand Californian, my husband and baby were going to spend the morning cruising around the theme park just outside our door while I would make my first visit to the new-to-me Mandara Spa at the Grand Californian. The timing was perfect, except for one thing: the Grand's housekeeping staff is too attentive. We didn't realize that they'd set our clocks to daylight savings time for us — and I showed up at my massage appointment an hour early!
But I could relax: the staff at the Mandara Spa would take care of me, starting by getting me in for my treatment within moments, despite my very early arrival. But first I got a tour of the spa.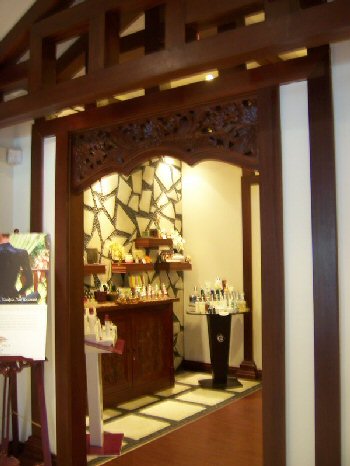 Entrance to the spa.
I haven't been to many spas (OK, I've been to only one other spa), but I was still impressed. The Mandara Spa doesn't seem large to me, but it makes up for its size in lovely design and details, blending the Grand Californian's Arts and Crafts style with its own Balinese influences. This results in lots of gorgeous woodwork and stone, and even if the staff hadn't been able to take me back for my treatment until my appointment in an hour, I still could have happily passed the time in the waiting room. It offered addictive granola snack mix, fresh fruit, teas, and icy cucumber-infused water, all displayed temptingly.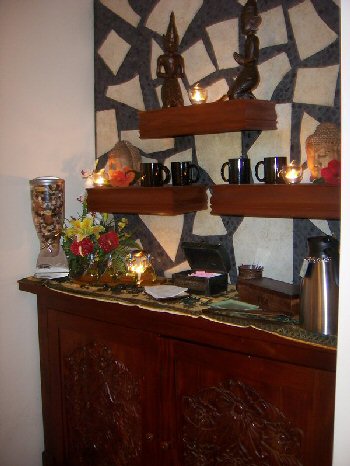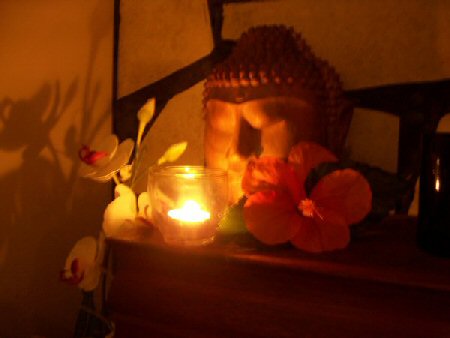 Snack mix, teas, candles, and essential oil fragrances — I wish every waiting room were like this!
On my spa tour, I saw a handful of beautiful, welcoming treatment rooms, a nail pavilion, and a locker room containing a sauna and steam room. I changed into my Mandara robe and sandals in the locker room, and saw only one other client in the waiting room. We exchanged conspiratorial smiles and she leaned over and whispered, "I can't believe this place is at Disneyland!" I had to admit, while drinking my cucumber water and leaning against silk pillows, I wasn't missing standing in line for a ride.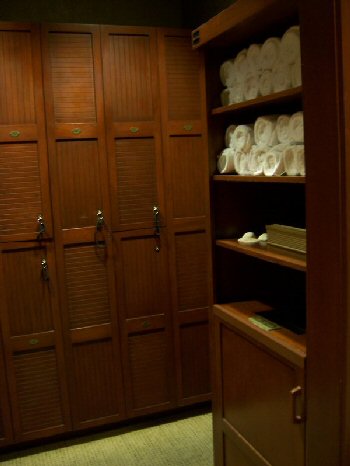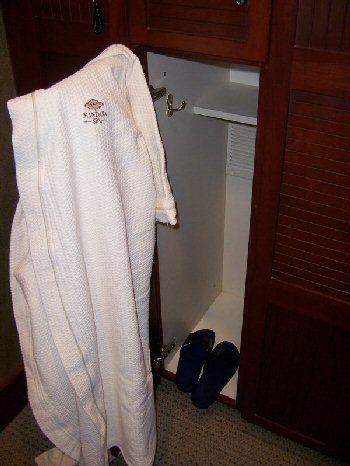 The locker room and bathroom area seemed a bit small, but since I was the only person in sight, it was perfect for me!
A little too soon, it was time for my appointment. I went for the Swedish massage, and my back thanked me. The treatment room was gorgeous and comfortable, with candlelight and my choice of fragrances that would be used both for my massage and for the bowl of water that would be placed underneath the massage table (and containing an enormous flower that would give me a nice view!). I contentedly sampled all the fragrances, and finally decided on either Harmony or Tranquility (I can't remember which one I chose — they both seemed like good options to me!). The masseuse was friendly and made sure I was comfortable. She even asked me about the room temperature throughout the treatment.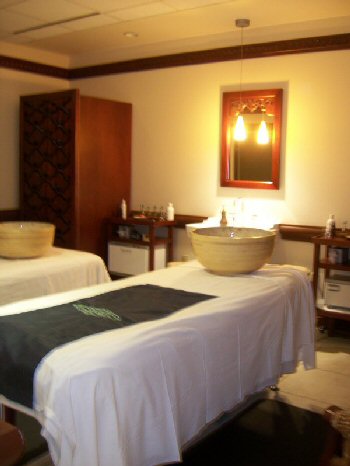 A peek at the couples' treatment room.
The massage was wonderful; even at 50 minutes, it felt like it flew by. It was the perfect remedy to carrying a baby all day, and after walking many miles through the park. My back and feet were especially overjoyed with getting so much attention after a long day at the parks the day before!
In the treatment room, I asked about a flier I'd seen in the waiting area: treatments for less money, offered only Monday through Thursday on this particular week. The masseuse explained that they didn't come with the fun little luxuries like fragrance, and weren't available for very many treatments. It didn't work out for me because I had my spa time on the weekend, but it seemed like a great deal! I wish I'd known about it sooner and might have scheduled our time differently. This would be a great option if you're visiting during the week during a potentially slow time of year (the deal was happening the first week of March, when I was there). I'd definitely ask about this deal before booking a treatment next time. (To compare, a 50-minute massage was offered for $89, as compared with the full price, which is $120.)
After my massage, I hung out in the waiting room again, reading Organic Spa magazines, and tried out the steam room and sauna as long as I could stand, which wasn't very long! The sauna was 120 degrees, which was plenty hot for me, but it made the mint-scented, ice-cold washcloths provided all the more refreshing.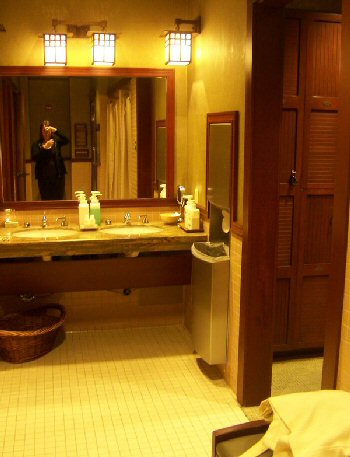 Back to the locker room.
It was finally time to head back to the "real world" of my Disneyland vacation. I changed back into my walking clothes and reluctantly hung up my Mandara robe. When I was getting ready to leave, my waiting room friend came in and we giggled over our spa treatments. I got to hear about her amazing facial, and she was envious over my massage. She told me she couldn't wait to come back the next time she was in town for business — and I can't wait to make another visit to the spa, when I'm in town for fun.
About the Grand Californian location: http://www.mandaraspa.com/Main/SpaView.aspx?SpaID=72
A taste of the spa menu: http://www.mandaraspa.com/files/MS/DGC_Brochure_Pricelist.pdf