This post may contains affiliate links for your convenience. If you make a purchase after clicking a link we may earn a small commission but it won't cost you a penny more! Read our full disclosure policy here.
By Teresa Pitman
The first time I saw baby Lilly she was just two weeks old, and she was beautiful.
Lilly was born to one of the gorillas in the family group at Disney's Animal Kingdom Park. These gorillas – who are endangered in the wild – live on the Pangani Forest Exploration Trail, with a family group (an adult male, two females, and now baby Lily) in one area, and a group of bachelor males on the other side. (I've been told another female may be joining the family group in the future.)
As you walk along the trail, you will first come to a covered "room" with large glass windows looking out onto the gorilla enclosure. The gorillas are often resting or eating near the windows and you can frequently get a look at them quite close-up. There is usually a cast member who works with the gorillas in this area ready to answer your questions.
On that first visit after Lilly was born, I was moved to tears watching Lily's mother (Kashata) nurse her. She settled herself comfortably on the sloping ground, and nursed Lily on one side, then gently lifted her up and kissed her all over her little face. Then she laid the baby back on her chest, and Lily nursed again, then fell asleep on her mother's body. It was such a lovely moment.
A year and a half later, I watched Lilly – now a busy toddler – playing with a blanket that had been left in the area. She had all of us laughing as she ran around with it over her head, eventually trailing it behind her.
Now she's growing up. I see her climbing trees and pestering her father, Gino, who mostly ignores her. The cast member I spoke to on my most recent trip said that during the day, Lily's father, as the patriarch of the family, feels that he needs to be on guard to protect his family. So he doesn't get involved with playing with his daughter. But at night, when they are in their sleeping rooms, Gino plays with Lilly lovingly and enthusiastically, and the cast members often hear them laughing together. (Their night-time quarters are monitored to keep the gorillas safe.)
While Lilly is always entertaining, I also enjoy watching the bachelor troupe. In the wild, since the more successful males tend to acquire harems of several females, there are often male gorillas who don't have mates, and these tend to form groups just like this one in Animal Kingdom. The cast members explained to me that the genes of these males are over-represented in the gorillas in North American zoos, so they aren't going to be used for breeding. (Disney's Animal Kingdom is part of the Association of Zoos and Aquariums and follows the breeding guidelines of that organization.)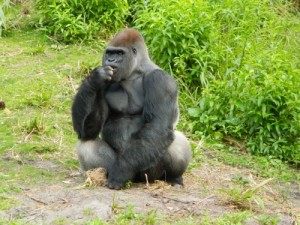 During my last trip, we had come back to visit the gorillas again just before the park closed. I saw a cast member call one of the bachelor gorillas over to the far edge of their enclosure and toss him a piece of fruit. He sat down to eat it and she continued to toss small pieces of food over to him. Another cast member explained that this was because there had recently been a "power shift" in the troupe. Previously, another male had been the dominant one. Now this male – the one getting the treats – was the new leader.
As the gorillas adjusted to this new hierarchy, there was some danger of fighting, and that danger was most pronounced at the end of the day, when the gorillas had to move into their night quarters (and would be getting some food). To avoid that, the new dominant male was called over to the area away from the night quarter entrance and kept there with treats.
Sure enough, the cast member soon got a phone call to say "the other gorillas are in." She threw one last large treat to the male she was feeding, and he took it and headed off to join the rest.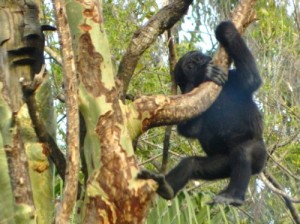 Like the other animals at DAK, the gorillas are trained through positive rewards to allow the people who work with them to provide medical check-ups and care. Because gorillas are prone to heart problems, they have even been taught to stand up by the enclosure walls so their chests can be scanned.
Yes, I love the thrills of Expedition Everest and Dinosaur. But I can spend hours just watching the gorillas and how they relate to each other, and listening to the stories the cast members who work with them have to share. If you haven't yet wandered down the pathway into the Pangani Forest, give it a try on your next Disney trip. And say hello to Lilly for me.
Incoming search terms:
https://www themouseforless com/blog_world/the-gorillas-of-animal-kingdom/
how old is gino at animal kingdom
what are the names of the gorillas in animal kingdom