This post may contains affiliate links for your convenience. If you make a purchase after clicking a link we may earn a small commission but it won't cost you a penny more! Read our full disclosure policy here.
From Our Magically Speaking Newsletter Archive – subscribe today!
By: Jennifer Retzlaff
Food! Yes, that is one of the many reasons I love visiting Walt Disney World. This June my family of four along with my parents, sister and brother-in-law all headed down to the Most Magical Place on Earth. We had the Disney Dining Plan which provided us one table service, one quick service, and one snack per night per person. We used this to our advantage, taking in some of Disney's great restaurants. Here is a look at where we went and what we liked and disliked about our table service experiences.
Tusker House: Animal Kingdom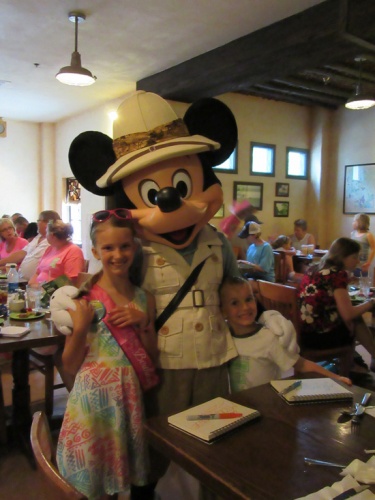 Tusker House is located in Africa within Animal Kingdom. It offers all three meals throughout the day all in buffet form. We had lunch reservations at Tusker House, where we were able to experience a variety of food from Africa as well as traditional food like mac and cheese and corn dog nuggets. Another great appeal of Tusker House is that you are able to meet a variety of characters while dining. While we dined we met Donald, Daisy, Goofy, and Mickey. Here are the good and bad of Tusker House, in our opinion.
Good:
For the food, we loved the mac and cheese and corn dog nuggets. I know it seems silly that we went all the way to Disney to eat at an African themed restaurant and then eat the American classics, but they were just so good.
I personally loved the Jungle Juice. This drink is the perfect combination of orange juice, guava juice and passion fruit juice making it amazingly refreshing on a hot day.
Our service was amazing and so helpful as this was our first dining experience on the trip and with three resort reservations, she was super helpful making sure we did everything correctly.
Bad:
The buffet setup isn't the best to navigate. Many feel like it is one extensive line causing a slow-moving process instead of understanding you can jump in wherever. We wished this was explained more to people as some dirty looks were sent our way.
The character interaction wasn't significant, but not awful either. Just average. Characters took pictures and signed autographs, but there wasn't anything overly exciting or unique about the interactions.
We felt the seating areas were tight and felt overwhelming as the areas get busy with guests and characters coming and going.
Overall:
We would give it a 3 out of 5
I don't need to do it again but I thought it was a good experience once.
Cinderella's Royal Table: Magic Kingdom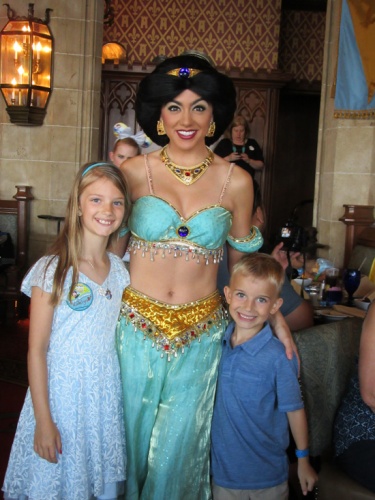 Cinderella's Royal Table is one of the prime dining experiences for many while at Walt Disney World. It offers all three meals throughout the day and guests order off a set menu at each of these meals. We once again had lunch reservations at Cinderella's Royal Table.
Good:
The atmosphere is excellent as you are in a beautiful and magical castle.
Our character interaction was terrific as each princess made special comments to our daughter about her birthday. I felt they took their time with us which was nice and made the experience fun for all of us.
Our food was outstanding, to say the least. The meat was tender and full of flavor. We felt that we had some nice dessert options as well here from the lemon sorbet to the Clock Strikes Twelves chocolate cake; everyone could find something they liked.
Our server was once again amazing. She took great care of us, and my dad and husband got a kick out of being called lord the whole time.
Bad:
The noise level seemed high here, and it might have just been the buzz from all the excitement. The princesses are announced before coming out and you can barely hear anything. There is also a time when the kids are asked to make a wish, but you can't hear what is being said. I felt out of the three character meals we had, this was the loudest setting.
Cinderella's Royal Table is a two-credit meal that some might find hard to do. We felt that the food, atmosphere, and seeing the princesses were well worth it for us.
Overall: 5/5
I would continue to eat here for the food alone. We all thought it was delicious and it was great to feel like royalty.
Liberty Tree Tavern: Magic Kingdom
Liberty Tree Tavern is located in Liberty Square within in Magic Kingdom. This wonderful gem is open for lunch and supper offering a variety of traditional American meals that customers can choose from while dining here. We had late lunch reservations at Liberty Tree Tavern.
Good:
Oh my the food. It is so good no matter what your order. From the Pilgrim's Feast to the kids' Mac and Cheese all eight of us loved the food. Not only the main dishes but the desserts were delicious as well. From the Johnny Appleseed dessert to the sorbet there was a nice variety offered.
Bad:
Our wait to be seated was the longest at Liberty Tree Tavern. I believe that it was due to the fact that we were a large group and it is hard for them to seat large groups, so keep that in mind if you are a bigger group traveling together.
Our service was lacking at Liberty Tree Tavern as our server was not friendly or magical at all. She asked for us to stack our plates and wasn't happy when we asked for water or refills. She also forgot our birthday celebration which was stamped on our ticket. Having three different room reservations for the dining plan seemed to throw her off as well but it turned out fine.
Bathrooms at Liberty Tree Tavern are not the easiest to get to either. They are located upstairs and there is a small hallway I would call it that you have to wait in usually because there are only two stalls.
Overall: 4/5
Although there are a number of things that we thought didn't go the best, I wouldn't judge Liberty Tree Tavern on that alone. The food is so delicious that it has easily become one of our must-dos while there.
Be Our Guest: Magic Kingdom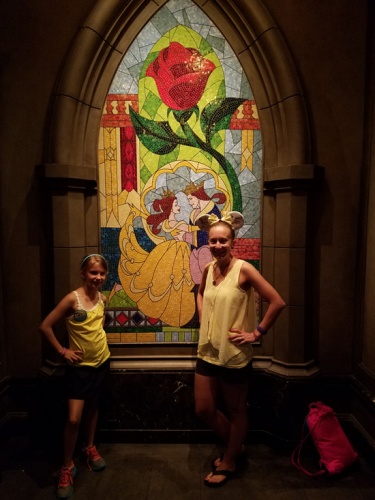 One of the newest and definitely one of the most sought-after reservations at Magic Kingdom is Be Our Guest located in Fantasyland. This French-based restaurant serves meals throughout the day. Breakfast and lunch are quick service meals where you order ahead of time whereas the evening meal is a sit-down and order. We had evening reservations at Be Our Guest.
Good:
Service was again great at Be Our Guest. We actually had two reservations of four each but they were willing to accommodate us with a short wait and get us seated together. Our server was prompt and friendly throughout the meal.
The atmosphere in Be Our Guest is amazing. The details that they put into the three different dining rooms are straight from the movie. The Beast, in the evenings, is also present to welcome guests and take pictures. This adds to the wonderful atmosphere.
Bad:
This is the second time we have eaten at Be Our Guest and both times we haven't been overly impressed with the food. The menu is limited, not unusual for a table service restaurant, which doesn't bother us as much as the fact that what we do get seems to be very average. Although we were willing to hide the basket of bread for later because it was so good, our main meal of steak, salads, and shrimp, and scallops were very average. If you are not a cupcake fan, dessert is limited as around half of your dessert options are cupcakes.
Overall: 3/5
Now that everyone has eaten at Be Our Guest and experienced the Beast and the amazing atmosphere, I don't believe we will head back. That is hard for me to admit as Beauty and the Beast is my favorite movie and the castle is done to perfection but I feel like there is better food out there.
Chef Mickey's: Disney's Contemporary Resort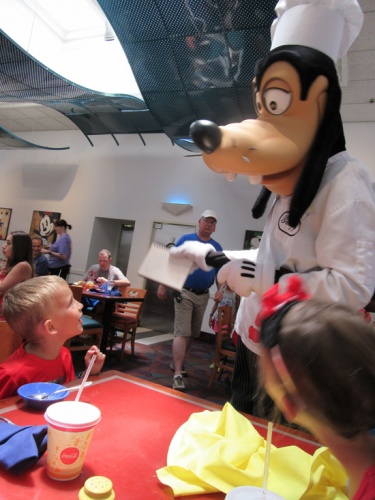 Chef Mickey's is a buffet served at all three meals located near Magic Kingdom at Disney's Contemporary Resort. American food is the focus here with Mickey waffles and an ice cream bar being the highlights.
Good:
I absolutely loved our character interactions at Chef Mickey's. Each of the characters we saw (Mickey, Minnie, Pluto, Goofy, and Donald) spent a great deal of time with us and gave us a unique interaction. My son got a kick out of how Goofy forgot how to spell his name and needed our son's help. These moments were some of my favorite and were handled so well by the characters and cast members.
Although the food isn't anything out of this world, I really enjoyed our options. We were there for brunch and that meant Mickey waffles and ice cream too. This was the only meal that we had breakfast food as an option so it was a nice change of pace for us.
Service once again was great. At a buffet, this is sometimes hard to accomplish because guests aren't always needing their server but ours did a great job at keeping up with our drinks and taking our dishes. She also took care of our bill early on so once we had seen all the characters we could head out again.
Bad:
This restaurant is a huge favorite of kids so it does get loud at times with all the kids as well as all of the characters. I felt like this space was better for characters than Tusker House as it just had more room for the characters as well as the guests to move around.
Bathrooms were hidden at Chef Mickey's as they are downstairs. Lots of them are available just not on the same level as the dining.
Overall: 5/5
I know many dislike Chef Mickey's because the food isn't great but I feel like it always has a nice variety and the character interaction is some of the best we had.
'Ohana: Disney's Polynesian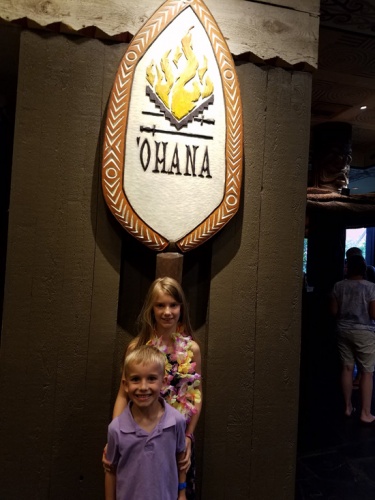 'Ohana is located around the Seven Seas Lagoon at Disney's Polynesian Resort. It offers a family-style meal with Polynesian cuisine at both breakfast and supper. We enjoyed supper here during our stay.
Good:
'Ohana means family and you definitely get that feel at the Polynesian. The atmosphere is so relaxed and welcoming that after long days at the park it is so comforting.
The food at 'Ohana is some of our Disney favorites. The honey-coriander chicken wings have the best flavor we have had while eating at Disney. Although we also enjoy the oak-fired meats (shrimp, chicken, and steak) we all felt the chicken wings had the best flavor. We also liked that we could ask for more of whatever we wanted which was nice.
Delicious drinks are also fun at 'Ohana. They are known for their Pineapple Rum drink; however, we went another route and had the raspberry pina colada which was all sorts of wonderful.
Bad:
I am not sure we had a bad regarding 'Ohana. Some might feel that the entertainment is a little over the top with the singing, however, we didn't mind it.
Overall: 5/5
'Ohana is a must-do on our trips to Disney! We love the atmosphere and the food!
Part of why we love going to Walt Disney World is that we have the experience of all the different restaurants. We look forward to trying some new ones next time and hitting up our favorites again.
Magically Speaking Featured Article
Library of Congress ISSN:1556-3863