This post may contains affiliate links for your convenience. If you make a purchase after clicking a link we may earn a small commission but it won't cost you a penny more! Read our full disclosure policy here.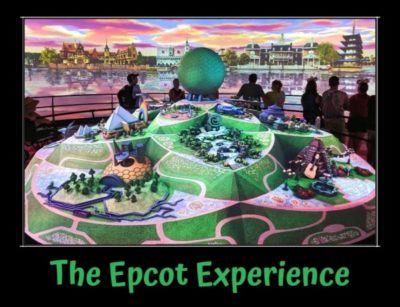 Big and exciting changes are coming to Epcot over the next few years. If you choose to visit anytime in the near future, you will notice many construction walls throughout the park, particularly in Future World. Curious about what's coming? Make sure to stop by The Epcot Experience to find out!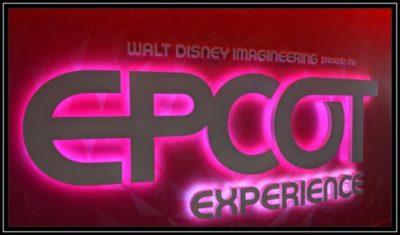 Guests can now visit The Epcot Experience, located in the Odyssey building, for a unique and interactive preview of what is coming to Epcot. I had the opportunity to visit The Epcot Experience and it is incredible! Let's take a look of what guests can expect to find inside.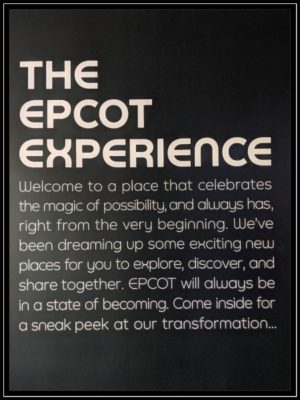 The Epcot Experience is set up circle-vision-theater-style with a blank model of the Epcot pavilions at the center. The model itself is all white, but even if you catch a quick glimpse of the plain white model, it won't stay that way for long! The room comes to life when projections appear not only on the circle vision screen, but on the model as well.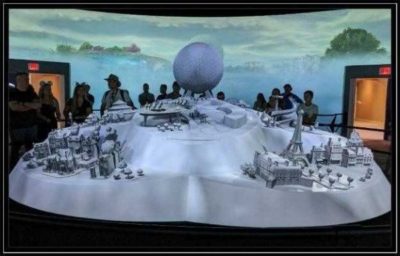 The 12 minute "show" highlights many of the big changes coming to Epcot. The images transition seamlessly from the screen to the model, creating an immersive experience. The projections are stunning, and trust me when I say that photographs cannot do them justice!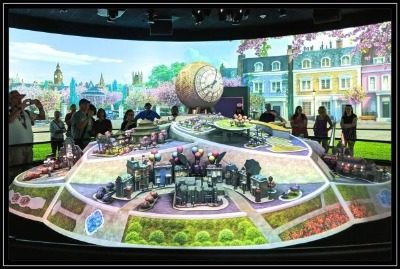 The show operates on a continuous loop, so no matter when you come in, you have the opportunity to enjoy the experience in its entirety. I found myself wandering to different parts of the room to see each pavilion more closely. Before I knew it, I had stayed through 3 showings! 
Many of the changes featured were announced at Disney's D23 Expo, but actually seeing them here was so much more exciting than hearing about them and seeing static concept art. There are also some things that haven't officially been announced, but little hints and teasers are being thrown in here and there. For example, that guitar leaning on the Mexico pavilion. We've seen that before. Could Coco become a permanent addition to the Mexico pavilion?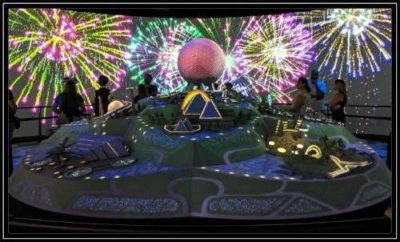 Still inside the Odyssey, but outside of the Epcot Experience room, there are some fun photo opportunities. There were also posters of classic attractions and small exhibits. They are also selling merchandise with the new Epcot logo inside.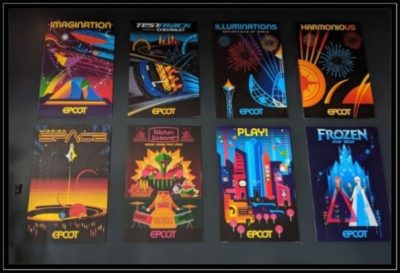 The Epcot Experience is a sight to see. I've never seen anything like it and my guess is that most guests haven't either. I left the experience very excited and looking forward to what is coming. My friend and I couldn't stop talking about what we had seen throughout the rest of the day. Check it out if you have the chance. You won't be disappointed!  
What changes are you most excited to see displayed in The Epcot Experience? Share with us in the comments or on Facebook or Twitter!
Did you like this article? Make sure to share it with your friends! Check below for easy ways to share!
Want to visit the Walt Disney World Resort? Contact The Magic for Less Travel for more information and a free, no-obligation quote.