This post may contains affiliate links for your convenience. If you make a purchase after clicking a link we may earn a small commission but it won't cost you a penny more! Read our full disclosure policy here.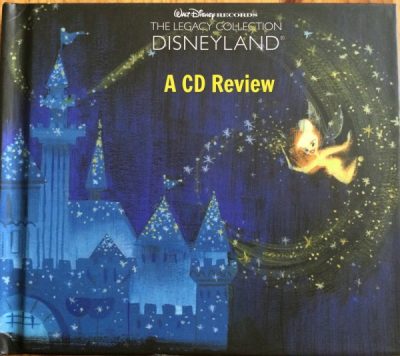 cover art ©Walt Disney Records
When my parents recently spent a week at Disneyland, they picked up a CD called "The Disneyland Legacy Collection." It's a 3 CD set of music from the Happiest Place on Earth, past, present and future.
My Dad enjoyed it so much that he bought me a copy for Christmas. Just to be clear, I am a Disney music hoarder. I own so much Disney theme park music that it's ridiculous. I can describe to you the subtle differences between the Disneyland and Walt Disney World soundtracks to Splash Mountain. I can recite the safety warnings from Radiator Springs Racers. I can sing a long to long defunct attraction theme songs from Epcot in the 1980's. (Everyone sing: Veggie, veggie, fruit, fruit!)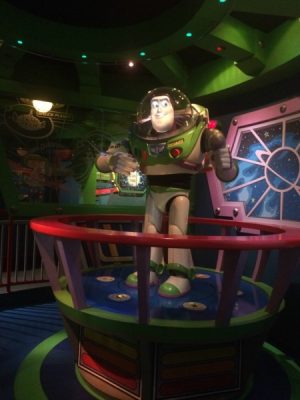 CD 2, Track 11: Buzz Lightyear's AstroBlasters
So I was pleasantly surprised to learn that this 3 CD set contained music I did not already own, and in some cases, music I'd never even heard! Of course, it includes lots of tracks that we are all very familiar with, like both versions of Space Mountain, both versions of Star Tours, the Haunted Mansion, it's a small world, and Yo-Ho, Yo-Ho, a Pirate's Life for me. But there were gems that I was happy to add to my collection!
The first two CD's in the Disneyland Legacy Collection are dedicated to Disneyland Park. Appropriately, the first track is Walt Disney opening Disneyland Park on July 17th, 1955.
I was very happy to finally have the Battle Hymn of the Republic as heard during Great Moments with Mr. Lincoln.
One of the true highlights of the CD is one of the most dated tracks, called "Let's Dance at Disneyland." This gem would play at the park on Friday and Saturday nights during the late 1950's and early 1960's. The music is so evocative of another time that I can just imagine a teenaged young man escorting his date down Main Street, U.S.A., saying "Golly gee, Mary Sue, I sure am having a swell time!" and his date replying "Jeepers, Bobby, me, too! But remember – Daddy says I have to be home by 9:00!" (Good luck with that, Mary Sue: the jingle clearly says that the park is open until 1:00 a.m.!)
"Hello, Everybody" is another classic that is no longer performed. Back in the early days of Disneyland, it was sung at the Golden Horseshoe, which still exists, but no longer shows the performance captured on this CD.
You can listen to "The Matterhorn Yodelers" and imagine you're hurtling through the Matterhorn. The soundtrack even includes the now famous phrase you hear at the ride's end: "Remain seated, please. Permanecer sentados, por favor."
By the time I first set foot in Disneyland Park, the PeopleMover was no more. (Another reason why I ride it at Walt Disney World as often as possible.) But on this CD you'll hear the familiar "Nation on Wheels" which was this ride's soundtrack. And the very next track is "Miracles from Molecules" which was the theme song to the once popular, now defunct Adventures Thru Inner Space.
Although I own "There's a Great Big Beautiful Tomorrow," I've never before owned a recording that included the opening narration, along with snippets of the song from three separate scenes.
CD 2, Tracks 2 & 3: it's a small world
The last CD is broken into two parts: California Adventure and Disneyland Spectaculars. The California Adventure tracks are all excellent, but all of them can be found on previous releases. Still, it's a lot of fun to drive along the freeway while blasting Funiculi Funicula from Luigi's Flying Tires and the theme to Radiator Springs Racers.
The Disneyland Spectaculars section thrilled me because all three tracks are ones I didn't already one! We start off with The Main Street Electrical Parade. I have a condensed version of this music, but the one featured on this CD is much longer and includes music from many more of the floats.
Then comes the music from Fantasmic! I own the Walt Disney World version of this, but not Disneyland's, and no, they are not identical. Fantasmic! at Disneyland is on hiatus until the summer of 2017, so it's cool to be able to hear this music.
The last track, appropriately, is the closing Disneyland music, which I have never heard live, having never had the energy to stay until park close before. Hearing the Fab Four singing "Now it's time to say goodbye…." is such a treat.
The Disneyland Legacy Collection, to me, is the definitive Disneyland CD. I love the fact that it includes so much from Disneyland's history, as well as the soundtracks to favorites you can ride today. This is now the set that I pop into my car's CD player when I'm ready to drive down the 5 freeway to the Happiest Place on Earth.
Do you own the Disneyland Legacy Collection? What do you think of it? Which is your favorite track? Share your thoughts in the comments!
Sponsored Ad:  Would you like to help support The Mouse For Less website in continuing their mission of being THE Disney vacation planning resource?  You can do so by purchasing "The Disneyland Legacy Collection" from our Affiliate Link through Amazon. Thanks so much for your support!
Did you like this article? Make sure to share it with your friends! Check below for easy ways to share!
Incoming search terms:
The Legacy Collection: Disneyland