This post may contains affiliate links for your convenience. If you make a purchase after clicking a link we may earn a small commission but it won't cost you a penny more! Read our full disclosure policy here.
By Kate Abbott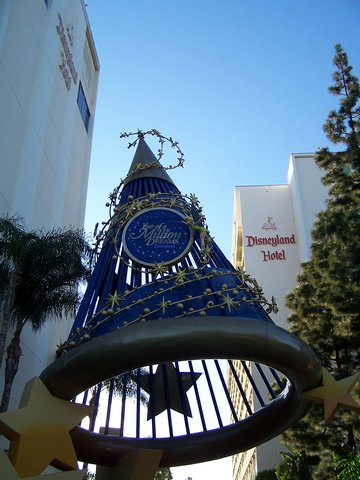 My first and only previous stay at the Disneyland Hotel was when I was in high school, and the hotel dazzled me — it was the largest hotel I'd ever stayed in (the hotel currently has 990 rooms in its three towers) and featured waterfalls, koi fish to feed, and even remote-controlled boats! Plus, I was starstruck by the hotel, having visited it so many times to walk around the grounds, visit the Monorail Café and shops, or look at the vintage Disneyland photos lining a hallway near the main entrance.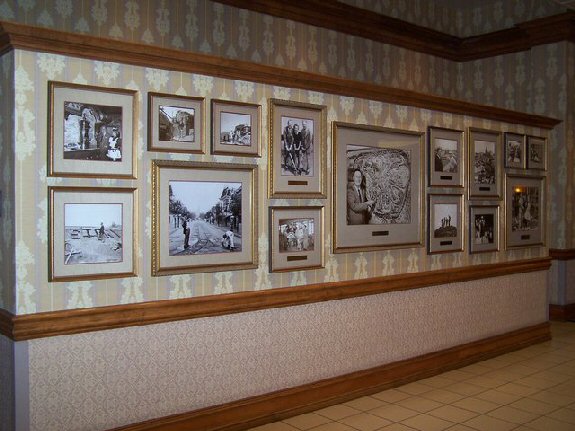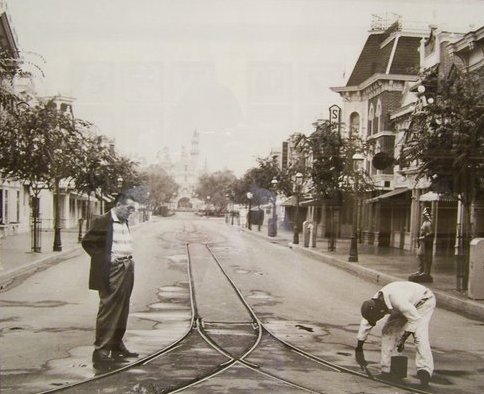 The Disneyland Hotel puts the resort's history on display. My favorite photo: Walt observing a worker on Main Street. If I were that guy, I would have been too nervous to do my job!
I have since acquired a love for the fanciest of the California Disney hotels (the Grand Californian), an uneasiness about heights, and a husband and a new baby. The Disneyland Hotel has changed, too: in just one of its many incarnations since its opening in 1955 (as a motor inn), the hotel has undergone some changes in the last decade, due to the construction of the new Downtown Disney, which opened in 2001 — namely, the loss of the Monorail Café. (OK, I know there are a bunch of new and probably better restaurants that have been added because of Downtown Disney, but I still miss the Monorail Café.) I wasn't sure how the Disneyland Hotel was going to compare to my memories.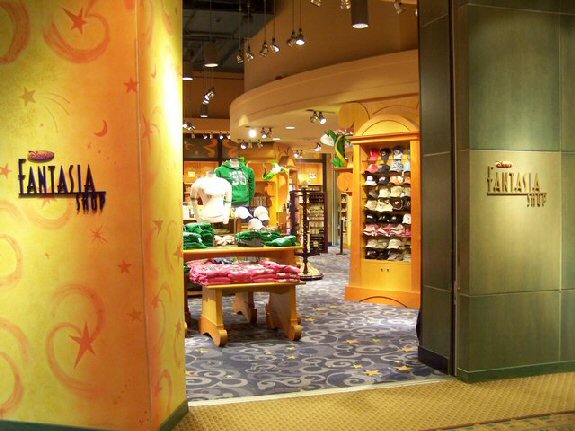 Not all of the shops I remembered are still there, but at least there are still some for last-minute souvenirs.
But I was sure of one thing: For our first visit to Disneyland as a family of three, there was no way I wanted to wait in the "stroller line" for the parking structure tram. I mandated that the hotel be within walking distance of the parks, and the Disneyland Hotel is located at the end of Downtown Disney. (The Grand Californian is located about mid-way through DTD, but it's about twice as expensive as the Disneyland Hotel!) The DLH's Monorail access was an extra incentive, and my husband had never stayed at the Disneyland Hotel before. Then we got an outstanding deal on the rate. It was decided: Our baby's first hotel would be Disneyland's first. (And my parents would come with us to provide back-up for baby duty.)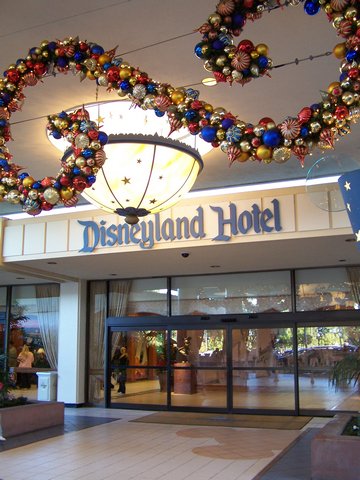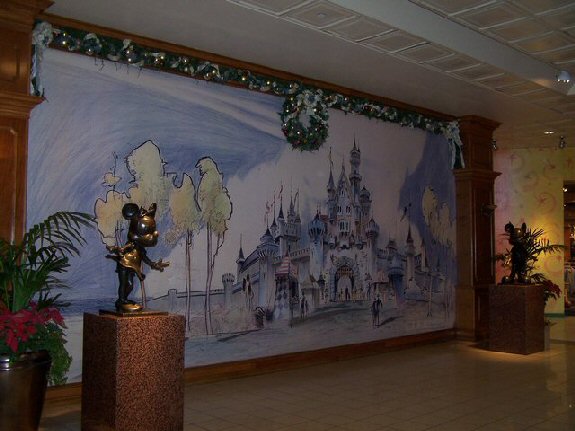 The main entrance, looking festive.
My first impression: We had a whole lot of stuff to get from the car to the room. I was content to let the bell person deal with it (although my husband, who is an expert packer, was observing the proceedings the whole time, and would have preferred to load a cart himself, but that's against the hotel's rules). We explored the lobby, which was decked out for Christmas and seemed cozy enough, but the Grand Californian's magnificent, Arts and Crafts–style lobby has spoiled me.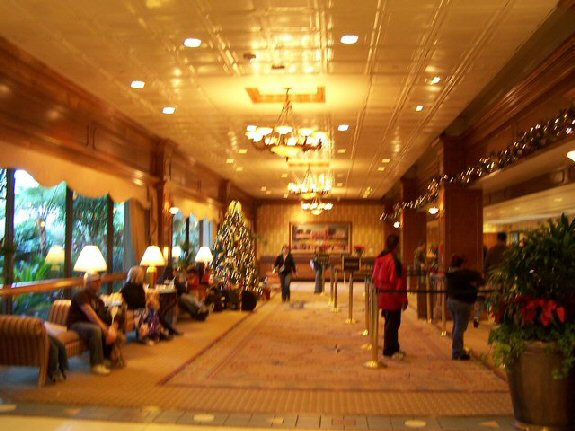 It might not be Grand, but it is pretty.
We took a dizzying trip up the elevator to the seventh floor (there are ten stories total in the hotel's three towers, so I was glad that at least we weren't on the top) and found our room. I didn't think to take a photo when we first entered and found it neat and tidy, which was unfortunate, because seconds after we invaded it, baby stuff exploded everywhere. It wasn't a large room, and we had to do some furniture rearranging to make the play yard fit (our baby would sleep in it…at least most of the night).
The room looked like it had seen some use, but it was spotlessly clean. I know because my flu-season paranoia had inspired me to go around and swab every surface with my own wipes, and I found that even the door latch, the lamps, and (very important) the remote control and phones all seemed to have been recently cleaned. The room started to look better to me after I was assured of its cleanliness, but it was hard to forget its age.
Our bathroom was cramped, with very little counter space, even for two adults—so washing the baby stuff was quite a challenge. Plus, the shower grout was dingy. It wasn't quite the luxe effect I'd been hoping for. But, again, it was clean, and the Mickey toiletries helped a little bit. (We found out later, after getting all our stuff spread out, that my parents' room, in the same category and price as our room, seemed to have a lot more space, and its bathroom even featured a whole extra counter outside the bathroom itself. Oh, all the equipment we could have filled up that counter with!) I had to remind myself that we were staying in the hotel in part for its history, and so I just tried not to look at the discolored grout and instead looked out the window at our upgraded view.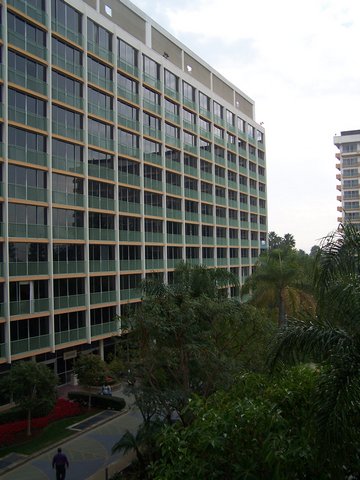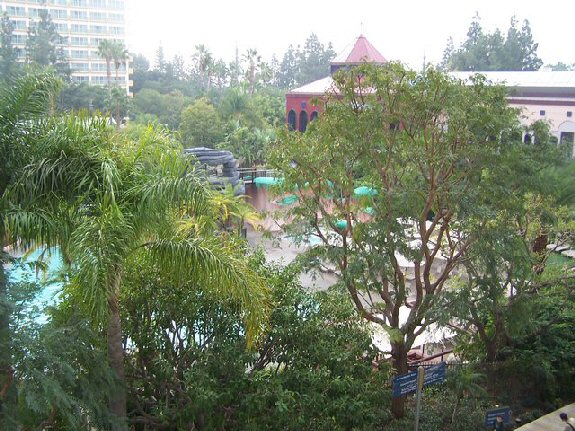 From our room in the Magic tower (the tower with the lobby), the Dreams tower was to our left and the Wonder tower was across from us, with the Never Land pool in the middle. Pre-2001, these towers were called Marina, Dreams, and Bonita.
We had a great view of the Never Land–themed pool area, although I was not impressed with the wimpy-looking "balcony" outside the sliding-glass door. It really wasn't even a balcony — it was more of a ledge with a railing. I was glad to have a five-month-old, who would pretty much stay put wherever we plopped him down, because that railing did not ease my fear of heights. I did get my courage up and peeked over the balcony, and it was fun to peoplewatch. For a few seconds, at least. That was the only time the door was open during our whole stay. I did, however, enjoy the "warning" sticker on the glass.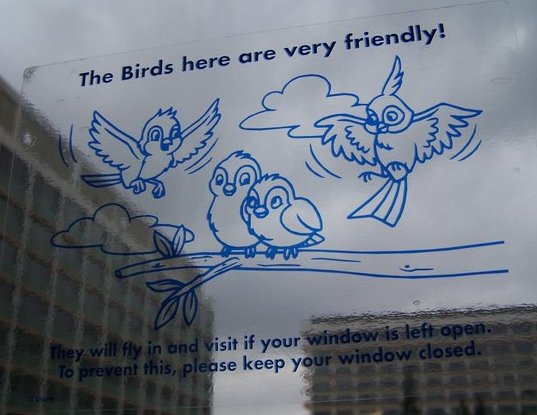 I had to remind myself that I was a grown-up now, and should not peel off the window cling to take home.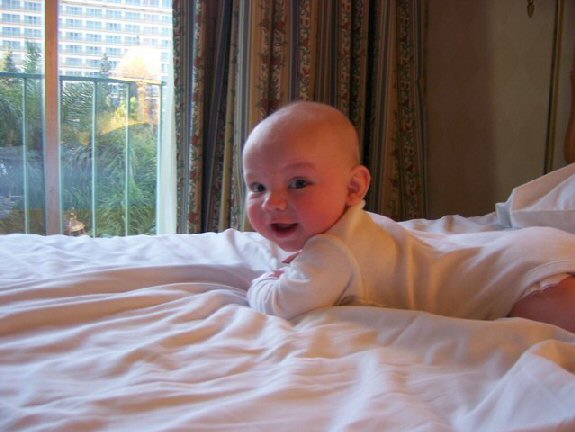 Baby Henry approves of the view.
We headed out to eat dinner at Goofy's Kitchen. Without priority seating arrangements, the wait was an hour and a half (which was probably predictable). I complained about the Monorail Café's demise as we walked through Downtown Disney to have dinner anywhere with a short wait (and we ended up with a very fast and good dinner at the counter-service area of La Brea Bakery). Fortunately, our baby was content to look around wide-eyed wherever we ate, and the next day, wherever we went in the parks!
Although we spent most of our time at Disneyland and California Adventure, my feet and I appreciated that our hotel was only a 15-minute stroll through Downtown Disney for whenever any member of our group needed a break. (There was only one Monorail running during our stay, and it consistently had a huge wait whenever we passed by the loading platform, so we opted to walk every time.)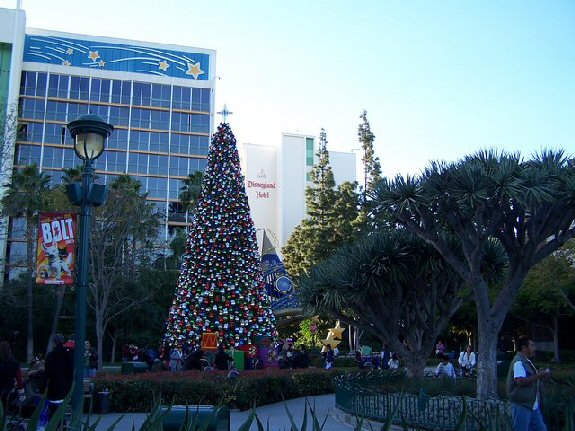 View of the Disneyland Hotel from Downtown Disney. It sure beats walking down Harbor Blvd. back to a hotel!
In our time away from the parks, my new little family enjoyed the hotel's separate, shallow kids' pool area. (There are two pools — the main Never Land pool, and the smaller "baby" pool near the exercise room and laundry.) Our baby got to have a great time splashing in his first-ever swimming pool, and I didn't have to worry about older kids (and adults) cannonballing into us.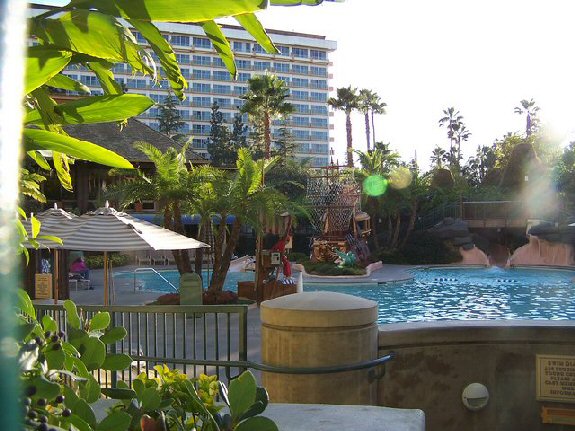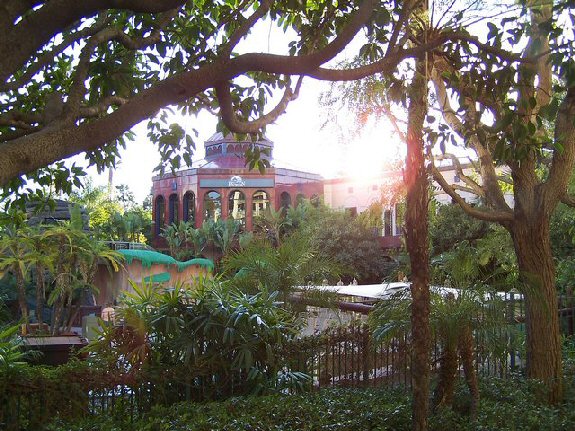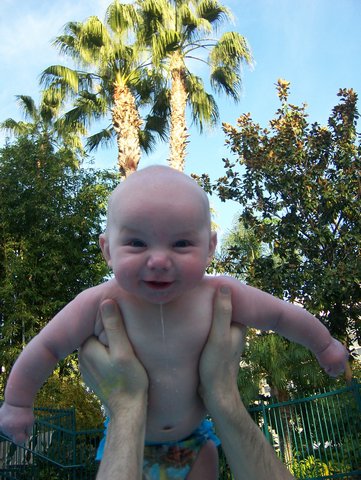 It was Christmastime, but we were able to go swimming. Baby Henry especially enjoyed the pool!
On the last morning of our trip, I realized I hadn't introduced Henry to the koi fish yet, or shown him the waterfalls that I remembered. Henry happily looked around and cooed from his Baby Bjorn as we wandered the grounds before most of the hotel seemed awake. The security guard was unlocking the gates to the waterfalls and koi fish ponds as we approached, and we had the misty, thundering-loud area all to ourselves to explore. I was babbling about the tropical plants when I realized that I had a sleeping baby strapped to me! The waterfalls were the best white-noise machine ever. Baby Henry stayed sound asleep, even after going back to the room. Since returning home, I have often wished we had some giant waterfalls in our backyard!
It's the Disneyland Hotel's small charms like the koi fish and waterfalls that made it memorable for me. Staying here certainly isn't as luxurious as staying at the Grand Californian, and its normal rates, although much less than the Grand Californian's, are still high compared with non-Disney hotels in Anaheim. The hotel, although clean, has seen fresher days. (Pre-economic downturn, there was a rumored total re-do of the hotel, with new towers to replace the old completely. I think that would be a great idea!)
But the Disneyland Hotel still accomplished what we had hoped for on our first post-baby trip: making memories as a new family of three. Whether the hotel gets another makeover anytime soon or not, it's in a great location (beatable only by the Grand Californian), has Monorail access, and still offers much of the charms that I remembered from my first trip. If you're sentimental about Disney history, you can't beat the Disneyland Hotel. If you're looking for opulence or a bargain, you're better off at a different place. Whatever incarnation the hotel is in during your stay, though, it's definitely got character.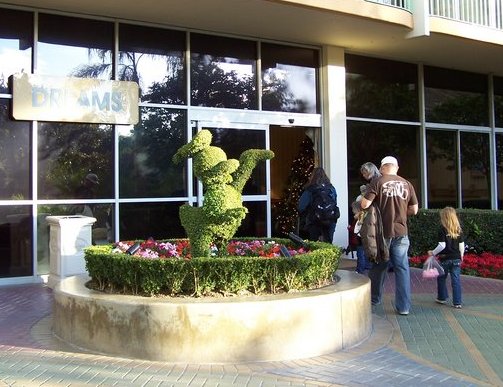 Donald welcomes guests outside of the Dreams tower.
For more on the Disneyland Hotel's history, check out http://www.magicalhotel.com/ and read Donald Ballard's Disneyland Hotel: The Early Years, 1954–1988.