This post may contains affiliate links for your convenience. If you make a purchase after clicking a link we may earn a small commission but it won't cost you a penny more! Read our full disclosure policy here.
By Carol Darbonne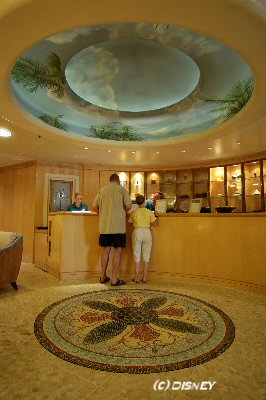 For me the word "spa" is always followed by a small sigh…a moment of wistfulness; thoughts of complete and utter relaxation; and always, always, always the thought, "I need to be there NOW!"
One thing you should know is that I live in New York City; never known for its relaxed pace. My everyday lifestyle is a long way from massages, spa treatments, and facials. The only sauna I usually experience is a crowded subway car in the summer when the air conditioning breaks down. If I can't manage to squeeze a haircut into my 45 minute lunch break, my hair will just keep growing and growing.
So what turned this non-pampered, no time or money for such frivolity type of woman into a spa enthusiast? I have to say it was the moment I first stepped foot into the Rainforest Room of the Vista Spa on the Disney Magic! The Rainforest Room, my favorite, is a very affordable way to experience the spa. It is a large area with steam rooms, aromatherapy showers, and saunas.
My spa experience started as I entered the spa's reception area where I was provided with a locker key and a basket that contained a lightweight robe. The robes come in various sizes and I was given one that fit my ample body fairly well. I wasn't made to feel uncomfortable about asking for an x-large one. The Rainforest Room is co-ed and swimsuits are required, so I headed to the locker room to change into my swimsuit. With the robe securely wrapped around me, I ventured further.
The Vista Spa's Rainforest is truly an oasis: soft lighting, beautiful tiles, soft music and a gorgeous fountain beckon you deeper into its midst. You'll discover heated tile lounge chairs, which at first glance may look uncomfortable, but try lying on one and you'll be surprised at how comfortable they really are. There are stacks of rolled towels available throughout the rainforest, perfect for protecting your swimsuit from the sometimes rough tiles, as well providing a nice neck pillow. Hooks are conveniently placed for you to hang up your robe.
There is a mild dry sauna with plenty of seating. I find it a terrific place to relax and soak in the warmth and occasionally meet some fellow cruisers. I have even been known to bring a book in for some uninterrupted relaxation time. There are also 2 different steam rooms: one medium and the other kind of intense, but with a wonderful eucalyptus scent. I've found that if you open the door and the steam seems to be more than you can handle, close it back up and wait a few minutes. The steam seems to run in cycles, and entering during the strongest phase can be a bit much for most people. While I love the eucalyptus scent of the strongest steam room, I find I can only handle the heat for a few minutes before it becomes overwhelming. Continue exploring to the far side of the rainforest and you will find 2 separate showers, with tropical or citrus scent, as well as water fountains to help you rehydrate.
So what is the price of adding this to your vacation budget?  An All Day Pass is just $15, with reduced prices for multi-day passes. For a first experience, I recommend a one day pass to try it out, and ask if you can apply that cost to a multi-day pass (this has been possible if you purchase the multi-day pass on the same day you purchase the one day pass.) Be careful though, I've purchased the 7 day pass for a 7 day cruise several times and have found that I've only used 4 or 5 days. I would actually have saved money just purchasing the one day pass or a shorter multi day pass. If you are planning on enjoying any of the other spa treatments that are available, you can purchase a reduced day pass for $8 that is only good on the day of your other treatment. The Rainforest Room, as well as the remainder of the spa, is adult only. Since it is co-ed, it's a great way to introduce your partner to the Spa and spend some time alone together.
The fitness center at the Vista Spa is available at no charge. Recent renovations have enlarged it and I have to say that if you must exercise during a vacation, there is nothing better than looking out to sea  as you work off last night's dinner and drinks. There are showers and a small sauna available in the changing room along with lockers and padded loungers for a rest. Be careful, I have it on good authority that the padded loungers are very conducive to a nap!
Complementary fitness classes are also available each day, ranging from spinning to yoga to aqua aerobics in the adult only pool. You will need to sign up for these classes at the Spa's reception counter.
The Vista Spa offers a wide variety of treatments as well as seminars that include complimentary hair consultations and information on diet and detoxification. Check your Navigator (the daily cruise activities guide) for days and times of the seminars.
Some treatments that you might want make room for in your cruise budget are the wonderful massages, including cabana massages on Castaway Cay for couples or singles. There is a couple's Rasul treatment, which gives you and your partner some time to play with the exotic muds and aromatherapy in a private steam room.
Recent renovations on both ships have increased the number of treatment rooms and added private Spa Villas with a hot tub, open air shower and lounge chairs which is available for both singles and couple bookings. Various treatments are available and it's a wonderful although pricey indulgence for that special occasion.
Almost every treatment you can imagine is available at the Vista Spa: seaweed wraps, various types of facials, massages, aromastone therapy, Super Detox treatments, body composition testing and private fitness training are just some of the offerings. The spa also features a hair salon and offers manicures and pedicures. I've became very spoiled by the hair salon after I was fortunate enough to do 2 cruises within 6 months. I had my hair cut on both, so I attempted to convince my husband that I needed to visit the Vista Spa when it was time for my next haircut. Unfortunately, he saw through that ploy, but I plan on trying again. While the cost of the nail treatments and hair styling may be more than you're used to paying at home, there is just something about looking out to sea while having someone rub my feet that made it seem cost effective.
The Vista Spa often has treatments available during the cruise for reduced prices. Check your Navigator or ask at the Spa desk what specials are available during your cruise.
The Vista Spa is run by Steiner Spas and features Elemis products. At the end of your treatment, you will be given the opportunity to purchase the products used. Most of the therapists accept a "no thank you" or a "I'll need to think about it" without a problem. If you're concerned about resisting their sales pitch, you can write "No Sales Pitch Please" on the questionnaire you complete before your treatment begins and that will let them know you're not interested. If once you return home, you find yourself longing for that Lime and Ginger salt scrub, or any other product, you can purchase them from the Elemis website at www.elemis.com.
So add something different to your next cruise and reward yourself for all the hard work you've done planning your trip: visit the spa! Many of the treatments can be booked online prior to your cruise or shortly after boarding. Your Navigator will show the times for Spa tours during the first day as well as the time that reservations can first be made. Some treatments such as the Castaway Cay Cabana massages book up very quickly, but for the Rainforest Room, you can just sign up whenever you feel like going.
See you in the Rainforest!