This post may contains affiliate links for your convenience. If you make a purchase after clicking a link we may earn a small commission but it won't cost you a penny more! Read our full disclosure policy here.
By Max and Erica Colmenares
For our son's twelfth birthday, we were trying to veer away from material gifts and give, instead, experiences. I mean, you can only get so many video games, right? Since Max is a huge chocolate cake fan, we decided to book five special meals at Disney World, based on their dessert menus. Key to being selected: chocolate cake on the docket!
During the trip, Max gave us his culinary impressions of the many chocolate cakes he tried. The good news is that none of the Disney chocolate cakes disappointed. On a scale of one to ten, with ten being the best, the worst score was a six. We have all of Max's candid reviews below, starting with the least spectacular and ending with his favorite.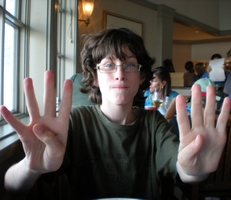 Our resident chocolate cake food critic!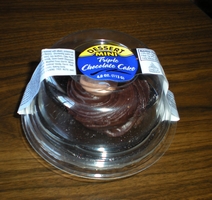 Columbia Harbor's House Triple Chocolate Cake ($3.59)
While all the table service restaurants had chocolate cake which was unique to their kitchens, the Walt Disney World counter service restaurants that offer chocolate cake as a dessert all have the same "Mini Triple Chocolate Cake." Max tried it out at the Columbia Harbor House. He gave it a six out of ten, and said, "The cake is fairly good quality. It would be nice if it were warm. And if there were ice cream. I do not recommend the icing, although you really have no choice, as it comes pre-prepared."
Coral Reef's Chocolate Wave ($7.99)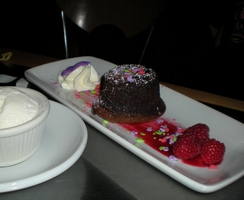 We visited Epcot's Coral Reef at around 3:00 p.m., just for dessert (I drank mine). Max ordered the Chocolate Wave, which has a certain fame in Disney epicurean circles. Max shared his stream of consciousness response to the cake: "Good … mmm. Raspberries! There's something inside of there [white chocolate truffle]. It's extremely sweet and very, very moist. A teensie bit watery. I think I might like that cake at Applebee's a little bit more. The color of the white chocolate [truffle] is a bit dismaying; looks like snot." Max gave the Wave a seven out of ten.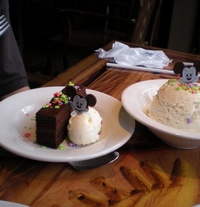 Sanaa's Chocolate Cake ($5.99)
I was excited to visit Kidani Village, and Max was excited to sample another chocolate cake. While my expectations were met, Max's weren't, so much. He was hoping for something a little different, but what he got was a generic kids' chocolate cake. His thoughts? "It's a good solid chocolate cake, and the sprinkles and chocolate Mickey Mouse head would be especially fun for a younger kid. We had to order the ice cream on the side, and I'm glad we did — nothing like ice cream with chocolate cake. I give it a seven!"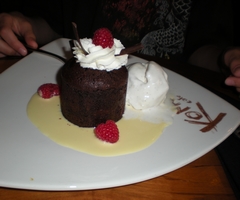 Kona Café's Kilauea Torte ($5.49)
Kona Café wasn't on our initial list, but once a Cast Member heard of Max's quest, he said we had to include the Kilauea Torte on the line-up. We had no problem getting a last-minute ressie for a late lunch at this Polynesian Resort restaurant, and I enjoyed the potstickers while Max dived into yet more chocolate. He said, "OK, it's a harder cake in a pool of vanilla sauce and raspberries. Ooh, and hot chocolate inside. With the combination of champions: the moistness of cake and ice cream. A great grand finale. I think this is an eight!"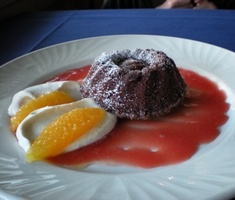 Narcoosees' Warm Valrhona Chocolate Cake ($9.00)
This Grand Floridian establishment was the nicest restaurant we went to (and frankly my new favorite at Walt Disney World, much to my budget's dismay). The service was fabulous, and you can't beat the view or the atmosphere. Or the food! Surprisingly, though, it wasn't Max's favorite chocolate cake, though it looked pretty darn good from my side of the table (no, Max does not share chocolate cake). Max said, "This one is the most original. The menu says the sauce is blood orange sauce. It's sweet and tart, both. The whipped cream is yum — better than the stuff from cans. This is a solid eight cake."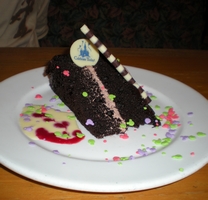 Olivia Cafe's A Sweet Ending To Your Celebration ($5.49)
The winner of the vacation was Olivia's special cake, invented for Disney's 2009 Celebration promotion. Olivia's isn't on the beaten track, tucked away as it is in the Old Key West resort. But Max found it worth the trip, saying, "It's simple yet great. Lots of varied ingredients – since there's like a chocolate and white chocolate stick, the Celebration medallion of white chocolate, so many different things to experience. The raspberry sauce too. Of course, I ordered ice cream on the side. I don't love the icing, but the actual cake and the hint of mousse is the best! Now this is a nine."
So the verdict is in. It's A Sweet Ending, at Olivia's Café. You may be wondering what cake gets a ten in Max's book. It is … ehrm … the Triple Chocolate Meltdown at Applebee's.
If you are thinking of doing a similar best-dessert-search yourself, I highly recommend making mid-afternoon reservations. We did that for three of these outings, and I ordered an appetizer while Max got his dessert. That way, we saved some cash and didn't put out the server by taking up a table during a high-volume time. It's also much easier to get reservations at off-peak times. However and wherever you do it, enjoy!