This post may contains affiliate links for your convenience. If you make a purchase after clicking a link we may earn a small commission but it won't cost you a penny more! Read our full disclosure policy here.
By Becky Mac
My family and I went to the Disneyland Resort in the middle of November, 2010, and I have to say that we were blown away by the shear number of construction walls everywhere in Disney California Adventure. It reminded me of a song…"Here a wall, there a wall, everywhere a wall, wall…" However, it sounds like what we experienced is only the beginning of the walls. Walt Disney is quoted as saying, "Disneyland will never be completed. It will continue to grow as long as there is imagination left in the world." We have seen this and will continue to see this throughout the next year and a half.
The first of the changes is that the C-A-L-I-F-O-R-N-I-A letters are coming down and may actually be completely down by the time you read this article. The turnstiles will then be moved, a few at a time, to where the C-A-L-I-F-O-R-N-I-A letters were. I know that there are many who will miss these letters. My kids sure will miss them! I have pictures of my daughter in the "O" for three years in a row.
Many openings and closings will occur over the next eight or nine months that may impact your vacation. During the late spring to early summer time frame, nearly all of the Paradise Pier area that is now behind construction walls will be opened/reopened, including The Little Mermaid ~ Ariel's Under Sea Adventure and Goofy's Sky School, which is replacing Mulholland Madness. New restaurants opening are Paradise Garden Grill, replacing Burger Invasion, and Boardwalk Pizza and Pasta, replacing Pizza Oom Mow Mow. The Seaside Souvenir shop will open in the location of the former Souvenir 66, and the Corndog Castle stand will reopen, as well. The Little Mermaid ~ Ariel's Under Sea Adventure is the main attraction that my daughter has been anxiously awaiting. I wish it would open early enough for us to try it out during our mom-and-kids-only trip during February, but alas, we will have to wait for our planned September family trip to experience it.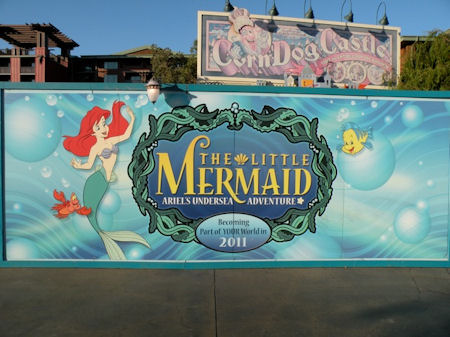 The big change that may cause a few headaches is the closing of the direct access to the Paradise Pier area via Sunshine Plaza. This change is currently slated to begin June 1. To access the Paradise Pier area from the front of the park, guests will have to either go left through Hollywood Pictures Backlot and "a bug's land" or go right past Soarin', Grizzly River Run, and the Redwood Creek Challenge Trail. While this may not seem like a big deal, it's my opinion that "a bug's land" could become quite congested. I've not been during any busy seasons, but in the middle of week during the middle of November, "a bug's land" was fairly difficult to navigate in some of the attraction areas and near the restroom.

On August 1, there are some more closures scheduled: Engine-Ears Toys, Bur-r-r Bank Ice Cream, and Baker's Field Bakery. Then, the Greetings From California shop will close on August 29. I have to say that I LOVE this area of the park. I will miss sitting at a table with an ice cream cone from Bur-r-r Bank Ice Cream while watching the parade go by. I certainly hope that they will have some other eatery in this area for guests to be able to sit and soak up the atmosphere.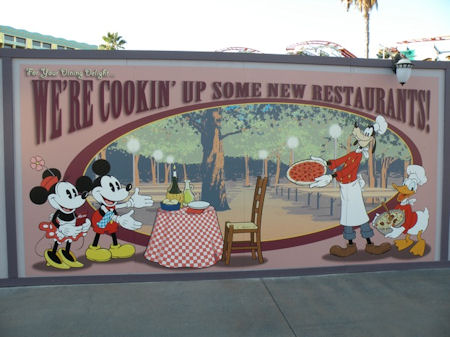 This last closure will signal the beginning of the second major change that may create some logistical headaches: the nine month rerouting of the front entrance. The current plan is for guests to enter through the new turnstiles, pass through where the current turnstiles are, and then turn right traversing a pathway behind Soarin', coming out where the airplane is in Condor Flats. Guests of the three Disneyland Resort hotels should note that the guest-only entrance through the Grand Californian is supposed to remain open and may be the best entry option.
I spoke directly with the Disneyland Resort Public Relations department to verify the details written here and was emphatically assured that the park would indeed be open. Of course, as with any refurbishment, keep in mind that dates to change and plan on checking closures close to your trip dates for updates.
Once guests make it past the obstacles, the magic of Disney will still be there. Even though there will be lots of construction going on, my family and I still plan on traveling to Disneyland in September. As quoted at the beginning of the article, Walt Disney said that construction would continue as long as imagination continues. I certainly hope that the imagination never runs out.