This post may contains affiliate links for your convenience. If you make a purchase after clicking a link we may earn a small commission but it won't cost you a penny more! Read our full disclosure policy here.
If you have an evening to spend at Disney World but you don't want to go to a park and fight the crowds, a fun place to stop is the Boardwalk. The boardwalk has fun shopping and dining opportunities you don't need to use a park ticket. Enjoy a good meal at the many dining opportunities, browse some of the great shops, and even watch some top notch street performers do some pretty neat tricks! Walking down the boardwalk is an easy way to relax and enjoy and evening and even catch a firework show if you're lucky, and it's one of my favorite inexpensive ways to explore one of Disney's well themed areas.
One of my favorite reasons to be at the Boardwalk is all of the food choices are always that close. Boardwalk Bakery is currently under construction in order to give it some much needed size. It has some of the most amazing desserts and sandwiches that are great on the go or to eat there at one of the many tables or benches along the boardwalk. Another cool boardwalk place is Seashore Sweets. The place is very well themed and has some of the most delicious ice cream I've ever had. It also has a great assortment of some delicious old fashion candy as well. A quick bite for the guys to enjoy is The ESPN Club. The ESPN Club has all your typical bar foods such as nachos and wings, but it also has amazing coverage of every sports game you could care for. The ultimate sports fans place to watch the game, and the food is good too.
There are great dinner spots a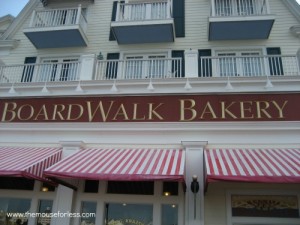 t the boardwalk too. The three best places to eat are Big River Grille, Kouzzina, and Flying Fish Café. Big River Grille is always a treat with some amazing burgers, but some of their best food is in their appetizer menu. Their crab dip is always something my family enjoys, but a big crowd pleaser is their beef nachos, it's always a great choice. Kouzzina is Iron Chef Cat Corra's own personal restaurant and in has some delicious things to choose from. One of the best entrées is the Kouzzina Trio which is the tasting size portions of their delicious Greek-style lasagna, lamb burger, and cinnamon-stewed chicken. Flying Fish is a bit fancier but the food is amazing. Their soups are always a big hit, especially any "soup of the day", and my whole family loves to get their famous Red Snapper, we always stop for dinner there when we stay at The Boardwalk.
There are also many of amazing shops along the boardwalk, you can find many little Disney items there and it's always a treat to just browse. Dundry's Sundries and Thimbles and Threads stocks Boardwalk Resort and Disney merchandise, books, magazines, and snacks.
Screen Door Gener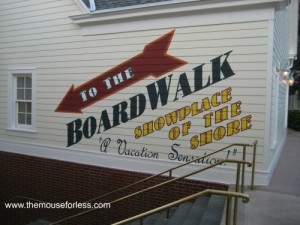 al Store is great for grocery basics like bread, cases of water, and cereal. They also have Disney books and videos that can be helpful to grab if you forgot things like autograph books for the kids. In the evening there are street performers who can do some really amazing tricks and shows! These performers usually are out in two's and three's and they can entertain in many ways from having a bicycle piano, to shooting a basket ball onto a hoop balanced on their nose, and even juggling while balancing on rolling metal tubes! One of the best things to do is to just to sit at one of the benches or tables and watch performers and people go by. If you're out at the right time, you may even get a pretty good view of Illuminations, which I know from experience is always fun to watch anywhere. Going from shop to shop and being entertained whenever you come out is always a treat and you'll never know what you may find to buy! For more information go to www.themouseforless.com