This post may contains affiliate links for your convenience. If you make a purchase after clicking a link we may earn a small commission but it won't cost you a penny more! Read our full disclosure policy here.
A busy, fun-filled day at Disney World arouses my hunger and makes me start searching for a snack.  As part of the Disney Dining Plan, guests receive a free snack each day. We have been to Disney six times – five on the Dining Plan – and therefore have eaten a large variety of afternoon treats.  Choosing a snack becomes difficult because Disney has many delicious delicacies.
On Main Street U.S.A. in Magic Kingdom, the Main Street Bakery contains a wide variety of tasty treats, though not all are eligible under the Dining Plan.  One of the bests that is included must be the moist, sugary cinnamon roll.  At least twice as large as an average one, this sweet, scrumptious dessert satisfies my taste buds.
The ice cream sandwich wins the prize for my favorite snack at the bakery.  Three oversized scoops of vanilla ice cream are placed between two massive, freshly-baked chocolate-chip cookies and pressed together, evenly dividing the ice cream.  In the end, the ice cream sandwich is almost three inches thick and around six inches in diameter.  Impossible to eat alone, this dessert should be shared with another friend or family member.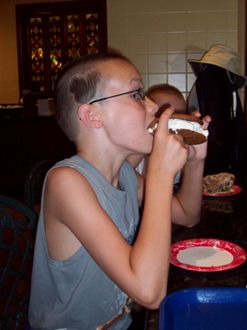 At the Main Street Confectionary, Rice Krispie Treats can be bought.  The Mickey Mouse shape dipped in chocolate and topped with sprinkles is just one of the many unique varieties.  These make great snacks when watching Wishes, the Magic Kingdom firework show.  My family redeems any unused snacks credits from the dining plan on these tasty treats to take home.
The best snack in EPCOT can be found at Fountain View Ice Cream.  The made-from-scratch waffle cone topped with Edy's ice cream makes the perfect, refreshing snack on a hot day.  Besides the ice cream sandwich at the Main Street Bakery, this is, in my opinion, the best ice cream at Disney World.
An excellent free snack can be found at the Cool Spot in EPCOT.  If someone has ever wondered what soda from other countries tastes like, this makes a great way to find out.  If guests become thirsty, they can stop by here for a unique selection of drinks.  They have Coca-Cola products from Germany, Italy, Belgium, France, and more.  Some taste great, while others, like Italy's beverage, taste bitter.  My favorite is Germany's soda, which I like more than American Coke.
A great child's snack and my second favorite in Disney are the marshmallow sticks at the candy shop inside Beverly Sunset Shop at Hollywood Studios.  Over half a foot long, these filling treats take a good bit of time to eat and can be messy.  These can be bought dipped in either milk chocolate or white chocolate and rolled in sprinkles or M&Ms.  An extra bonus is the Mickey Mouse shaped straw that it is served on, which can be taken home as a souvenir.  In addition to this delicacy are many other delicious treats in this candy shop.
Scattered throughout the four theme parks and two water parks are ice cream carts.  Though the snacks here taste great, they are not quite as yummy as the other shops.  However they are relatively cheap and refreshing, and I would highly recommend them to people trying to save money.  Their assortment includes the Mickey Mouse Premium Bar, Minnie's Strawberry Bar, the Itzakadoozie, the Mickey Mouse Ice Cream Sandwich, and more chilling, tempting snacks.  The Itzakadoozie would best satisfy kids, though adults will probably like the other cold desserts better.
Overall, the best place to buy a delicious treat in my opinion would be the Main Street Bakery.  For kids snacking at Disney World, I would recommend Rice Krispie treats, marshmallow sticks, and the Itzakadoozie.  Although some are better than others, all the snacks in Disney World taste delicious.  I am looking forward to devouring two snacks a day when I return later this year with the quick-service Dining Plan.  I plan to revisit these delicious snack places, and try out some new ones.