This post may contains affiliate links for your convenience. If you make a purchase after clicking a link we may earn a small commission but it won't cost you a penny more! Read our full disclosure policy here.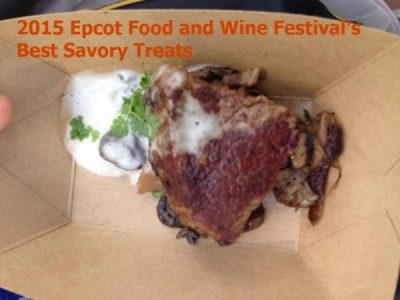 One of my favorite events at Walt Disney World is the Epcot Food and Wine Festival, which is held each autumn. The event is very accessible because in addition to exclusive/expensive dining events, your park admission allows you to partake in the food kiosks located around the World Showcase. These kiosks give you a taste of all different cuisines with small portions and small pricing for each item. This article is going to examine some of our favorite savory options from the 2015 Food and Wine Festival.
1. Ricotta and Zucchini Ravioli with Tomato Sauce from the Sustainable Chew Kiosk
Being of Italian heritage, I was skeptical of this item before trying it, but it wound up being my son's favorite dish from the festival. It was cooked perfectly, and amazingly flavorful. The tomato sauce was slightly spicy, but still child-friendly. It tasted fresh and light, and was a nicely sized portion. Although the Sustainable Chew Kiosk will not be returning in 2016, this item will be available at the new Chew Collective kiosk. It is priced in 2016 at $4.75 or one snack credit.
2. Beef Bourguignon from the France Kiosk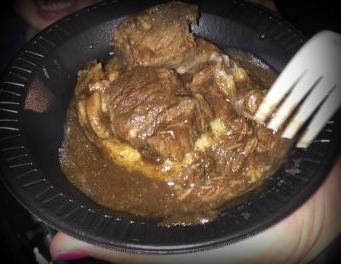 French food is known for using common ingredients to make rich and delicious cuisine. While this can be difficult to do on a large scale, the France kiosk has it down to a science with this wonderful beefy delight. The dish includes slow cooked short ribs in a red wine sauce served on top of buttery mashed potatoes. It tastes like it came straight from Grandma's kitchen and was loved by everyone in our group. We only wished we bought more portions. In 2016, it retails for $6.25 or one snack credit.
3. Kalua Pork Slider with Sweet and Sour Dole Pineapple Chutney and Spicy Mayo from the Hawaii Kiosk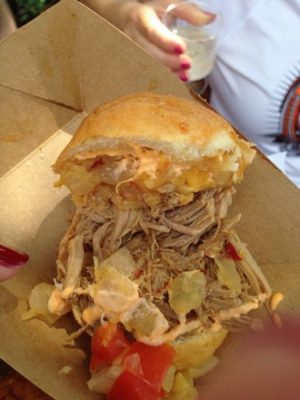 I'd heard great reviews about the kalua pork slider prior to our 2015 trip, but this was my first chance to try it. After one bite, I understood the appeal. This sandwich has a serious spicy kick and is loaded with flavorful shredded pork. The portion size on this was generous, so it was a good option to share, though my children thought it was too spicy for their tastes. I recommend trying this along with a glass of Maui Splash Sweet Pineapple Wine, which was strong and sweet, and provided a great counterbalance. The sandwich is $4.25 or one snack credit in 2016.
4. Wild Mushroom Beef Filet with Truffle Butter Sauce from the Canada Kiosk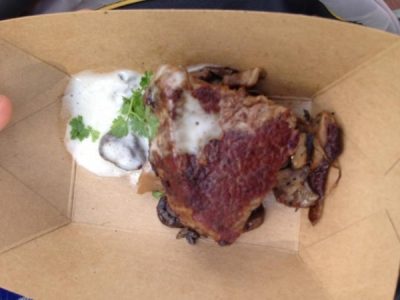 My family used to love going to Le Celier Steakhouse for their wild mushroom filet, but with prices so high and time in the parks so short, we have not been there for a few years. Luckily, the Canada kiosk offers a small taste of our favorite steak. I was afraid that it may not taste as good in such a small portion, but I should not have been concerned. This steak, though thinner and cooked a bit more than I would have ordered at the restaurant, was delicious. It had a great exterior crust and the mushroom sauce was the star- salty and buttery. This is one of the priciest items at the Epcot Food and Wine Festival, making it a great use of a snack credit. In 2016, it costs $7.75 or one snack credit.
5. Keilbasa and Potato Pierogi with Caramelized Onion and Sour Cream from the Poland Kiosk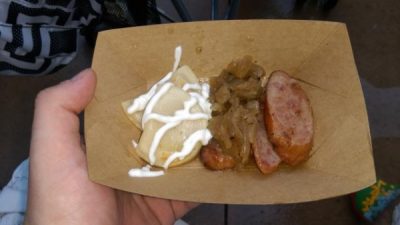 This pierogi is one of the best I've ever eaten. It's a wonderful starchy treat with a plethora of subtle flavors- potato, sweet onion and sour cream. Paired with the meaty keilbasa, the dish was well balanced and a nicely sized portion. Of course, after sharing with my family, I had to go back on line for two more servings because we all like it so much. The 2016 retail price is $5.50 or one snack credit.
Do you have any savory favorites from the Epcot Food and Wine Festival that didn't make my list? Post a comment and let me know. There are so many good options that it's hard to choose.