This post may contains affiliate links for your convenience. If you make a purchase after clicking a link we may earn a small commission but it won't cost you a penny more! Read our full disclosure policy here.
By: Teresa Pitman
Lions and tigers and bears oh my! Okay, there weren't any bears but we did see lions and tigers and learn about many other animals on our Backstage Safari Tour. We also gained a new appreciation of the work Disney does to take care of the animals in the parks and resorts.
Love animals? Want to know more about them? You'll love this tour.
The Backstage Safari tour is an insider's look at the innovative ways that Disney Cast Members care for its animal inhabitants. On this tour, you'll get up close to a variety of spectacular and majestic animals in their behind-the-scenes habitats.
We met just outside the entrance to Animal Kingdom and received headphones and a receiver so we could hear our guide as we walked around. Our group consisted of just five people so we had lots of opportunities to ask questions and could easily gather around our guide.
After we entered the park, we were taken to some of the enclosures in the Oasis area. Like most people, I usually head through this area quickly on my way to get a FASTPASS for Expedition Everest or Kilimanjaro Safaris. I was actually shocked to discover what I'd been missing. For example, I'd never seen the two giant anteaters – beautiful and remarkable animals – who are housed in one area. They're big animals but they tend to hide behind the plants so you need to be patient to see them. It was worth the wait.
Our exploration of the Oasis complete, we headed back out through one of the Cast Member entrance gates and got into an official Disney van. Our guide drove us past many of the "backstage" buildings, explaining what each was used for and where it was in relation to landmarks and rides inside the park. We saw where the green leafy plants and bushes used for "browse" are grown; this is harvested and set out for the animals to eat each day. (The Cast Members do a great job of making this look natural.)
We even saw an area where materials and designs for the new Avatar section of the park were being tested.
At our destination, we all climbed out of the van and headed into the building where the animal nutrition department is housed. There we checked out the giant refrigerators where the browse and other fresh food is kept. Because it was mid-afternoon, most of the food for the day had already been prepared and shipped out to the animals, but we were able to see a few meals being put together. The produce used is the same quality as that served in the restaurants at WDW, we were told, and it certainly looked tasty. (However, I did not find the boxes of mealworms and crickets nearly as appealing.)
In another building, we had a bathroom break and were given water (with our souvenir Backstage Safari travel mugs) and snacks. We saw a movie that showed how the animals were given "enrichment" activities to keep them from being bored and to encourage them to behave in more natural ways. They are also taught – entirely by positive reinforcement, never with punishment or force – to do certain things to enhance their care. For example, the gorillas will hold up their arms when asked to do so for an injection.
Each type of animal has its own night barn area, and there is a different signal to call each animal in at night. We were taken to visit the hippo barns and the rhino barns, and one of the animal experts talked to us about the animals and his work. When we signed up for the tour, we were told that there was no guarantee of animal contact, but we were lucky enough to get up close to both a hippo named Padron and a rhino named Travis.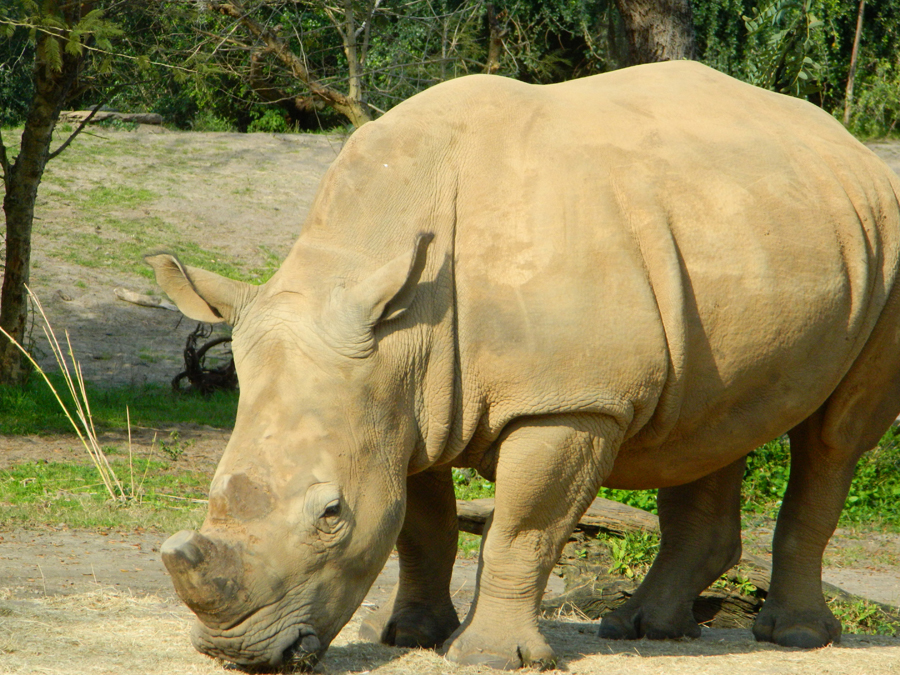 Padron was being prepared to move to a zoo in another state where he'd have a chance to mate with a female – kind of an arranged marriage, I guess! His area in the barn had access to a large pool and we watched him go in and out of the water. We were warned about the hippo tendency to spray feces around and could see the attractive pattern he'd made on the wall behind the pool (very attractive to the right female hippo, I'm sure).
The animal expert explained that as the animals came in (and hippos can run at speeds of up to 35 miles per hour, so they can be moving pretty fast), the gates and doors would be opened and closed in sequence to guide each hippo into the right pen. They are kept in separate pens at night so they can be fed and (if needed) supplemented individually. He said that at first it was a challenge to quickly identify each hippo as he or she comes through the gate so you can get the right pen open, but that now he can instantly tell who is who. And I thought all hippos looked alike!
Travis, the rhino, was recuperating from having his horn repaired after he'd injured it. He was very friendly and followed us (inside his pen) as we walked around the outside. Our expert then fed him green beans to keep him happy while we each took a turn stroking his cheek and feeling his horn. I never imagined I'd have a chance to actually touch a rhino! He was quite patient and calm while we did this (the green beans helped, I'm sure!)
From there, we went to Rafiki's Planet Watch from the backstage entrance and walked through the rooms where the veterinarians work. There were no procedures being done at the time but we were able to see the set up and ask questions. Our guide told us that any animals found injured or in need of medical care on Disney property will be treated by the veterinarians, including the wild ones. The vets even did a skin graft on an injured fish! During the oil spill in the Gulf of Mexico, some turtles and other injured or sick animals were brought to Disney to be treated and then released back into the wild.
We finished our tour (which lasted a bit more than three hours in total) with a ride through the Kilimanjaro Safari – just the five of us plus our guide and the driver in the truck. I'd read reviews saying that we'd have more opportunities to stop and take photos, but that was certainly not the case for us; our driver drove through the route very quickly and I felt I actually had fewer photo ops than usual. That was probably the only disappointing part of the tour.
I've only included a tiny part of what we learned; both our guide and the animal expert we spent time with were very knowledgeable, and we had lots of opportunity to ask questions. And I'll never forget the feel of Travis's leathery skin or how it felt to be just inches away from a hippo.
The Tour takes place on Monday, Wednesday, Thursday, and Friday at both 8:30 am and 1:00 pm.  It lasts for approximately three hours and costs $72 a person, plus tax.  Guests must be 16 or older to participate and additional park admission is required.  Discounts are available to Annual Passholders, Disney Visa cardholders, and DVC Members.  To book this tour, call (407) WDW-TOUR or talk with your travel agent.