This post may contains affiliate links for your convenience. If you make a purchase after clicking a link we may earn a small commission but it won't cost you a penny more! Read our full disclosure policy here.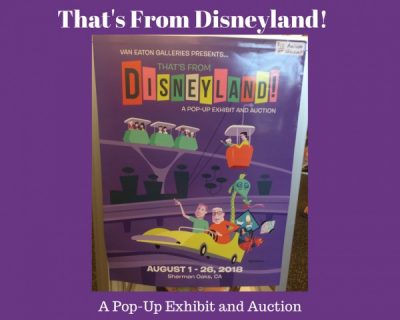 Welcome to the That's From Disneyland! Pop-Up Exhibit and Auction
Once upon a time, a man named Richard Kraft amassed a huge collection of Disneyland items. Sure, he had park maps from pretty much every year the park was open, but his collection didn't stop there: he would buy ride vehicles that were taken out of commission, old audio-animatronics, and signage that was no longer used in the park.
Eventually, he realized that it was too difficult to maintain a collection of this size. So he decided to auction off his collection, and to give some of the proceeds to charity.
He realized that many people would need to have an opportunity to see these items, and arranged to have them displayed in an unused storefront in a suburb of Los Angeles.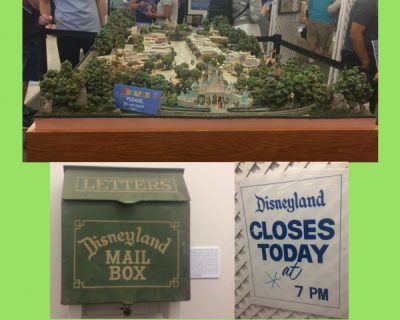 That's from Main Street, U.S.A.!
He also realized that public interest in the collection would be intense, so he arranged to make this exhibit free for the public to view during the month of August, until the live auction on August 25th and 26th.
Excitement was growing about the That's From Disneyland exhibit, so he also added events at the location. Some would be hard-ticketed, with proceeds going to charity. Others would be free and open to the public.
So people driving by what is usually a large shopping center in Sherman Oaks were baffled to see lines of people waiting to get in to see what would be called That's From Disneyland!
The exhibit was on the first floor, with space upstairs for special events. The area was separated into the same lands Disneyland is famous for. We began at That's From Main Street, U.S.A.
There was an amazingly detailed mock-up of the park, an old mailbox, and a sign declaring that Disneyland would close at 7:00pm. One of the largest, and brightest, items was a working neon sign featuring the "D" from the Disneyland Hotel.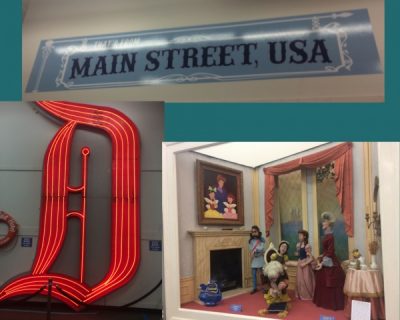 From Main Street, U.S.A. and the Disneyland Hotel
Old window displays from the Emporium gift shop, an ice cream cart, and a poster from Disneyland After Dark tempted potential auction goers. My 12 year old daughter was fascinated by a park map that came with small records to play the ambient soundtracks of each section of the park.
An ice cream cart, poster for Disneyland After Dark, and park map
A sign for the now-defunct Red Wagon Inn advertised children's meals starting at $1! A sign described a concept for an "Anything Can Happen Land" that never was developed.
Menu from the Red Wagon Inn, and "Anything-Can-Happen-Land!"
The That's From Adventureland section contained many items from the Enchanted Tiki Room. The biggest draw here was the working Audio-Animatronic Jose. I personally was crazy about the tiki drummers.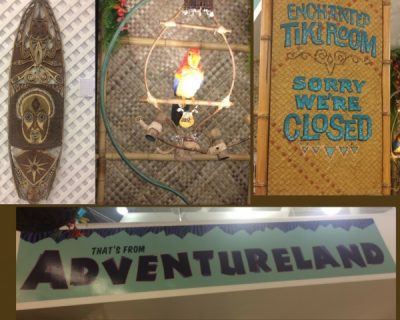 That's from Adventureland!  Specifically, the Enchanted Tiki Room
The organ from the Swiss Family Treehouse, the sign for the Adventureland Cantina, and a lamp from Aladdin's Oasis were on display. Here you could also find one of the miniature Jungle Cruise boats you used to be able to play with at the Disneyland Hotel.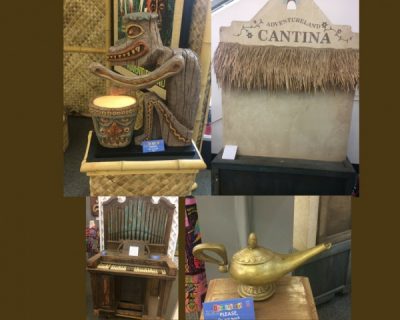 Tiki drummer, Adventureland Cantina sign, Swiss Family Robinson organ and Aladdin's Oasis lamp
Next we saw That's From Frontierland. A wolf you could spot while on the Mark Twain Riverboat was up for auction, as well as a postcard machine.  My eagle-eyed daughter noticed that scattered throughout the exhibit were old parking signs, identifying different parking areas.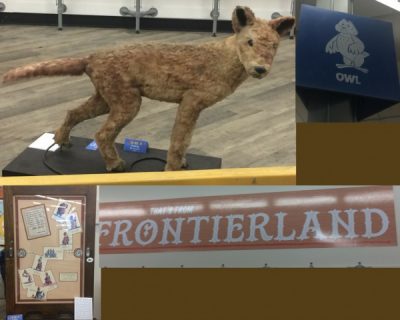 That's From Frontierland!  Also, a parking sign
Next we visited That's From Tomorrowland. There were two actual Skyway buckets here. One you were not allowed to touch, but the other one was open for photo ops. An old Rocket Rod vehicle was also on display.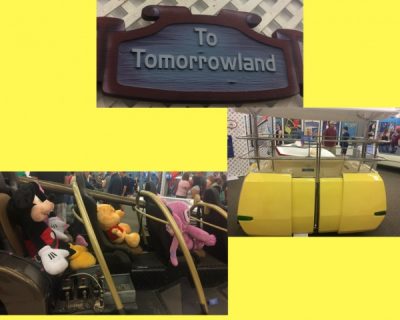 That's From Tomorrowland!  Sign, Rocket Rod and Skyway bucket
Astro Orbiter vehicles were on display, as was a model of a never developed Progressland attraction. A mermaid from the Submarine Voyage was a highlight. I got nostalgic looking at a poster for Magic Journey.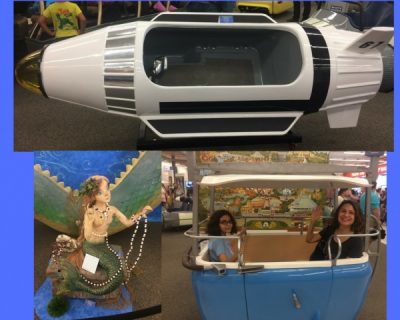 Astro Orbiter vehicle, Mermaid from Submarine Voyage, Skyway
That's From New Orleans Square included a photo opportunity with a headstone. (This headstone was NOT an original.) Nearby you could see a Doom Buggy up for auction.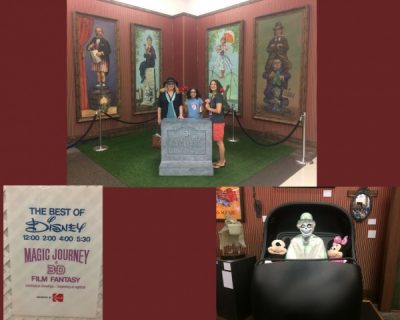 That's From New Orleans Square!  Plus, a Magic Journey poster
That's From Fantasyland included a collection if it's a small world dolls, a Matterhorn bobsled, and a car from Mr. Toad, which was available for photo ops. You could also sit in a Snow White's Scary Adventures vehicle.  Props from the Alice in Wonderland ride could be found here, too.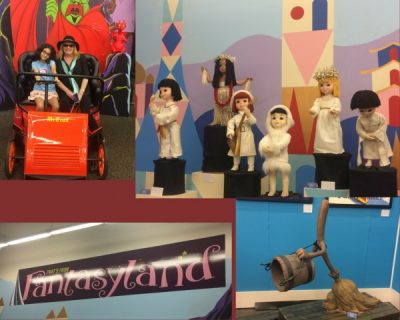 That's from Fantasyland!  Mr. Toad's car, it's a small world dolls, and Alice props
This is Disney, after all, so of course there was a gift shop. There were T-shirts, posters and tote bags with the That's From Disneyland! artwork on it, as well as smaller items that were sold outright rather than being auctioned off. I was very surprised to find a Walt Disney World item here!  There was also the only nod to California Adventure in the whole exhibit.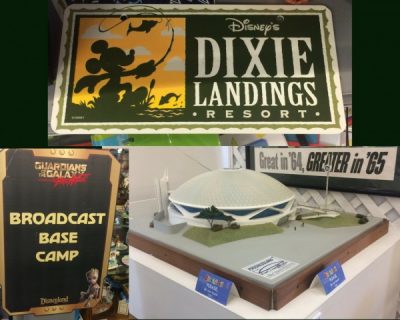 Who snuck Walt Disney World in here?  Also, Guardians of the Galaxy and Progressland
Upstairs, we arrived in time for the free children's arts and crafts program. A live alpaca was brought in, and children were given clipboards, charcoal, erasers and paper to draw him.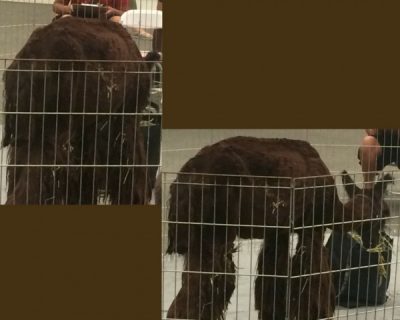 Kids loved drawing this alpaca
Nearby, a huge art installation was going on. Children were invited to create a part of a huge model theme park complex. Each child was given an assignment, such as a first aid station, a water flume ride, a hotel restaurant, a ticket booth, or a dark ride. Kids were given ample craft supplies to make their creation, and it was all displayed together.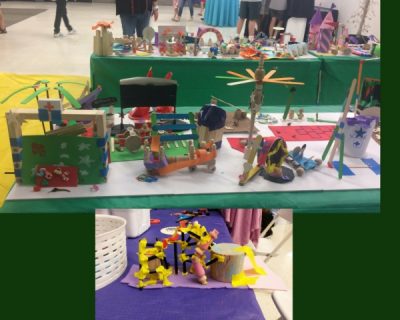 The kids worked hard to create a theme park and resort hotel!
This That's From Disneyland exhibit was only open through August 24th and it was incredible that is was free to experience. I mean, how often are the words "Free" and "Disneyland" used in the same sentence?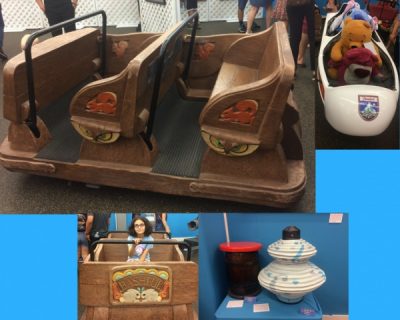 Bashful car from Snow White's Scary Adventures, Matterhorn Bobsled, props from Alice in Wonderland
And if you were the one who decided to bid on that giant "D" from the Disneyland Hotel, I certainly don't judge you.
Did you get to experience the "That's From Disneyland!" exhibit? What did you think? Let us know in the comments, or on Facebook or Twitter.
Did you like this article? Make sure to share it with your friends! Check below for easy ways to share!