This post may contains affiliate links for your convenience. If you make a purchase after clicking a link we may earn a small commission but it won't cost you a penny more! Read our full disclosure policy here.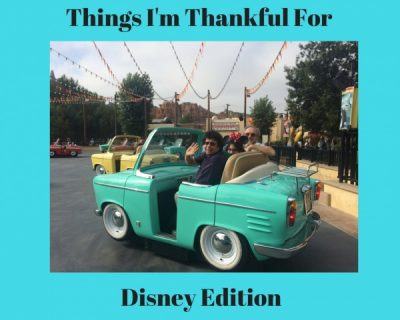 I'm very thankful that my parents joined us to celebrate my daughter's birthday at California Adventure!
Unlike so many malls and grocery shores and shopping centers, I do not leap immediately from Halloween to Christmas. I happen to love Thanksgiving. It's such a perfect to time reflect on everything I have and how grateful I am for it.
Today I wanted to share with you all the wonderful Disney experiences I've had since last Thanksgiving, and why I'm grateful for them.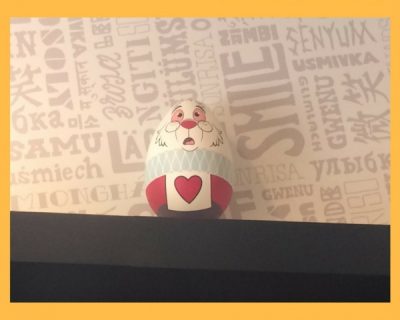 First of all, I'm grateful to Sherry for her blog post about the Disneyland Egg-Stravaganza events. I had already done this at California Adventure, but I had no idea that there was one going on at Downtown Disney during my daughter's Spring Break!
I decided to surprise my daughter by taking her. Since we didn't need park admission, it was a relatively inexpensive way to enjoy Disneyland. As it turns out, Downtown Disney had sold out of all the maps that included stickers and a prize for completing the hunt. But they were handing out free printouts, and my daughter had a great attitude about it.
She drew in pictures of each egg in the place where the sticker was supposed to go, and I rewarded her by buying her a churro when she completed the hunt. (Her very first churro, in fact!)
MY DAUGHTER'S BIRTHDAY AT CALIFORNIA ADVENTURE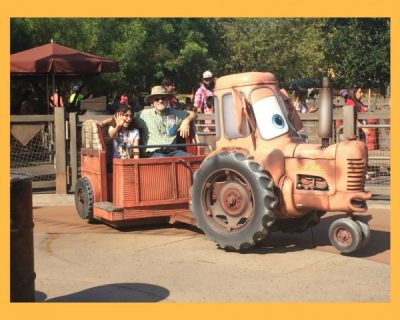 We hadn't been to California Adventure in two years, so I was so happy when my daughter chose to spend her birthday here. Not only did we finally get to ride the new Soarin', catch a performance of the Guardians of the Galaxy Dance Off, and ride the Cars Land attractions with their Halloween overlays, but we got to surprise the birthday girl with a visit from Grandma and Grandpa, who came to the park to spend the day with us!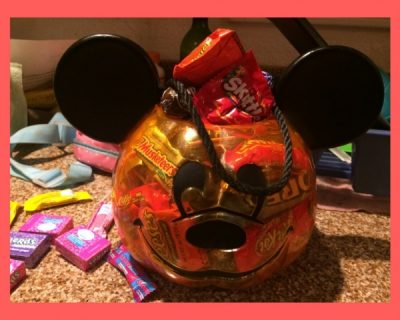 DISNEY HALLOWEEN COSTUMES
My daughter once again chose to dress as Tinker Bell, surprising absolutely no one, and carried her Mickey head treat bucket to keep her stash in while trick-or-treating. Not to be outdone, I dressed as an Agent of S.H.I.E.L.D., complete with lanyard. My husband, who despises wearing a costume, declared that he was an Inhuman who had not yet undergone Terrigenesis. I'm working on him.
MY PARENTS
My love of Disney travel, my blogging, my joy every time I see both Cinderella Castle and Sleeping Beauty Castle – all of this is because in 1976, my parents decided to take my little sister and me to this relatively new place called Walt Disney World. They recently became Disney Vacation Club members, and have continued to bring our family together with Disney vacations.
When they joined us at California Adventure for my daughter's birthday, they knew that we were watching our budget, so they bought us dinner and drinks. And we are currently counting down the days until our big family reunion at Walt Disney World, which we can only afford because my parents are using their DVC points to get three studios at the Polynesian for nine people.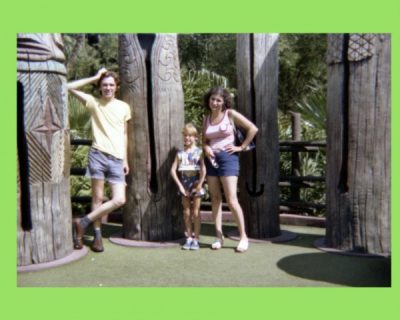 My parents and sister in 1980 during our Walt Disney World vacation
Needless to say, I have a lot to be thankful for. So many happy Disney memories, and so many more to come.
What are you Disney thankful for this Thanksgiving? Share in the comments.
Did you like this article? Make sure to share it with your friends! Check below for easy ways to share!