This post may contains affiliate links for your convenience. If you make a purchase after clicking a link we may earn a small commission but it won't cost you a penny more! Read our full disclosure policy here.
Happy Birthday Tower of Terror!
Twilight Zone Tower of Terror is by far my favorite ride throughout Walt Disney World's four theme parks.  It doesn't matter how many times I ride it each time it leaves me giddy with excitement.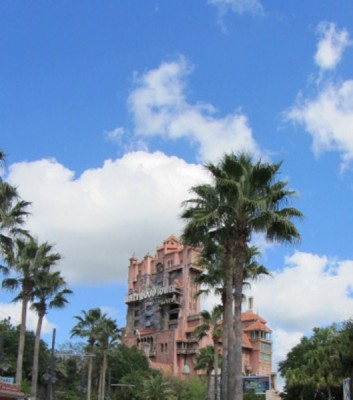 Tower of Terror from Sunset Blvd
The atmosphere of Tower of Terror starts before you even get to the ride itself.  From Sunset Boulevard, you can hear people screaming as they experience the joy of the ride.  The outside of the 1930s style hotel itself also sets the stage as it has that perfect mix of rundown and scary.  Disney does a great job at drawing your attention to this ride before you even get to it.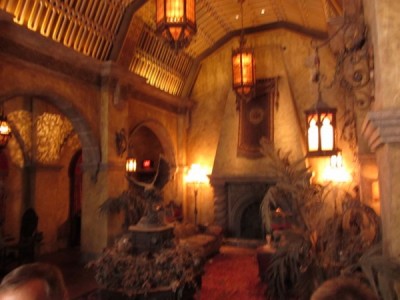 Lobby of Tower of Terror
If you are brave enough to venture onto the ride, your experience continues with your wait for check- in at the hotel lobby.  The lobby has been left to cobwebs and dust but take a minute to look around.  The details in the lobby are outstanding.   From the chairs to the pictures and table decorations, every small item seems to have meaning and adds to the atmosphere.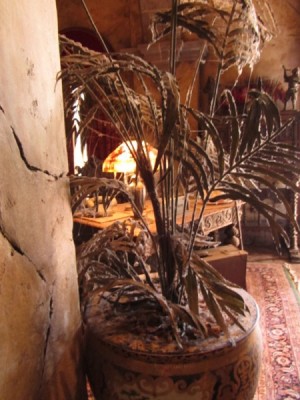 Another example of the details
Once it is your turn to be "checked-in" a very serious cast member (who may or may not scare younger children with his/her great acting ability) will direct you to your first waiting room.  The door will open to a large room which once again is decorated perfectly.   When you, and a few of your closest friends, are in the room a video will begin to play.
This pre-show video explains what happened in the hotel on that fateful night long ago.  As you watch the video, take note of the five people (an actress and scarlet, child and nanny, as well as a bellboy) that entered the elevator as you will see them again soon.  Their story takes place on a dark and stormy night (which I think makes it even more fun to ride during a summer rainstorm) and a narrator will walk you through how the hotel was hit by lightning and the five elevator riders were taken to…the Twilight Zone.  A heads up for those with smaller children, this video can be a little intense for younger kids as Disney does a great job setting the stage for the ride.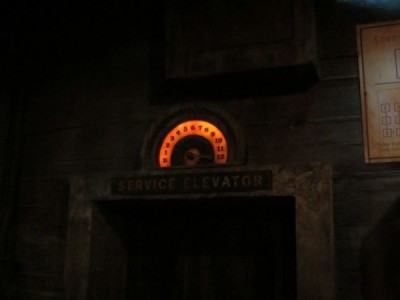 Elevator dial
Following the movie, a new door will open to the hotel's boiler room where it is now time to wait for your elevator.   Again a cast member will direct you to your seat and remind you to buckle up.  There are two lines for the four elevators that run and in all my times riding I have yet to determine if one is better than others.  Pick one and stick with it.  While you are waiting, watch the elevator dial and take in the area around you as Disney has once again done a great job with details.
The fun truly begins now that you are on your elevator.   The first stop is a quick one that will invite you on the journey through the twilight zone.  As the doors close once again, you continue to head up to your next stop where you will leave the safety of the elevator shaft and move along the different holographic images.   This is where details from the earlier video will show up.  Looking at the different holographic images is a good way to distract young, or old, riders that might be nervous.  Finally you will lock into your new shaft and the ride is ready to go.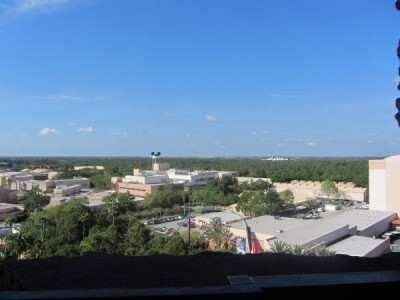 View of Hollywood Studios from the drop
Tower of Terror will drop your cart and bring it up again between two and seven times.  Each trip, each elevator seems to offer different ride sequences, which keeps this ride fun and fresh.  My favorite is when the doors open allowing riders to see into Disney's Hollywood Studios.
When your trip is done, you will return to a new elevator shaft where a cast member will greet you and send you on your way.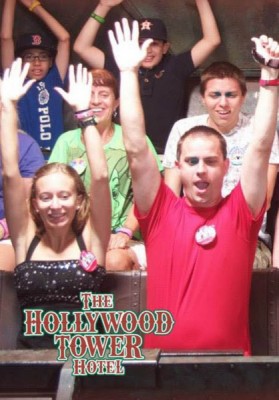 Excitement from the ride
I absolutely love the excitement offered from Tower of Terror.  Every time I ride it I feel like it is a different ride making it so much fun.
Thanks for all the great memories Tower of Terror and happy anniversary!  I hope you have the opportunity on your next trip to take a ride on the Tower of Terror and travel into…The Twilight Zone.
What is your favorite part about the Twilight Zone Tower of Terror?