This post may contains affiliate links for your convenience. If you make a purchase after clicking a link we may earn a small commission but it won't cost you a penny more! Read our full disclosure policy here.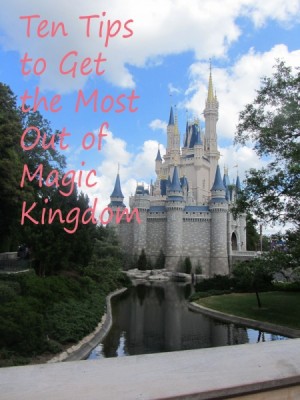 Walt Disney World is an amazing vacation but it can be overwhelming.  Magic Kingdom is the most popular of the four Disney parks making it hard to navigate at times. Here are a few tips on how to get the most out of your Magic Kingdom visit.
Get There Early
As you can imagine, Magic Kingdom is the most popular and the most busy of all the Walt Disney World four main parks.  In order to get the most out of Magic Kingdom, get there before rope drop (official opening).  This allows you to get through security and bag check, take a quick bathroom break, and line up at the gates ahead of the majority of the crowd.  A welcome show that includes a variety of characters, the Walt Disney World Railroad and people from Main Street greet guests prior to rope drop and is a fun and unique experience.  The biggest advantage to getting there early though happens once those gates open up, those that have arrived early are the first inside the park where they are able to avoid long wait times, take advantage of the little crowds and have a magical experience.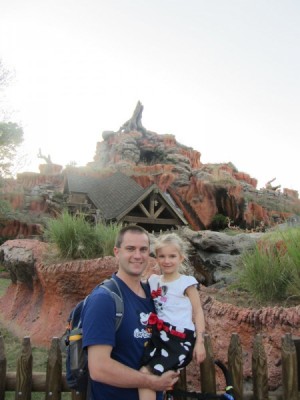 By Heading to Splash First She Rode it 8 Times in a Row
 Be Different
Once the gates have opened at Magic Kingdom, the majority of guests head to Tomorrowland or Fantasyland.  In Fantasyland, many race to ride the Seven Dwarfs Mine Train, Peter Pan, and see the Enchanted Tales with Belle or the princesses at Fairytale Hall.  Space Mountain is the main focus of guests in Tomorrowland.  Be different.  Instead of heading to these areas, go towards Adventureland and Frontierland.  You will be greeted with an almost empty park.  You are able to enjoy a variety of rides such as Big Thunder Mountain Railroad, Splash Mountain, Jungle Cruise and Pirates of the Caribbean without much of a wait.   Step out of the norm and head to these less popular lands!
 Use Your FastPasses
So if you aren't heading to Fantasyland or Frontierland, how are you going to ride those ever popular rides?  The answer is use your FastPasses for those high-demand rides.  The Seven Dwarfs Mine Train is one of the most popular rides in Magic Kingdom right now and guests can wait up to two hours in stand-by.  Skip that line by making sure you sign up for your FastPasses at your first chance (60 days for resort guests, 30 days for non resort guests).  Other rides that can have long waits are Peter Pan's Flight, Space Mountain, and Enchanted Tales with Belle. Take advantage of this system and get those FastPasses to limit your wait time to popular rides.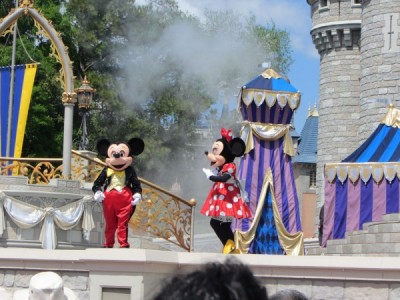 They Loved "Dream Along With Mickey"
 Watch the Shows
Magic Kingdom has a variety of shows that you can see while visiting.  From the amazing "Dream Along With Mickey" that takes place at Cinderella's Castle throughout the day to random dance parties that breakout in Tomorrowland or with the Move-it, Shake-it parade, there are a variety of opportunities for guests to watch these magical shows.  You can also take in more low key shows like The Hall of Presidents, Enchanted Tiki Room and Country Bear Jamboree.  Shows are a great way to get out of the hustle and bustle of the park while still getting a piece of the magic.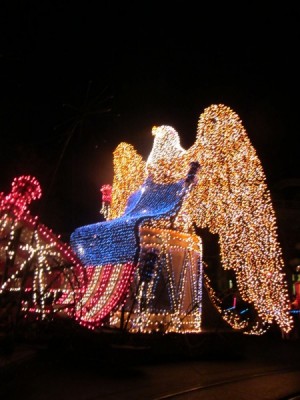 Disney's Main Street Electrical Parade
 Line Up Early for Parades
Magic Kingdom has two parades on a typical day.  During the day, guests are treated to the Festival of Fantasy parade.  This parade is a must-do while at Magic Kingdom as a variety of characters come out to greet guests.  From the main mouse himself to the favorite Frozen sisters, Elsa and Anna, guests will be treated to a wonderful time of music, singing, dancing and all around fun.  The evening parade at Magic Kingdom is the Main Street Electrical Parade.  This parade treats guests to a spectacle of lights as characters come out once again to greet guests.  In order to get the most out of these two amazing experiences, find a spot early-on.  Around an hour before hand, find a spot on Main Street, near the castle or even up by the train and then relax until showtime.  Doing this will allow you to get the best viewing spot for your little ones.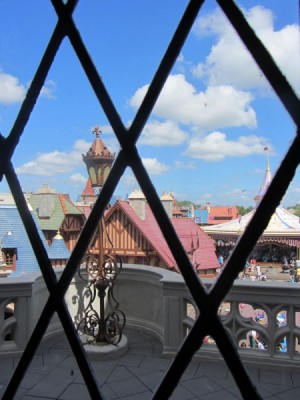 A Royal View from Cinderella's Royal Table
 Eat at a Table Service Restaurant
Magic Kingdom has some of the best table service restaurants in Disney World.  Experience the magic of Disney by booking a seat at either Cinderella's Royal Table or at Be Our Guest (the Beast's castle).  Both of these restaurants bring to life the magic of Disney by allowing guests to feel part of the movies.  From being a royal princess at the palace with Cinderella to dancing away in the ballroom at Be Our Guest, guests of all ages will love the magic of these restaurants.  If you aren't into the princesses and princes, Magic Kingdom offers other options as well.  From a typical Thanksgiving meal at Liberty Tree Tavern to a seafood spectacular at Columbia Harbour House, don't miss out on these great experiences at Magic Kingdom.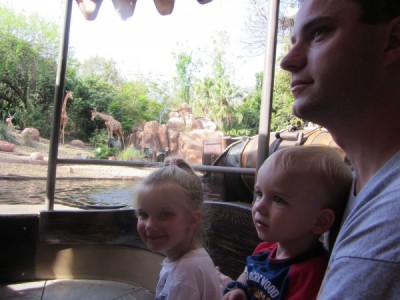 Loving The Jungle Cruise
 Don't Skip the Oldies
So many people rush to the big rides such as Big Thunder Mountain Railroad, Splash Mountain, Space Mountain, or Seven Dwarf Mine Train that they forget about the other amazing rides at Magic Kingdom.  In order to get the most out of Magic Kingdom, make sure you hit up the Haunted Mansion, Pirates of the Caribbean, Jungle Cruise, Tomorrowland Peoplemover, Carousel of Progress, and the loved and hated It's a Small World.  These are great classics that will make your trip to Magic Kingdom complete.
 Shop:  
Throughout Magic Kingdom guest can find a variety of shops, but the best option is on Main Street called Emporium.  This massive store takes up a good part of Magic Kingdom's Main Street and is a variety of different rooms filled with everything guests might want, need or wish for.  This is a fun experience for those searching for the perfect souvenir or the guests that just want to experience the merchandise madness that this store has.  Either way, a trip to Magic Kingdom isn't complete without a stop here.
 Don't Miss a Kiss Goodnight:  
This amazing show happens each night in Magic Kingdom a half hour after the park has officially closed.  The castle bids one final good night to park guests through a unique lighting show that is projected onto Cinderella's Castle.  Along with this amazing show comes a speech that thanks everyone for visiting Magic Kingdom.  This final touch to the evening is an amazing example of the extra magic Disney puts into everything.
Taking a Moment to Hang-out
 Take a Break:
One of the biggest ways to get the most out of your Magic Kingdom trip is to take a break.  Magic Kingdom is a large and busy park which can make it seem very overwhelming.  The best way to avoid getting frustrated on your vacation is to take a breath and relax.  Grab a snack, people watch, catch a show.  These are all quick and easy ways to take a break while in Magic Kingdom and help yourself get refreshed.  By taking a few minutes it can make a big difference the rest of the day.
Magic Kingdom is an amazing park that offers so much to those guests that are visiting.  These are a few way to get the most out of your visit to Disney's Magic Kingdom.  
What are your best tips to get the most out of the Magic Kingdom?