This post may contains affiliate links for your convenience. If you make a purchase after clicking a link we may earn a small commission but it won't cost you a penny more! Read our full disclosure policy here.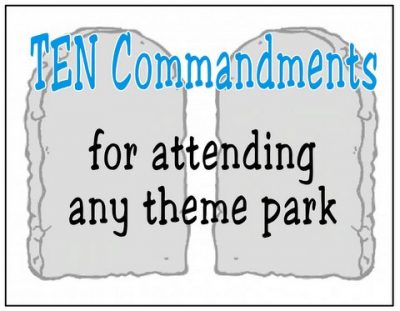 Whether you're just driving an hour down the road to visit your local amusement park or making a weeklong excursion to Walt Disney World, some rules always apply. Every family has a different idea of "enjoyment" on a vacation or fun outing, but these ten theme park commandments will definitely help you get the most out of whatever you have planned.
One line you can skip!
1. Thou shalt buy thy ticket ahead of time. Big or small, every amusement park wants you to buy your ticket before you show up on their doorstep. Purchasing ahead gets them the money upfront and reduces ticket booth lines. As a result, the park almost always offers the best deals to visitors who buy their admission online or through a third party. You'll save money and hassle that day. Many parks even let you use a bar code on your smartphone for admission.
2. Thou shalt familiarize thyself with thy destination. Look at the park's website and glance at the parking directions. Download an app that tells showtimes, food choices, and locations. Pick up a map when you enter. Even if you do none of these, at least check the operating hours — there's nothing like showing up at 9 a.m. when Six Flags opens at 10:30 (true story), or getting unexpectedly booted from the Magic Kingdom when a hard-ticket Halloween party starts at 6 p.m.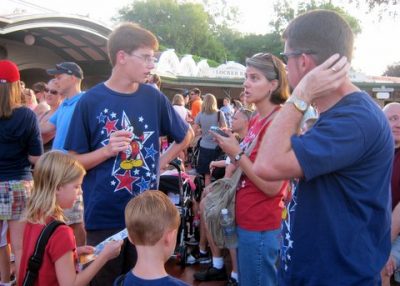 Meet Mickey? Ride Big Thunder? Cinnamon roll?
3. Thou shalt know at least thy first step. Even if you want to sleep in and then just wander around that day, have your first move in mind. It doesn't require months of military-level strategy — just choosing the first attraction, character meet, or breakfast on your way to the park puts you in a figurative and literal better place. Don't be That Family, clogging the middle of Main Street arguing over Seven Dwarfs Mine Train vs. Space Mountain while everyone races by.
4. Thou shalt wear sunscreen and consume water. Unless you work outdoors every day for 12 hours, you'll be exposed to more sun and heat than you're used to. Many ride lines have minimal shade, plus the pavement reflects sunlight. Apply sunscreen before arriving and bring some to reapply. Bring or buy water and make a point of drinking more than you would at home. Don't ruin your visit by turning the color of Sebastian the Crab or collapsing like Sleeping Beauty.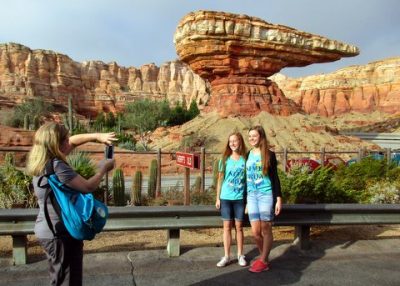 Say cheese x 1000
5. Thou shalt take lots of pictures. How many photos can you take in a single day? There's a reason amusement parks top the lists of most-photographed and most-Instagrammed spots. The otherworldly settings, being all together, and an overall good mood give you the perfect reasons to snap away! Some of my favorite pictures of my family also have Tigger in them, or a "how did I survive that?" look after a thrill ride.
6. Thou shalt eat heartily. Most theme-park fare isn't going to win any culinary awards. But there are gems in every park, regional delicacies and standout snacks. You're burning more calories than usual, so ditch the diet plan for one day and go big. There's no place where a corn dog or a funnel cake sounds better!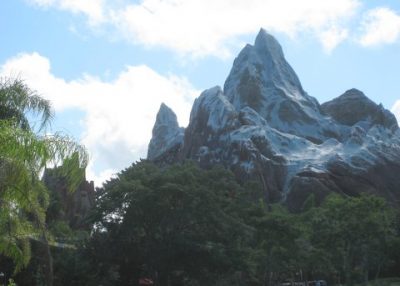 Fun for some, but not essential to having fun.
7. Thou shalt ride what thou likest. We all have differing ideas of joy and terror. For some, joy is "it's a small world" and terror is Space Mountain. Others would reverse that entirely! If someone in your family can't stand drop towers, don't guilt them into riding. If you want to ride the 17-loop hypercoaster over and over, go for it. You're not at a theme park to check boxes off someone else's list.
8. Thou shalt not get hung up on money. Newsflash: theme parks are expensive. You've forked over a large sum for admission, and now they want how much for a cheeseburger? Be smart with your dollars — split food, turn down the upcharge experiences, get your money's worth — but don't spend the visit continually grousing about how overpriced everything is. They know. We know. All you're doing is dampening your enjoyment.
When he gets Sleepy, don't get Grumpy
9. Thou shalt not expect everyone to go at the same pace. If you're a party of more than one, someone's going to blink. He'll want to eat before you do. You'll want to call it a day before she does. The kids will want more time in the resort pool and less waiting for table service meals. A group visit is an exercise in heading off meltdowns and compromise.
10. Thou shalt HAVE FUN! Why are you here? To smile, and to see someone you care about smile! To try something new, revisit an old favorite, hug a furry character, ooh and aah at fireworks, and make some memories. Will everything go like clockwork or resemble the marketing photos? Of course not! But you can still have a fabulous time if you remember a few of these simple rules.
What would you add to our list of ten theme park commandments? Share them in the comments.

Did you like this article? Make sure to share it with your friends! Check below for easy ways to share!