This post may contains affiliate links for your convenience. If you make a purchase after clicking a link we may earn a small commission but it won't cost you a penny more! Read our full disclosure policy here.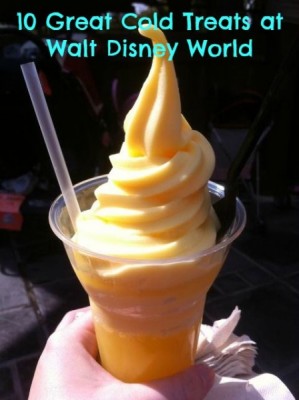 The sunny, warm climate of central Florida makes Walt Disney World a great place for touring year round, but sometimes, that heat puts you in the mood for a cold or frosty snack. While most visitors may opt for the familiar Mickey ice cream bar or frozen lemonade, there are an abundance of cool snacks throughout Walt Disney World. So I've compiled a list of ten of my family's favorites hoping that you may find a new snack to try on your next trip.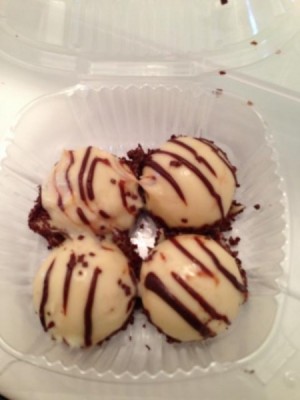 1. The exotic treat- Zebra Domes from Animal Kingdom Lodge
Zebra domes are bite sized treats, flavored with chocolate, coffee and Amarula liqueur. They have a thin cake bottom and are topped with mousse and then coated with white and dark chocolate. If you're not familiar with Amarula, I would liken it to Amaretto in flavor. Zebra domes are a popular dessert option at Boma, a buffet restaurant at the Animal Kingdom Lodge, but they can also be found at the nearby counter service location, the Mara. At the Mara, you can purchase these sweet treats in packages of four from their refrigerated cases, making this snack easy to share.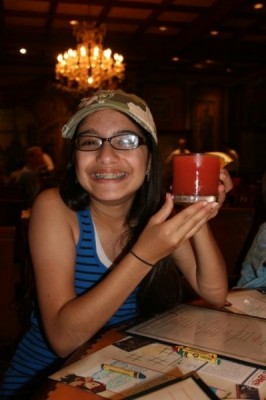 2. An addictive beverage- Aqua Fresca at Via Napoli
When you first walk into Via Napoli Restaurant in Epcot, you may notice the large Aqua Fresca beverage station- filled with vibrantly colored drinks. These delicious beverages are a huge favorite with the children in our family. They mix water with fruit juice to make a drink that is as sweet as it is refreshing. Although the flavors may change seasonally, we have found blood orange and strawberry to be usually available. They are a great accompaniment to Via Napoli's pizza, but it's hard to stick to just one of these drinks- you may find yourself ordering seconds.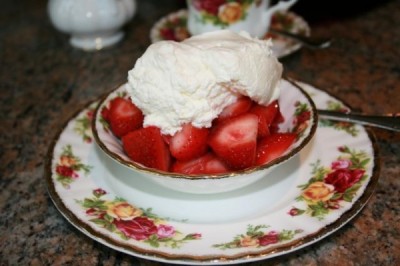 3. A Classy Cool Down- Strawberries and Cream at the Garden View Tea Room
Taking tea at the Grand Floridian is a wonderful way to spend an afternoon. They offer high tea daily at the Garden View Tea Room from 2-5 p.m. After a hot tea, scones and finger sandwiches, I've found the perfect way to end high tea is with some fresh strawberries and house made whipped cream (opting for this simple dessert rather than the delicate pastries or English trifle selections). Maybe it's the high quality fruit or the giant dollop of rich cream, or perhaps it's the ambiance of the tea room, but this dessert has always made me feel cool, refreshed and satisfied.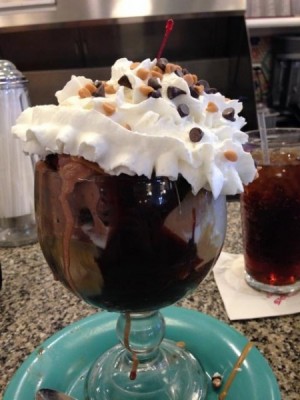 4. Simply Satisfying- The No Way Jose sundae at Beaches and Cream
Beaches and Cream is a small casual diner/ice cream shop located at the back of the Yacht & Beach Club Resorts. While all of their ice cream treats are delicious, and the "kitchen sink" could feed an entire family with it's whole can of whipped cream on top, it is the simple and classic "No Way Jose" that has stolen my heart. This dessert is made with chocolate and vanilla ice cream, hot fudge, peanut butter sauce and topped with whipped cream and a cherry. All of the above are in such generous proportions that I highly recommend sharing it with a friend.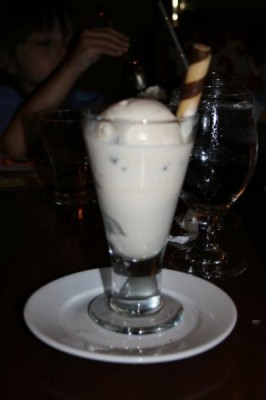 5. Italian Indulgence- Lemon Sorbetti at Tutto Italia
Listed at the bottom of the dessert menu, like an afterthought, is the Lemon Sorbetti at Tutto Italia restaurant in Epcot. Luckily, this is not the same lemon ice you could find in a case at your local grocery. Tart and sweet at the same time, it's like an upscale version of frozen lemonade, and an absolute favorite of my daughter.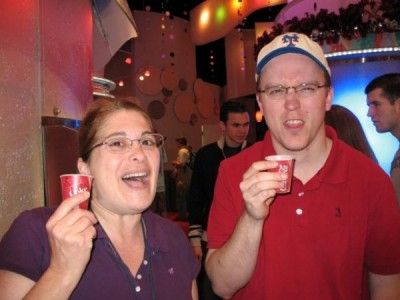 6. Try Something New- Club Cool at Epcot
Epcot's Club Cool offers guests the opportunity to taste different Coca Cola branded sodas from around the world- for free! This doesn't mean you'll be carting out glasses of coke or sprite though. The attraction has several beverage dispensers, with each tap offering a description of where the soda is marketed and what it tastes like. Some of the sodas are sweet and one in particular, the Beverly, is bitter. Your mileage may vary as far as what you enjoy, but it's hard to beat this fun, free way to quench your thirst.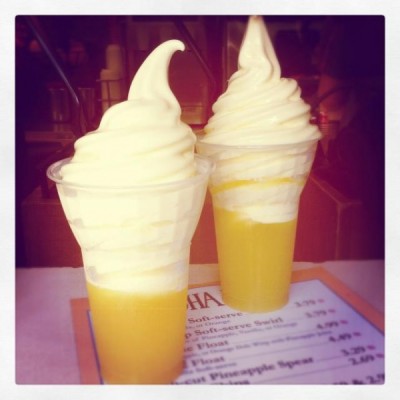 7. The Classic- A Dole Whip Float from Aloha Isle
Speaking of a treat that's hard to beat, one of the most popular sweet treats in the Magic Kingdom is a dole whip- pineapple flavored soft serve that is offered at Aloha Isle in Adventureland. Beware- the lines may be substantial, but there is a reason so many people will wait for their whip. Our favorite variety of dole whip is the pineapple float- where the soft serve is floated on a glass of pineapple juice. It's the perfect blend of tartness and sweetness for braving the hot Florida sun.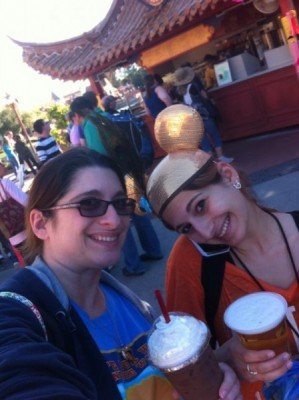 8. An Adult Selection- Cold Beers and Mixed Drinks from Around the World
It was too hard to pick a singular favorite adult beverage in Epcot. From the frozen margaritas in Mexico to the Tipsy Ducks in Love in China, to the Grey Goose Slush in France, there are so many refreshing drinks to mention, and the beer selection is truly unparalleled. However, I do recommend the entirety of World Showcase as a place to get a cold alcoholic beverage, with notable mentions to the Rosa Regale wine from the Italy pavilion and the Schoffenhofer Grapefruit beer found in the Germany pavilion.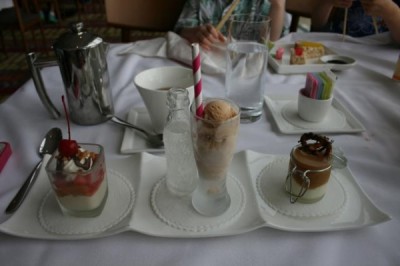 9. A Sophisticated Sundae- The Sundae Sampler at California Grill
The California Grill at Disney's Contemporary Resort is known for its innovative cuisine and its world class views of the Magic Kingdom. I assure you, the creativity does not end before the dessert course, as I found one of my favorite cold desserts at the end of my last meal there. The sundae sampler consists of three small dessert selections- a banana split, frangelico toffee and a reverse root beer float. Each of these was delicious, but the root beer float was especially memorable with it's tiny glass bottle filled with vanilla soda next to a small dish of root beer flavored ice cream.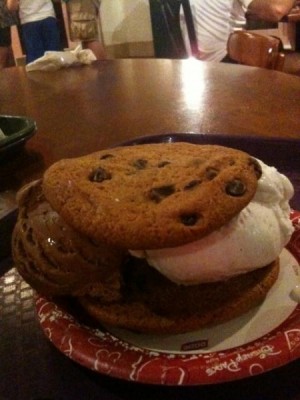 10. A Hidden Gem- The Ice Cream Cookie Sandwich at Sassagoula Floatworks and Food Factory
Tucked into a corner of the food court at Port Orleans- French Quarter is a small counter that offers desserts like ice cream and fresh fried beignets. Several years ago, I decided to order the ice cream cookie sandwich on a whim, not really knowing how awesome it was. Now, I try to get to this particular food court every year for my annual treat. This dessert is a massive two scoops of ice cream tucked between two giant fresh chocolate chip cookies. It is too much for just one person to each, but a great choice to share with your family. Although you may find ice cream sandwiches elsewhere on Disney property, Sassagoula Floatworks and Food Factory makes it best!
So there you have it- ten amazing cold treats. Have you tried these yourself, or are you hankering to try them on your next trip?
What's your favorite cold treat?