This post may contains affiliate links for your convenience. If you make a purchase after clicking a link we may earn a small commission but it won't cost you a penny more! Read our full disclosure policy here.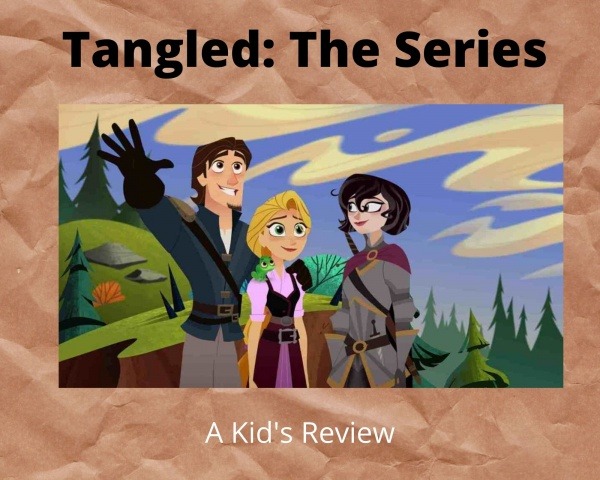 Now streaming on Disney +
My family has been enjoying Disney+ while we're all practicing social distancing. My daughter mentioned that she hardly remembered the movie Tangled, so we watched it all together. Afterwards, she was on a bit of a Rapunzel kick, so we watched the 2D animated sequel, Tangled: Before Ever After.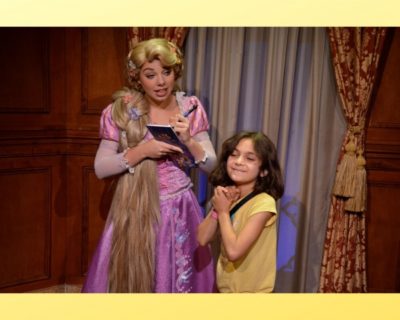 Rapunzel greets a fan in the Magic Kingdom
She still hadn't got a big enough Tangled fix, so she decided to watch Tangled: The Series, which takes place directly after Tangled: Before Ever After. She's been watching one episode a day ever since. I asked her what her opinions were on the show.

I asked her what she thought about the animation style changing, from 3D in Tangled to 2D in both the sequel and the series. "They probably did it 2D because it would take, like, forever to do a whole TV show in 3D."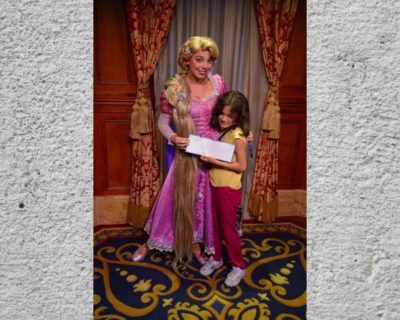 Rapunzel showing off her fan's artwork
When asked whether kids should watch Tangled: Before Ever After before starting the show, she replied, "You should probably watch it, because it's basically a super long pilot episode for the show, and if you don't see it you're gonna be super confused, like, WHAAAAT?"

The show's opening title music, in fact, is a catchy song that debuted in Tangled: Before Ever After. The ending music is quite catchy as well, and my daughter enjoys both the songs.

I asked her about the characters, and here's what she had to say. "There are some new characters who weren't in the first movie, like one is Cassandra. She's Rapunzel's lady in waiting, and she always gets into a funny argument with Eugene (Flynn). I'm not gonna spoil it, but she's really cool."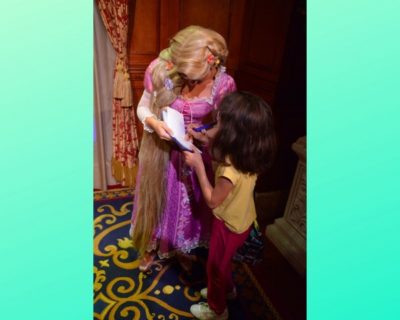 Rapunzel and her fan
I asked if she had a favorite episode so far. "I don't really have a favorite. There's a lot of funny bits, but there's also some serious bits too." (For reference, as of this writing, she's on Season 1, Episode 8. Please note that the numbering of the episodes on Disney+ looks confusing, but they are all there.)

In the show, we get to know the King and Queen of Corona a lot more. I asked my daughter what she thought of them as parents, and she replied, "They're not, like, as bad as King and Queen in Frozen, but they're not perfect, either."

All in all, my daughter recommends this show for anyone who enjoyed Tangled. She says it's funny, exciting, and a lot of fun. She can't wait to watch some more!
Have your kiddos (or you) watched Tangled: The Series? Share your thoughts about the show in the comments, or on Facebook or Twitter!
Did you like this article? Make sure to share it with your friends! Check below for easy ways to share!
Want to visit a Disney Destination? Contact The Magic for Less Travel for more information and a free, no-obligation quote.
Incoming search terms:
https://www themouseforless com/blog_world/tangled-the-series-a-kids-review/
Rachels reviews tangled series