This post may contains affiliate links for your convenience. If you make a purchase after clicking a link we may earn a small commission but it won't cost you a penny more! Read our full disclosure policy here.
What can I tell you about Disneyland that you don't already know, or haven't already heard? Even as a first time visitor with my hubby last month, I knew that it would be a good Disney time. I knew the magic would be there, and I had read about the rides and attractions that we would see. Most of all, I had already had the opportunity to frequent Disney WORLD often, so I was pretty sure that nothing would catch me off guard.
Boy was I wrong! Not only did we have a good time, we had a GREAT time. There were attractions we saw that you can only experience at Disneyland, and the feel of the park is unique to itself. And yes, there were some things that I noticed that did take me by surprise! So, I hope you'll indulge me for just a few moments.
Parking is in a deck. I was amazed! ALL of the parking for BOTH parks AND Downtown Disney was in this parking structure? How could that be? If you have ever visited Disney World, you know that a parking deck wouldn't even be an option. That blew me away. Yet, after I got to the parks it made sense and that fact only added to the charm of Disneyland for me.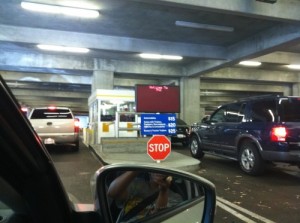 The monorail is more of a ride, not a transportation system. I had grown accustomed to the monorail being one of several transportation systems for Disney, but that is not so much a necessity at DL. The monorail there is more of a throwback to the introduction of a state-of-the-art ride in a time when no other amusement park had one. What a statement Walt Disney made!
The Grand Californian exits right into a Park! Man, for the folks who choose to stay there, it just doesn't get any better than this. The Californian has a special turnstile for their guests to enter Disney's California Adventure right onto the main walkway in the park. No drives, no waiting…just your tickets, your family and fun ahead!
Main street is not a cattle call. Yes, unlike Main Street at WDW, Disneyland's main walkway is more of a stroll with people, almost never running into anyone or anyone's stroller. I had a pleasant time not having to duck and dodge and move at just the right time in order to cross the street. I shopped at my leisure, and was able to talk at length with some of the cast members who were assisting me. Nice.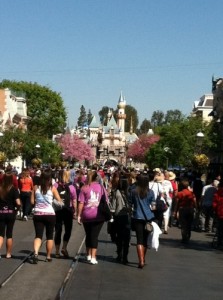 The French Quarter is quite quaint and memorable. My hubby and I only spent a few minutes in this part of the park, but the feel of it made an impression on me! I was looking around for Princess Tiana and Prince Naveen, and I felt it to be a very festive place. I will spend more time there when we visit again!
There is a horse and trolley you can ride! This picture speaks for itself: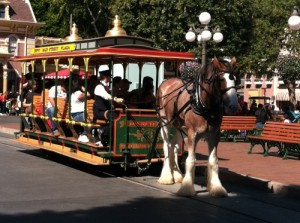 The trams are the only vehicles that empty out both parks. Again, this is the only transportation system needed, really. That makes it really nice at the end of the day. All you have to do is wait for the tram, hop on, and get off right at the parking deck. Its that easy! We didn't have any kids with us, but I know that that has to be so much easier than navigating all the transportation changes that you have to make at Disney World, hands down.
We had a great time, and we were pleasantly surprised with what Disneyland has to offer. This is truly a Disney gem, and I am so looking forward to my next visit. Disney World AND Disneyland…I am hooked!