Take a Stroll Around Disney's Art of Animation Resort
|
In May of 2012, Disney's Art of Animation Resort opened to guests. In the nearly three years that it's been open, it's differed from the rest of the resorts in the Value category by focusing primarily on roomy Family Suites, with just one section for standard rooms.
Aside from the unique room styles, another thing that sets Art of Animation apart is the fantastic theming of the resort grounds. While all of the Value Resorts are known for their fun, colorful, larger-than-life icons, at Art of Animation the focus of the theme revolves around Disney animation; specifically, four beloved films: the classic animation styles of The Little Mermaid and The Lion King, as well as the Pixar films Finding Nemo and Cars.
Exiting the main building, Animation Hall, and going as far as you can to the left, The Little Mermaid section is the area of the Resort dedicated to standard-sized rooms, but you'll find that no detail has been spared as you explore the area, finding "gadgets and gizmos aplenty" (and maybe even a few Hidden Mickeys) among all the treasures.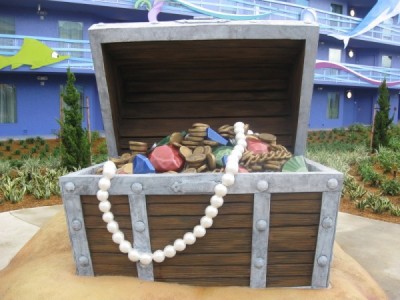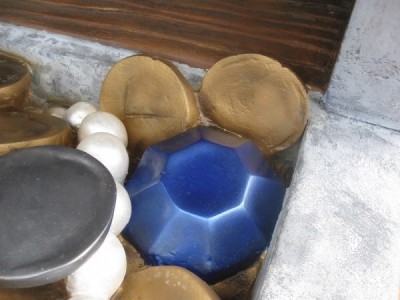 As with each section, characters from the film are given tribute through their own statues and scenes.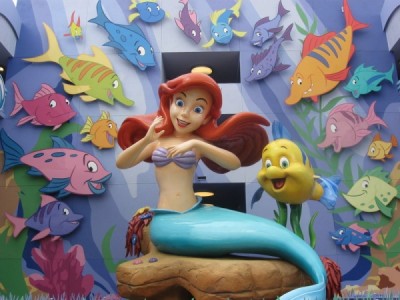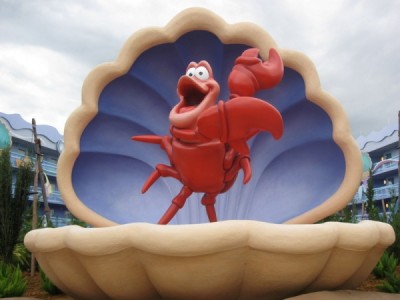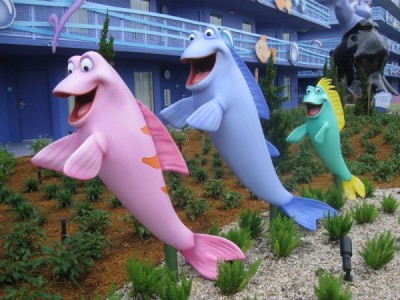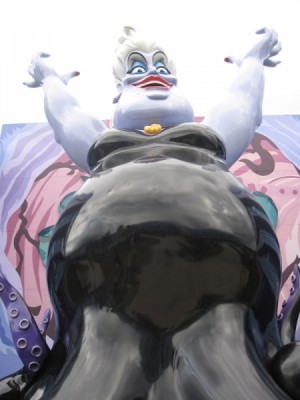 The Lion King is next on the stroll, and it's here where I think you really start to get a feel for the more unique themeing of this resort, as the color palette changes from bright to earthy, and the outside walls of the buildings in this wing are painted to reflect scenes of an African savanna.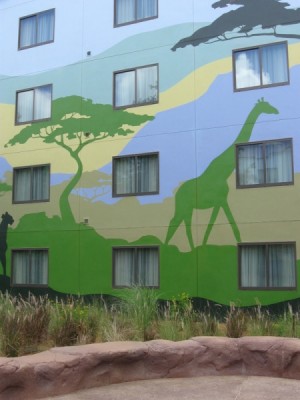 Aside from the main characters we know and love…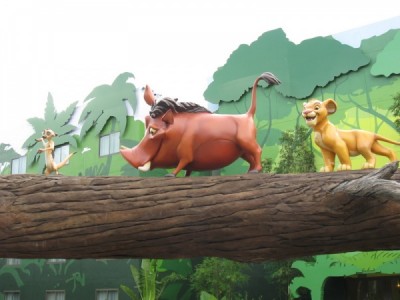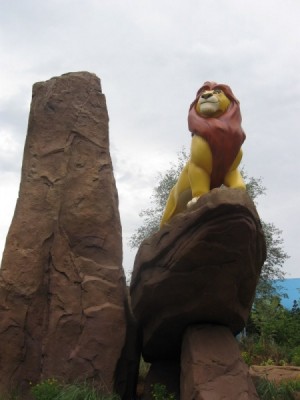 … you'll also come across more sinister settings where the Hyenas and Scar hold court.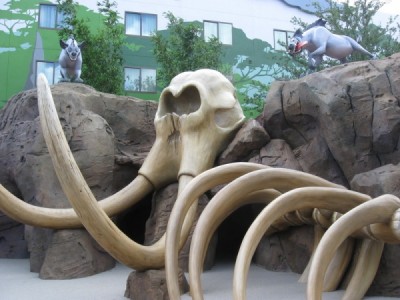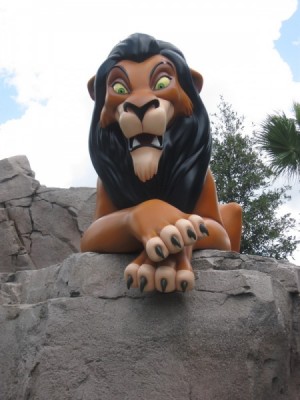 The Finding Nemo wing is "center stage," and it provides a very fitting setting for the biggest pool and splash pad at the Resort.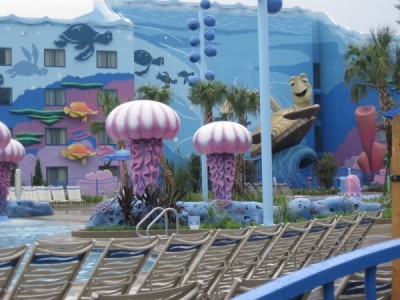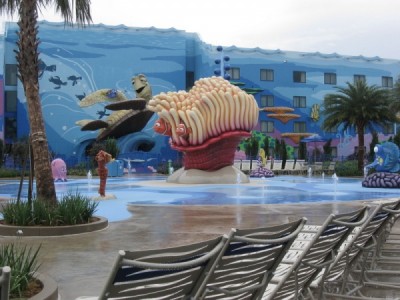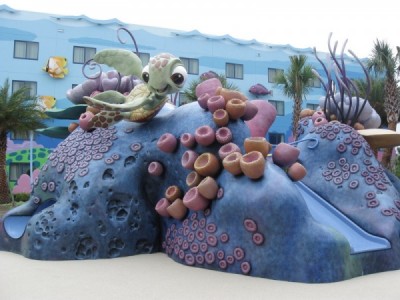 The characters come out to "splash along" at the Big Blue Pool and around the grounds in full force!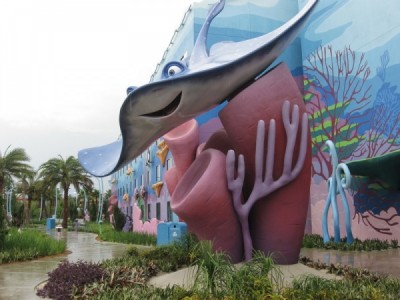 And finally, we come to the Cars section. Welcome to Radiator Springs!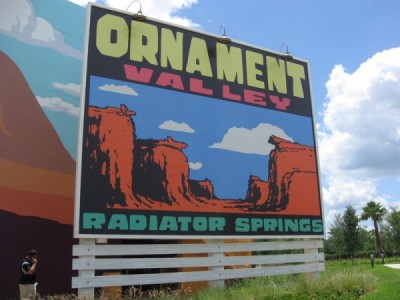 Entering this section, you really do feel as though you've entered into the film, and it helps that all the Cars are life-sized, making you feel like you are really with the characters of the film, from Tow Mater to Lightning McQueen.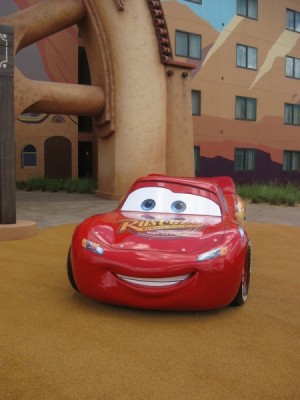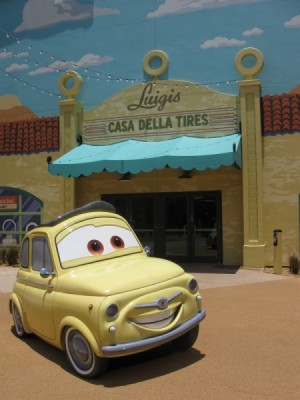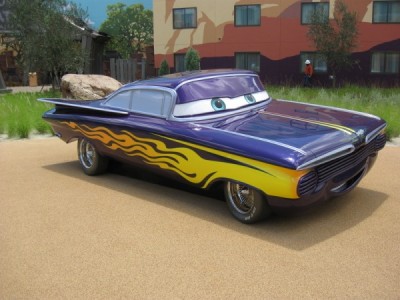 The Cozy Cone Motel provides passage to this section's smaller pool, complete with Cone Cabanas.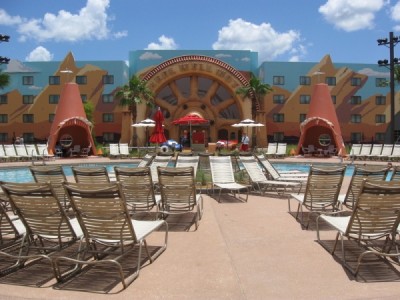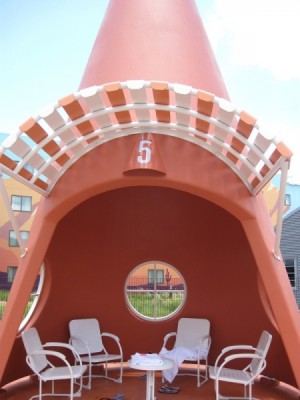 Truly, the theming here is absolutely exceptional.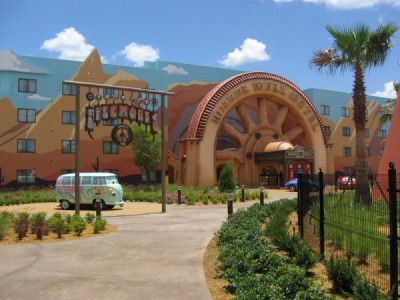 And that's just the outside grounds! Art of Animation also boasts the unique and innovative  Landscape of Flavors Food Court, periodic animation classes in the lobby area, and passage over the Generation Gap Bridge so you can check out Pop Century Resort while you're at it. Even if you aren't staying at Art of Animation, it's worth a stop by to explore this unique and fun-filled Resort!
Have you stayed at Disney's Art of Animation Resort? Which section is your favorite to experience?