This post may contains affiliate links for your convenience. If you make a purchase after clicking a link we may earn a small commission but it won't cost you a penny more! Read our full disclosure policy here.
As the mother of two young boys, I am always on the lookout for Walt Disney World experiences that do not involve princesses, fairies, or tea parties.  Although T-Rex Café, located in the Marketplace of Downtown Disney, is not actually Disney owned and operated, it does fit the rough-and-tumble nature of my little Disney Devils.
My family and I visited T-Rex in December of 2009.  This restaurant is owned by Landry's Restaurants, Inc., who also owns Rainforest Café (Downtown Disney and Disney's Animal Kingdom) and Yak & Yeti (Disney's Animal Kingdom).  T-Rex is very similar to Rainforest Café in both restaurant layout and menu.  The differences, of course, are that the elephants and gorillas found in Rainforest Café are replaced with dinosaurs and mammoths in T-Rex; the thunderstorms are replaced with meteor showers; and the Tribal Salmon is replaced with the Mesozoic Mahi Mahi, among other things.  One other thing that is definitely the same for both is my recommendation of the burger (the Rainforest Burger at Rainforest Café and the Bronto Burger at T-Rex).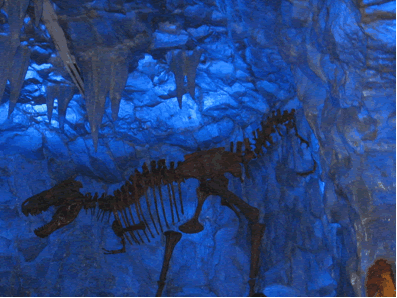 The décor at T-Rex is not to be missed.  This is Rainforest Café on steroids.  A word of caution – the intensity of T-Rex can be unsettling to some children.  Even my Disney Devils seemed a bit uneasy at first.  I think the most amazing feature at T-Rex is the Ice Caves.  These blue-tinted cavern walls hold the fossilized remains of dinosaurs and turn pink during the meteor shower.  You can also see prehistoric jellyfish in the bar area, wooly mammoths, and any kind of "saurus" that tickles your fancy throughout the restaurant.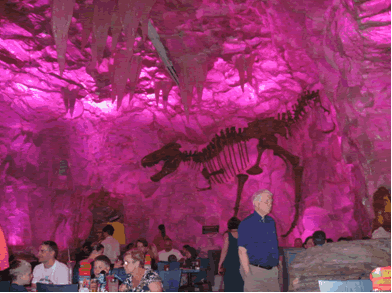 For those not interested in dining with the dinosaurs, T-Rex has its own gift shop, including a Build-a-Dino section sponsored by Build-a-Bear.  There is also a Dig Site that was very popular with the kids.  This area includes synthetic sand, brushes, and dinosaur bones waiting to be unearthed.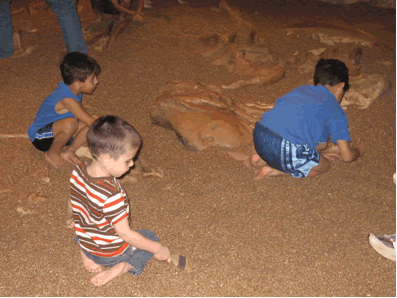 The only real negatives about T-Rex are the noise (I found it louder than Rainforest Café) and the price (comparable to Rainforest Café).  However, T-Rex is a prehistoric adventure that is not to be missed, especially if you have your own little Disney Devils.
To view the adult menu for T-Rex Café, visit https://www.themouseforless.com/walt-disney-world/dining/menus/t-rex-restaurant-menu/.
by:  Lindsey Tullier