This post may contains affiliate links for your convenience. If you make a purchase after clicking a link we may earn a small commission but it won't cost you a penny more! Read our full disclosure policy here.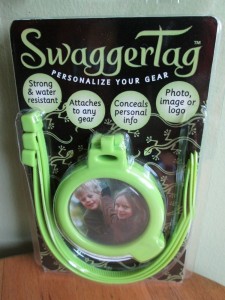 I received two free SwaggerTag luggage tags to review and share my experience.  I was impressed with SwaggerTags!  The style, sturdiness, security, and versatility for use is all good!  In the past, we've used the free luggage tags that Walt Disney World sent us or inexpensive luggage tags we've bought at local stores.  We have had lost and damaged luggage tags.  The SwaggerTags look nice and are rigorous enough to withstand the typical beating that a suitcase can take while traveling.
As far as style goes, my 15 year old daughter likes the SwaggerTags.  If it passes the teenage girl test then I know that the tags are cool!  The SwaggerTags come in several colors.  However, the best part about style is the fact that you can customize your luggage tag in a variety of fun ways!  You can put a photograph on your tag for easy identification, you can have your child's artwork displayed to enjoy, or use a company logo if you're traveling for business.  You can customize both the outside and inside of the tag.  The SwaggerTag company was nice to include a tag with a The Mouse For Less Logo for me to use!
Customizing a SwaggerTag is easy to do.  There are instructions on the back of the package that will lead you through the process.  They provide a stencil for you to trace a photo, artwork, or logo to use in your SwaggerTag so you can cut the right size of your own choice of customization to fit the tag perfectly.  Once your customized item is in place, you just snap the tag back together.  Easy!
If you need to update your information or need more cable ties after you use your tags for a while, you can update your tags with a refurbishing kit rather than buying all new tags.  The refurbishing kit is a nice option for the SwaggerTag company to offer if you want to switch the items the SwagerTags are attached to and/or change your information.
Here is a photo of a new SwaggerTag out of the package with the cable ties and stencil.  It has everything you need to use the tag right away.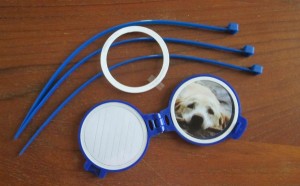 In the past, we have had issues with luggage tags being lost because the ties were slippery or weak.  As you can see in the photo above, the SwaggerTag comes with three strong cable ties that are built to withstand 50 pounds of tensile strength!  I have no worries about my luggage tags falling off with those cable ties!  We've also had luggage tags damaged or bent through use.  This next photo shows what our free Walt Disney World luggage tag looked like after one vacation compared to the sturdy SwaggerTag on the same suitcase.  We did not use the SwaggerTag to fly yet, but I imagine it will withstand luggage handling  well and will not be damaged.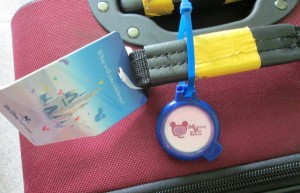 Another feature I like concerning the security of the product is the fact that all of our personal information, including our names, address, and phone numbers, are inside the tag.  That way, strangers in the airport or other places do not have the opportunity to see that information.
My family does not travel as often as we would like to, but we do have a lot of activities and hobbies that keep us busy at home.  The SwaggerTags can be used for many purposes!  Our kids go on weekend retreats and sleepovers, and the SwaggerTags are a perfect way to mark their duffle bags, sleeping bags, and sports gear. I have several tote bags I use for school work and library bags.  Labeling those bags with a SwaggerTag would give me peace of mind in case one of my bags should be misplaced.
The SwaggerTags would be great for labeling backpacks, lunchboxes, sports equipment, and band instrument cases for going to and from school since all personal information is inside the tag and the tags are sturdy. The SwaggerTags would also be perfect for strollers, bikes, wheelchairs, picnic coolers and other outdoor equipment because they are water and weather resistant.
We're having fun deciding which items we can use with our SwaggerTags and know that it would be handy to have more of these tags on hand.  This is how the tags look on my library bag, a backpack, a small tote bag we use as a carry-on for flights, and on a bike.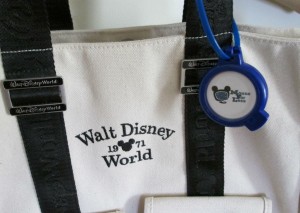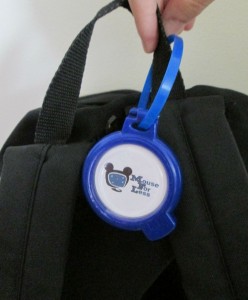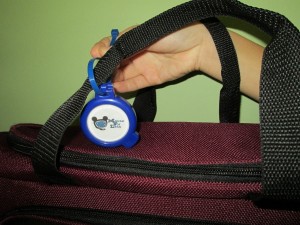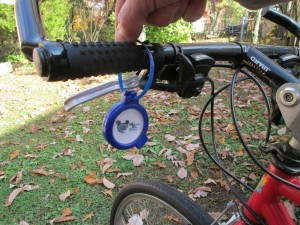 If you have an upcoming vacation or if you have items that you would like to label at home, I'd recommend giving the SwaggerTag a try!  Have fun customizing the tags with your personal touches and know that your SwaggerTags will remain securely attached to your items while keeping your personal information privately displayed inside the tags.  SwaggerTags can be purchased at www.swaggertag.com.
SwaggerTag has offered to give one of our readers 2 SwaggerTags!  If you would like to enter for the chance to win, please read the rules below and enter on the Rafflecopter.
Rules: Giveaway starts at 12:25 pm EDT on December 1, 2013 and ends at 11:59 pm EDT on December 15, 2013. Open to U.S. or Canadian residents 18 years old and older.  No purchase is necessary to win. Void where prohibited. Odds of winning depend on the number of entries collected. The winner will be chosen by Random.org via Rafflecopter and will have 5 days to respond after being contacted by email.  Please make sure to use a valid email address. Facebook, Twitter, Pinterest, and Google+ do not endorse this, nor sponsor this giveaway. Nor are Facebook, Twitter, Pinterest, or Google+ affiliated with this giveaway in any way.  The Mouse For Less is not responsible for prize fulfillment.
Disclosure: SwaggerTag provided 2 free SwaggerTags for review purposes.  I received no other compensation, nor was I required to give a positive review.