This post may contains affiliate links for your convenience. If you make a purchase after clicking a link we may earn a small commission but it won't cost you a penny more! Read our full disclosure policy here.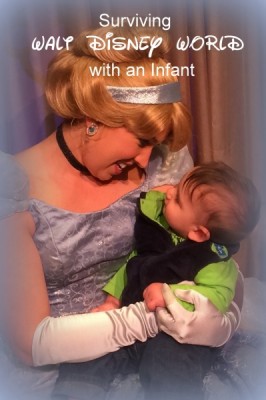 Walt Disney World is an amazing and magical place for kids of all ages.  I was fortunate enough to be able to take my daughter to Disney for the first time when she was only 4 months old, and my son when he was 7 months old. They won't remember those trips, but my photos and memories of those first encounters are some that I will always cherish.  
One big advantage to traveling to Disney with a child under the age of 3 is the cost.  Park tickets are free under 3, children under 3 can eat free at the buffets (and can share your meals at quick service and sit down restaurants).  A child under 2 can sit on your lap on an airplane, so you eliminate that fee as well.  Once a child turns 3, the cost of a trip to Disney increases greatly!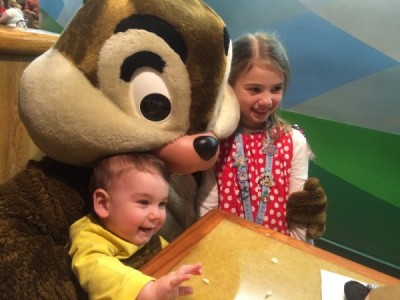 The key to a successful trip with an infant is preparation.  Here are a few lessons I learned from my experiences.  
Take a Baby Carrier:  With so much to see, a forward facing baby carrier is a wonderful tool.  You can keep your little one close and he or she won't miss all of the action! I found a 360 carrier to be the most versatile.  Your little one can be forward facing for viewing the action, and you can turn him around to face you when they need a nap or a little downtime.
Bring a Stroller:  A stroller is a must in the parks.  Not only do you have a place for tiny travelers to rest, but you also have a spot to store any extra stuff you bring with you! I preferred to take my own, as the hard strollers

Disney rents

would not be comfortable for an infant.  I took my jogging stroller, and although it was a bit bulky on the buses, I liked knowing my kids had a comfortable and familiar place to nap and travel.  Keep in mind that the stroller must fold up to go on any transportation service.  The train in the Magic Kingdom was the only place I had trouble maneuvering with my larger jogging stroller. I found it actually easier to just walk and meet my party at the next stop than to try to get baby and stroller on and off the train.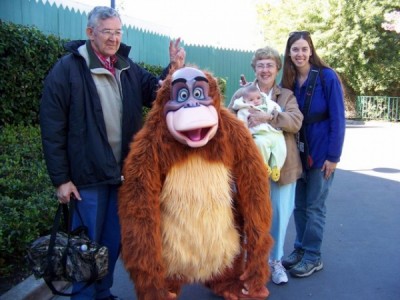 Take a Small Backpack:  A small backpack with essentials was helpful to keep with me everywhere I went.  A few diapers, a small pack of wipes, changing pad, nursing cover, cell phone, camera.
Bring a Diaper Bag:  A diaper bag to hang on the stroller can contain everything else you might need for your theme park adventure.  Diapers, wipes, baby food, bibs, nursing cover, extra clothes, sunscreen, hat, blanket, extra camera essentials (batteries, memory cards), battery pack to charge phone.

Baby Care Centers:  Each of the 4 Disney theme parks has a Baby Care Center designed exclusively for parents to change, feed, and nurse the tiniest travelers.  These centers sell any baby supplies you might need (food, diapers, sunscreen, etc.) and offer changing tables, nursing rooms with rocking chairs, and feeding areas with high chairs.  Although changing tables are available in most Disney bathrooms, and high chairs are available at all eating establishments, the quiet and air conditioned environment of the Baby Care Centers can be a nice break for both baby and parents!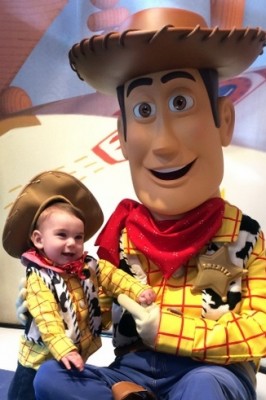 Meeting the Characters:  Standing in line for an hour to meet a character only to find that your baby is  sleeping (or worse, horrified and screaming!) when your turn finally arrives can be a disappointment. We found two options worked better for us than the general queue lines. You can use a FastPass for your most important character meets. Pick your FastPass time before your trip for a time when baby is usually awake and happy.  With the My Disney Experience App you can change your FastPass time easily for most FastPasses if your little one needs to rest up before meeting Mickey. The other option that worked well for us was to make a reservation for a

character meal

.  The character meals allow interaction with no lines and no waiting. You can relax and enjoy a meal while the characters come to visit your table.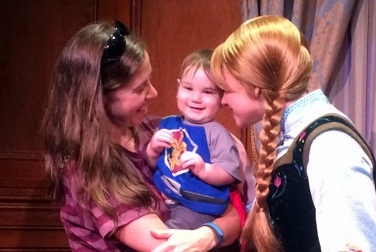 Long lines can be hard on kids of all ages!
Dining:  The under 3 crowd can eat for free at the buffets throughout Disney.  For quick service or sit down meals, your child can either share your meal or you can purchase an extra meal for him.  When making dining reservations, be sure to include the infant in the total number of people in your reservation, even if there is not a cost or he/she will not be ordering a meal.  Dining reservations go by the total number of people, regardless of age.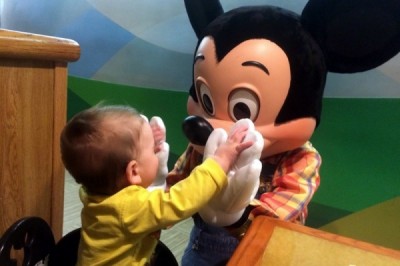 Rider Switch

:  Most rides with a height requirement participate in Disney's Rider Switch program.  If you approach the cast member at the ride entrance and let him or her know you would like to do the Rider Switch (all members of your party should be in attendance), you will be given a Rider Switch pass.  It is essentially like the old paper FastPasses.  It gives the parent staying with the baby or toddler a chance to ride without waiting in a long line.  The pass is good for 2 people (note: our passes actually said 3 people, but Disney's website says 2, so make sure you read your pass carefully!), which for my six year old daughter meant she got to ride most rides twice! The Rider Switch pass is usually good for a few days, so there is no need to use it immediately if that doesn't work for your family. The Rider Switch also works for older children who do not meet the height requirements or do not wish to ride.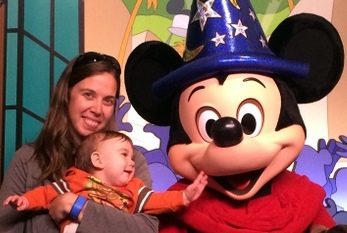 Photos: Some of my favorite Disney photos are of my babies meeting the Disney characters.  They both loved Tigger – maybe because of his bright orange color, but possibly because of his energetic and upbeat personality! Make sure you snap some pictures of their faces when they meet those larger than life characters!  The

Memory Maker

Package is a great deal at this age.   Let the photographer know you would like some non-posed reaction shots when the little ones meet their heroes – most photographers are happy to oblige!  You can get some wonderful photos of the entire family!


By slowing down and enjoying Disney through the eyes of a baby, you sometimes find magic and treasures you would have otherwise missed, like this campfire at the Animal Kingdom Lodge.

Expectations:  The biggest piece of advice I can give is to alter your expectations of what a trip to Walt Disney World will be.  Traveling with an infant is a completely different experience from traveling with older children or adults. It will be a slower paced experience. You won't get to ride every ride and see every show. You might need to head back to your resort for a while in the afternoon for nap time (possibly for the baby, possibly for you!) You might have to skip some of the late night activities.  But any sacrifices are completely worth it when you see your sweet baby smile at Tigger or reach for Mickey's nose!  Disney World through the eyes of a baby is pure magic.    
This is one of my favorite photos from a January trip to Disney. My daughter (4 months) and nephew (14 months) fell asleep on Grandma and Grandpa's laps while sitting on a bench in The Land in Epcot.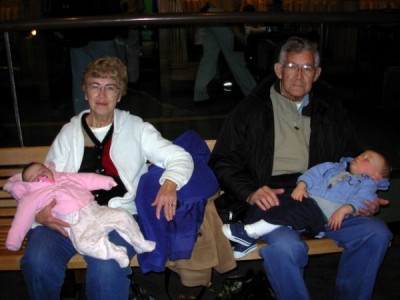 Have you traveled with an infant to Disney?  Do you have any suggestions for visiting Walt Disney World with a baby?