This post may contains affiliate links for your convenience. If you make a purchase after clicking a link we may earn a small commission but it won't cost you a penny more! Read our full disclosure policy here.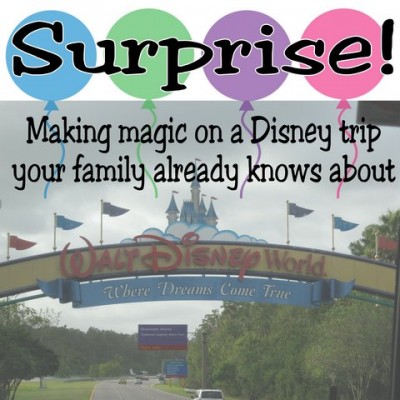 Surprising someone with a Disney Parks trip is amazingly fun. Everything is fresh and exciting, and your traveling companions see the World (or Land) in a whole new way. But sometimes keeping the entire vacation a secret just isn't possible — scheduling, trip anxiety, someone spilling the beans. You can still make magic for your family during a trip they (think) they know all about! Here are some ideas for surprises on a non-surprise Disney trip:
Book a special meal or a dessert party. Your kids may already know that they are going to Disneyland, but do they have to know ahead of time that you will be eating at Goofy's Kitchen? Or how about surprising your spouse with a Wishes Fireworks Dessert Party in the Magic Kingdom?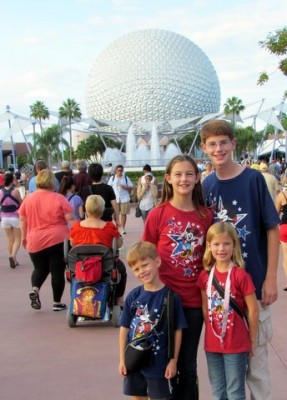 Matching shirts. Making or buying coordinating T-shirts that are only unveiled the day they are worn can be a perfect way to surprise your kids with inexpensive souvenirs that they'll use on the trip and afterward. And they make for great photos!
Upgrade the room or the view. When is a Value resort not really a Value resort? When you've unexpectedly changed your reservation to a Moderate or Deluxe! Travel agents always say to book the room you know you can afford, but if you've found a little extra money before your vacation, consider switching to a nicer room than planned, but hanging onto that knowledge.
The big announcement. This only applies in certain situations, but getting the whole family together for a trip can be a perfect time to spill the beans on a promotion or a pregnancy. And what bigger surprise could there be than a proposal at Disney World or Disneyland?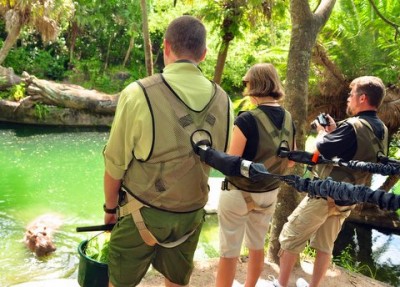 Book a tour. That afternoon where the schedule says "wander around Animal Kingdom?" That's code for "I've booked the Wild Africa Trek" so the information doesn't leak. Disney offers many tours for different interests and prices. The tour guides are amazing at making your family feel like instant VIPs.
But when? Your children known there's a Disney vacation coming this summer and have seen you planning it, but maybe it's really two weeks before they think. This is a stealthy way to let them help you prepare but still get the "We're going to Disneyland!" reaction the day of the trip.
First-class flight. One trip, the upgrade to fly us home in first class after a long week of playing hard in Orlando was minimal, so I booked my husband and me in first class but didn't tell him. He was so delighted when I told him the last morning as we were packing up our luggage. It was a relaxing end to a busy trip and we enjoyed the 4.5-hour flight much more.
"Run into" someone there. Your kids might know they are going, but do they know their grandparents will be waiting for them when they get off the plane? Or that their cousins booked the same week? This can be a hard one to keep secret but imagine the reaction!
Tinkerbell gifts. One small set of surprises that are easy to incorporate on any trip are little trinkets magically left out while your children aren't looking. If you "forget" something on the way to the bus, you can lay out a treat, or sneak the swag under their pillows while they sleep. You might even get hotel staff to assist you in this if you ask nicely.
If you are the trip planner of the family, you might even find out that someone is surprising you! Jennifer wrote about how her parents snuck in a surprise for her as they planned a big family trip. Surprises are magical for everyone!
What are your suggestions of surprises you can have to celebrate your trip? Share in the comments.
Incoming search terms:
https://www themouseforless com/blog_world/surprises-non-surprise-disney-trip/
what to surprise your partner in disneyland