This post may contains affiliate links for your convenience. If you make a purchase after clicking a link we may earn a small commission but it won't cost you a penny more! Read our full disclosure policy here.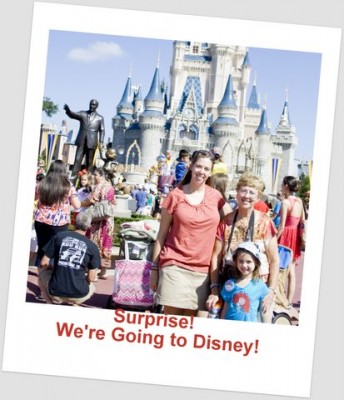 We went on a two week land (Disney World) and sea (Disney Cruise Line) adventure recently. One of the hardest parts was planning it all without telling my six year old daughter. We booked the trip 365 days before our departure. It was pure torture for me to wait that long, and I didn't want my daughter to suffer the same fate.
On a similar trip when she was only two, we told her the morning we were leaving.  I would totally recommend that route if you have young children, as you only want to answer the "how many days 'til Disney" question so many times!  But now that she is older I knew she would want to provide input, by deciding which princess dresses she packed and what she wanted to entertain herself with on the airplane. It would also gave her some time to save up spending money for the trip.
I was sure I wanted to tell her, but I wasn't sure how. I considered many different ways to surprise her with the news, and finally decided on a few different ways, which continued to fuel her excitement up until the day of departure.
A Disney trip is exciting enough, but even bigger news for us was that we would be traveling with her cousins to meet the mouse.  There were 5 children going on the adventure, so the first clue was a single word wrapped for each cousin.  They each unwrapped a word ("We" "are" "all" "going" "to") and figured out how to put them in order to make a sentence.  Then Grandma, who was joining us on the journey, unwrapped the final word:  "DISNEY!"  We couldn't all be in the same place for the grand announcement, but FaceTime made us all feel like we were together!
Next we had Mickey and Minnie call my princess to tell her how excited they were that she would be joining them on a Disney Cruise. Did you know that through Disney Cruise Line you can arrange a "surprise" phone call from Mickey, Goofy, or Mickey and Minnie?  It is free, and you can select the day/time for the call. If you book the Play, Stay and Dine package through Disney World you can arrange a free character call from Ariel, Lumiere, or Sebastian (you will need the redemption code from your travel documents).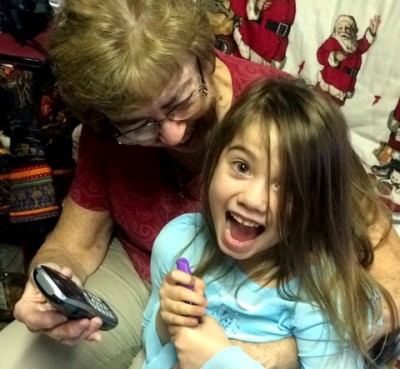 I also made a countdown chain. There are some great ideas on Pinterest for making Mickey, Minnie or Princess countdown chains. I like this idea because it is both simple and inexpensive!  I decided to make a Mickey Mouse chain and wrap it up as one of her gifts to open after she found out we were going.  This was such a great idea, because it saved me from answering the "how many days" question.  We traveled to Florida the day before our cruise departed, and my daughter even packed the last circle of the chain in her carry on.
I found some other ideas that I loved and will keep in mind for a future surprise:
Puzzle – Take a photo from a past Disney trip or a picture of a favorite character and turn it into a jigsaw puzzle.  Here is a simple video showing how to turn a photograph into a puzzle using Microsoft Word.  You could then print it out on cardstock or heavier material to create your puzzle.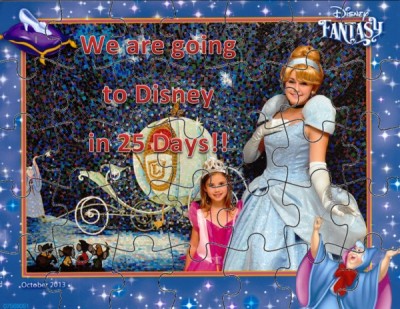 New suitcase – Perhaps one with a favorite character on the outside to pack for the trip.
A packed travel bag – Fill it with anything she might need for the journey or the destination.  This could include:
crayons/coloring book/stickers
glow sticks (much cheaper at home!)
favorite doll or stuffed animal
change of clothes
pillow/blanket
small toys (polly pockets, cars, etc.)
lollipops (for ear popping on airplane rides)
books
Balloons in a box – Get a large box and fill it will helium Disney balloons (the Dollar Tree has some great ones for only $1!)  Tie a message on the bottom of one of the balloons that says "25 Days Till Disney!"
Themed Gifts – Wrap up things that your child might need or want for the trip.  This could include a new princess dress or pirate outfit, sunglasses, a new bathing suit, an autograph book, new Disney crocs, or Disney-themed clothes.
Boxes and Boxes and Boxes – Find a tiny box.  On a small slip of paper write a note spilling the beans, something like "We are going to Disney!"  Wrap the box, then put it in another box.  Wrap that and put it in another box… you get the idea. This could be combined with the Scavenger Hunt below, making this large box the final clue.
Scavenger hunt – Use little clues to get the kiddos thinking.  My daughter received several Disney-related gifts (an Elsa dress, new princess crocs, princess luggage tag, Frozen sunglasses, princess nail polish) for the trip that I thought about hiding around the living room with clues to locate the next gift/clue. The final gift would be the great reveal!
Do you have any great ways you have told your children about a Disney trip? Make sure to share them because I'm already counting down the days until my next Disney adventure, so I'm looking for more great ideas to surprise my daughter with!
Incoming search terms:
https://www themouseforless com/blog_world/surprise-going-disney/
mickey phone call to surprise disney trip
surprise we are going to disney