Foodie Friday: Sundae On A Stick at Hop on Pop Ice Cream Shop
|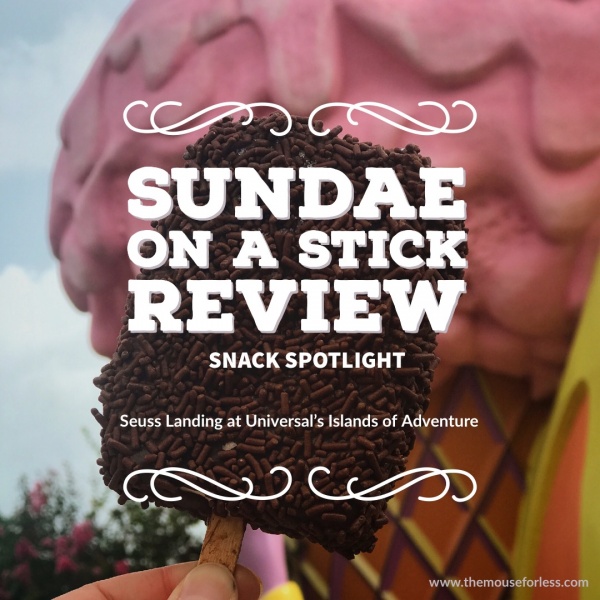 This weekend, I was in the Orlando area and let me tell you….it was HOT! I was touring around Universal's Islands of Adventure and going through the whimsical land of Seuss Landing. It's such a fun land that's themed around the stories of Dr. Seuss. (I love that it's so well done, for example, there's not a straight line in the place! The stories of the favorite author are told with such love and care.)
Well, after getting off one of my favorite attractions, The High in the Sky! Seuss Trolley Train Ride, which takes you through the land by riding on a track above the land, the heat was getting to me and I wanted a snack. So, I opted to head to the snack stand called Hop on Pop Ice Cream Shop.
This shop features a giant scoop of ice cream as decoration, if you couldn't figure out what they served via the name. It's a walk up kiosk with just two windows.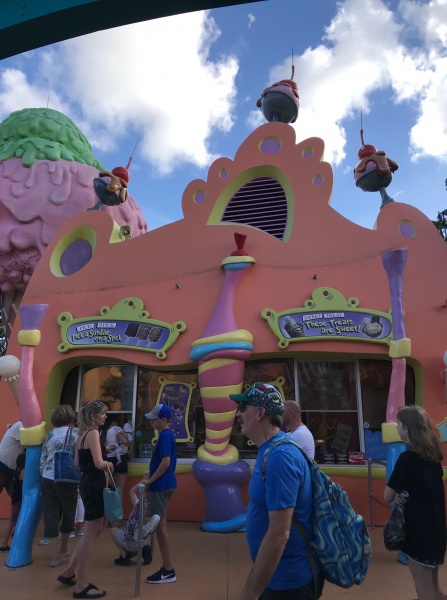 While the menu isn't super varied, you can get a brownie ice cream sundae, which is what my husband opted to get. It came with a nice sized brownie, vanilla ice cream, caramel, whipped cream and a cherry.
I, of course, chose the Sundae on a Stick. It's served as vanilla that has been hand dipped in chocolate, and is coated with your choice of chocolate sprinkles, rainbow sprinkles, or peanuts.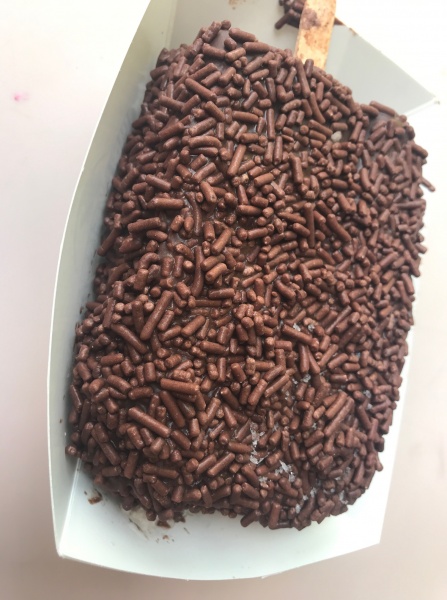 While a simple snack, this was a fantastic treat! The ice cream is super creamy, the sprinkles were a nice addition, but the best part was the chocolate coating. It was incredibly thick and delicious! Honestly, I thought this was well worth the money and I couldn't even eat it all! It was very messy though, so make sure you're sitting somewhere, preferably in air conditioning. (We walked over to Circus McGurkus Cafe Stoo-pendous to enjoy our treat.)
So, if you're looking to enjoy a great treat on a hot summer day, head to Seuss Landing for the Sundae on a Stick!
What's your favorite treat to get in Seuss Landing? Share in the comments, or on Facebook or Twitter.
Did you like this article? Make sure to share it with your friends! Check below for easy ways to share!
Incoming search terms:
sunday on a stick
the original sundae on a stick