This post may contains affiliate links for your convenience. If you make a purchase after clicking a link we may earn a small commission but it won't cost you a penny more! Read our full disclosure policy here.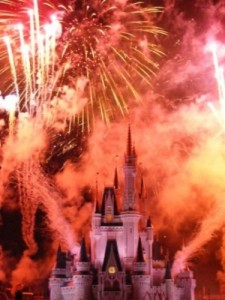 Today was going to be a long day for us, and a bit of a rare one, in that we were planning to be at a park pretty much at opening.  Not quite there for rope drop, but we were planning to get to the Studios for about 9 am.  We made it just a few minutes later than we'd planned, mostly due to me moving much slower than normal because of my blisters.  (I do want to say, in my defense, I was NOT wearing new shoes, I had broken the other ones in before the trip, they just really sucked)
Our first stop was the Fastpass machines for Toy Story Mania and then Chris and I got in line for the ride.  He beat me, which he pretty much always does, but I totally hammered him with my accuracy.  He promptly informed me that it just means that I don't shoot enough ;o)  Then we decided to take a walk and get some pictures that he needed of some of the menus on our way over to Tower of Terror.  Chris went to get in line for the ride, while I headed inside to find a place to sit and wait for him.  I curled up with my Kindle, and read while I waited for him.  He was really excited to see the changes for Summer Nightastic and when he got off the ride I asked him about them and he was kind of disappointed and told me he really didn't see any.  But, we were planning to come back later to see it at night and figured that it might be more dramatic then.
We were originally planning to take some more menu pictures, but it was really hot out and I mostly just wanted to get out of the sun and off my feet, so we decided to head out and over to the Boardwalk to get some lunch.  We went back out and got the car and drove over to Boardwalk where we headed down to Big River Grill.  This is one of our favorite spots – we try to eat here at least once per trip.  We almost always get the same thing – the quesadilla and the hickory bacon burger, and both were awesome, as always.
After we ate, we took some time to check out the shops, and decided to take the long way around Crescent Lake, going through the Yacht and Beach Club to get into Epcot.  This way Chris could get some menu pictures, and we'd have lots of air conditioning for me, as well as plenty of places to sit and rest my feet.
We finally made it into the Epcot and headed directly into Future World.  The other plan for this trip was to see Captain Eo, because I had never had that experience.  When Chris was a kid, his dad had taken him to Epcot just after the attraction opened, so he was kind of excited to see it again.  There wasn't really a wait, other than the show that was in progress finishing up, so we were ushered into the theater and got to live the magic of Captain Eo.  It was . . . interesting.  I suppose it's hard to watch something now and see how it was cutting edge so long ago, when we're so far past it now.  But, Michael Jackson danced the world to freedom and all ends well.  At least now I can say that I have seen it.
After Captain Eo, we made a quick stop at the Gallery, and then decided that we'd make a circle around the World Showcase.  We made a few stops to take a few pictures, and to escape the heat- especially in Japan.  I love that country ;o)  Chris got a new Domo shirt, and then we continued on our journey.
When we got to the International Gateway, I decided that I really did not think I could walk back to the Boardwalk, so we hopped onto one of the Friendship Boats, and took that back.  We then hit the Sweet shop where I got some jelly beans!  We had a dinner reservation at Kouzzina, so I checked us in early, and we were one of the first tables that they sat.
We've been to Kouzzina a few times before and have loved our food each time – so weren't sure what to get.  I started with an Ouzo-tini, and the Saganaki, which was a cheese dish.  Chris got the calamari.  We split the Fisherman's Stew for our entrée.  For dessert, we split the Loukoumades, which are yummy Greek donuts.  I highly recommend this restaurant. Even if you aren't sure about the menu, just give it a try. I don't think you'll be disappointed!
After we were done with dinner, we headed back upstairs and picked up the car.  We drove back to the Studios and headed back into the park.  We headed back to Toy Story Mania and used our Fast Passes where Chris promptly beat me, again.  Afterward we walked around a bit and took some more menu pictures.  It was still really hot out, though, so we found ourselves a spot at the Tune In Lounge bar, and relaxed with some drinks for a while.
Our plan was to wait until it was actually dark out before Chris got on Tower of Terror again, but it was  hard to wait.  It was sooo hot,  we'd be on the go for the last two days with not a lot of rest, and we were both ready to take a shower and be done for the day.  So, we had a few drinks, and relaxed until the sun went down a bit, and then made our way over to the ride.  Chris got in line while I made my way inside and found a spot to read.  This time, when he got off the ride, he said that the differences were much more noticeable and he loved all the changes, especially the ghostly image of the elevator car projected on the doors in front of you.  And with that, we'd managed to do everything we'd set out to do on the trip, so we headed back to the car.
We got back to the room, and showered and settled in for the night.  Chris ran out to get us some food for dinner – we ended up just getting a few snacks and we were both in bed pretty early.  The next morning we got up fairly early and headed home!