This post may contains affiliate links for your convenience. If you make a purchase after clicking a link we may earn a small commission but it won't cost you a penny more! Read our full disclosure policy here.
On May 23rd Disney is kicking off summer with the annual all-nighter party when as of 6 a.m. guests can enjoy the Magic Kingdom for full twenty-four hours. I have done this party last year and it is a lot of fun but summer and especially the weather in Florida can be quite hard on even the most enthusiastic Disney fan. So let me share a few important things to remember when planning a trip to Walt Disney World during the summer.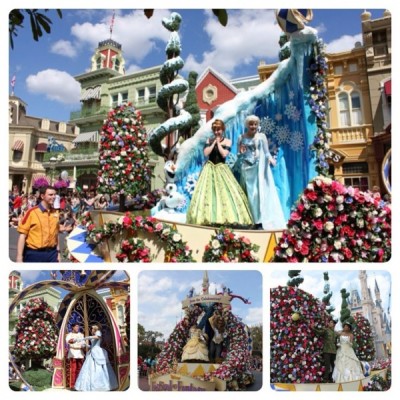 You will be touring the parks and taking in as many attractions as possible but there is simply too much to see and to do that you won't be able to have the cake and eat it too. You will be able to have Mickey waffles, funnel cakes, the latest cupcakes, caramel apples, turkey legs and ice cream but there is of course more to a Disney vacation than food. So, let's have a look at the summer offerings, do some planning and most of all make sure you are having a magical time.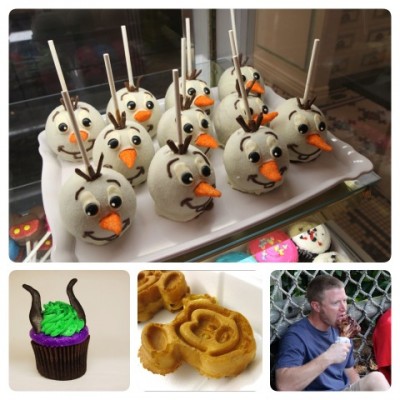 At the Magic Kingdom, as of May 28 the Seven Dwarfs Mine Train will be open in the Fantasyland section of the park and the new Festival of Fantasy afternoon parade is an absolute must. The Seven Dwarfs Mine Train will be the hottest ticket in the park so if you want to ride it get there early and go for it the moment the park gates open. The parade is absolutely wonderful and if you plan it well you can still get a good viewing spot thirty minutes prior before it gets underway. It is summer; pick a spot that offers some shade, sit down, relax, have a snack or even a meal and wait for the magic to begin. Do not, and I repeat do not, sit in front of a garbage can. Cast members will come and remove you from the spot and you will have wasted all your time for nothing. Talking about garbage cans however they are a great spots for those who like to take pictures but stand behind them! You get the point, nobody in front of you and you can use it to stabilize your photo shoot.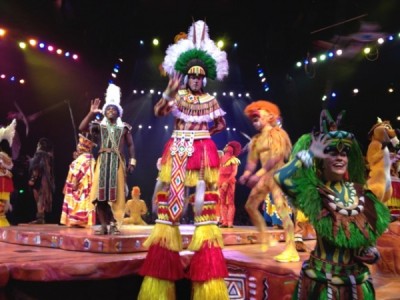 At the Animal Kingdom the Festival of the Lion King will debut in its new home just in time for the 20th Anniversary of this incredible show. The park will host every Saturday, from June 7 to August 9, 2014 an all-inclusive extravaganza: Harambe Nights.  A festival of the senses which includes pre-show appetizers and wine, a private performance of the show with live orchestra followed by a party in the streets of Harambe where guests will enjoy multiple buffet stations of seasoned dishes for pairing with a selection of beers, wines and specialty beverages all included in the event admission. Admission for Harambe Nights starts at $119 ages 10 and up; $79 ages 9 and under. The event runs from 07:00 through 10:30 p.m.
At Epcot the annual Sounds Like Summer Concerts are back in full swing and best of all the concerts are included in the park admission.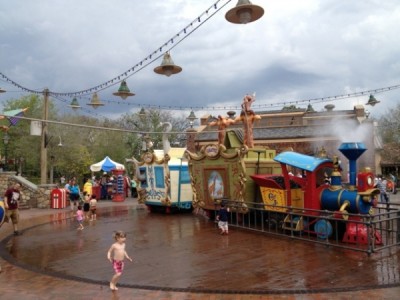 If you go to the parks consider packing a second set of clothes to allow your children to run through the splish splash zones. They are great for letting off steam. One of my favorites is in Fantasyland at the Magic Kingdom. The Casey Jr. Splash 'N' Soak Station in the Storybook Circus section of Fantasyland area, which opened summer of 2013 offers a great relief from the heat and will make your child not want to leave this area. Spoiler alert: Your kids will get wet but it won't just be the kids in the splash pad. When time comes for you to leave and your child is not ready to go, you too will get soaked trying to retrieve your reluctant toddler.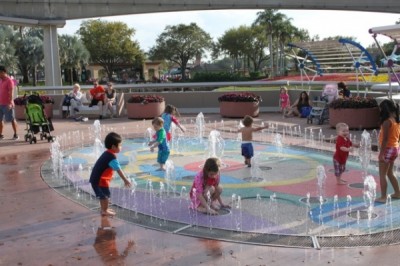 In Epcot, the splash pads are located by Mission: SPACE and Test Track in Future World. My all time favorite is near the Innoventions Pavilion. All provide fabulous relief from the summer heat.
At Disney's Hollywood Studios, beware of the super soaker water gun inside the "Honey I Shrunk the Kids" Movie Set Adventure. This 52-foot-long leaking water hose has the potential to spray the kids enough to warrant a change of clothes.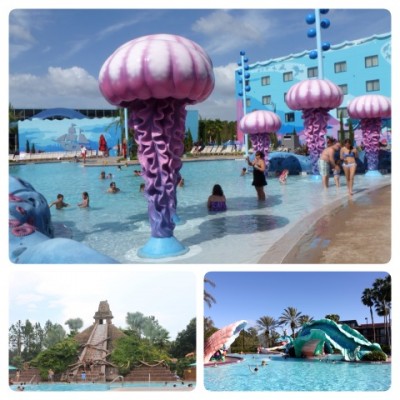 Families with little tykes run out of steam by early afternoon and it is most important to take a break. Return to the hotel for a nap and some pool time. Most hotels on and off Disney property have fun pools. Here are three of my favorite Disney pools for families with small children:
The Big Blue pool at Disney's Art of Animation Resort is number one on my list. Where else do you find a pool with underwater speakers playing surf music and character voices from the film Finding Nemo whispering in your ears? There is also a fabulous splash zone for little children where the play area is soft and cushioned so that your child does not get hurt. Additional pools in the Cars and Little Mermaid sections of the resort provide less crowded options.
The Doubloon Lagoon pool At Disney's Port Orleans French Quarter features a sea serpent and King Triton water slide, a kiddie pool, and a hot tub. In addition guests may also use the adjacent Port Orleans Riverside pool and playground.
At Disney's Coronado Springs Resort, the impressive pyramid in the middle of the pool is simply awesome and especially beautiful when lit at night. Right next to the pool is a great playground complete with a modern archaeological dig and a nice pool bar for mom and dad to relax.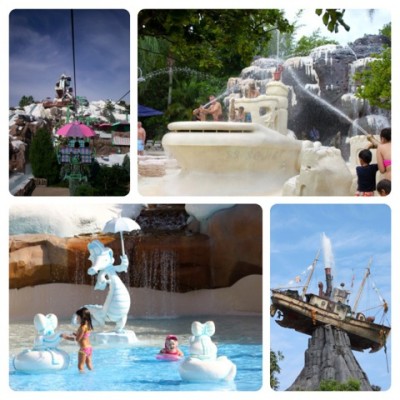 Disney also has two fabulous waterparks and you should definitively plan a day at either Typhoon Lagoon or Blizzard Beach. Both parks have excellent sections for small children and of course the wild and scary rides for the older kids while the lazy rivers are wonderful for the entire family.
Typhoon Lagoon has one of the world's largest surfing lagoons, containing nearly three million gallons of water and a 362,000-gallon salt-water Shark Reef where you can snorkel amidst – you guessed it – sharks!
At Blizzard Beach my favorite ride is Teamboat Springs, the world's longest family raft ride.
If shopping is on your program, Downtown Disney has two splash zones and I love watching the children running through the fountains. Best of all this is actually free entertainment and there are plenty of benches for parents to sit and enjoy watching the kids trying to figure out where the next water jet is going to pop up.
Again, make sure you bring a set of dry clothes and most of all keep the shoes from getting wet. Walking around in wet sneakers is a recipe for blisters. Last but not least make sure everybody drinks lots of fluids and slap on the sunscreen!