This post may contains affiliate links for your convenience. If you make a purchase after clicking a link we may earn a small commission but it won't cost you a penny more! Read our full disclosure policy here.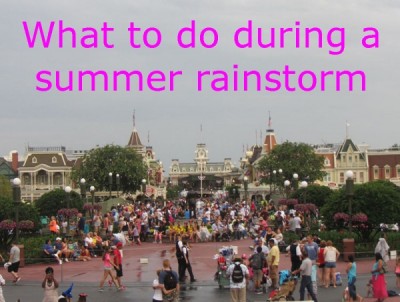 If you have ever visited Walt Disney World during the summer months you are well aware of the afternoon rainstorms that roll in like clockwork.  These rain storms can seem like a big black cloud over your trip, but instead, I challenge you to turn that frown upside down and take these easy steps to keep the magic of your trip going.
First of all, if your family is up early during vacation, use the rainstorms as a reason to slow down and take a break.   Once the rain looks like it is going to roll in, you can roll out for some much needed down time.  Rest, read, take in activities at your resort. Taking some time away from the parks can help ease everyone's nerves and stress.  Don't see the rain as a bad thing but a reminder to slow down.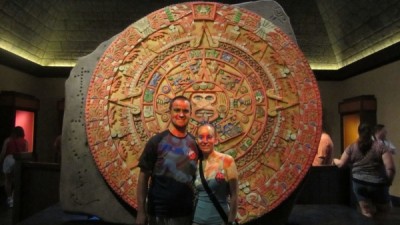 Visiting Mexico in the World Showcase, Epcot
If you don't want to leave Disney parks, take advantage of the lesser known rides and activities that are inside.  Each park has those hidden gems that many skip over to get to those main attractions.   Places like Hall of Presidents, Enchanted Tiki Room, Carousel of Progress and Country Bear Jamboree in Magic Kingdom offer entertainment that won't have long lines and will last a little longer getting you out of the rain.  Epcot offers numerous opportunities to get out of the rain from the many sites throughout the countries to the hands on experiences in Future World.  Hollywood Studios and Animal Kingdom are a little harder to hide from the rain while visiting.  Animal Kingdom does have two larger theaters for Lion King and Finding Nemo that offer a great escape from the rain for a longer period of time.   At Hollywood Studios you could head to Muppet*Vision 3D or Voyage of The Little Mermaid or even Disney Junior.  Each park has places where you can head to when the rain starts to head in.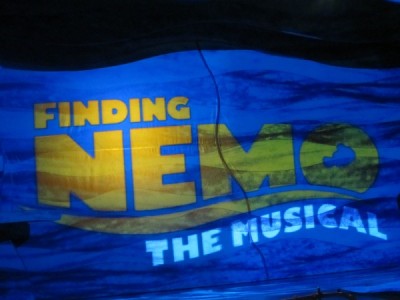 Visiting Finding Nemo the Musical in Animal Kingdom
Shops and food are other options that will get you out of the rain.  Disney is known for all the food it has to offer so take advantage of the rain to head inside for a treat.  From the famous Dole Whip to unique treats in Epcot, all four parks offer a variety of different treats that can allow you to relax and take in the views while waiting for the rain to pass.  When you are done with your treat, walk around the many shops throughout the parks.   It is fun to see the different themes that Disney has brought to the stores as well.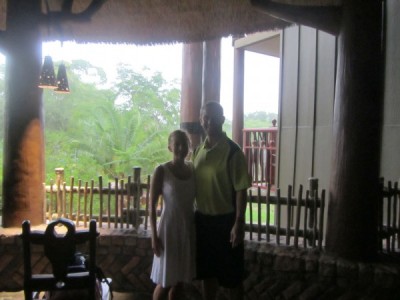 Animal Kingdom Lodge is an amazing site to visit
Another fun idea is the hop onto the monorail or onto a bus and visit the different resorts throughout Disney property.   Go visit the animals at Disney's Animal Kingdom Lodge or listen to the piano at the Grand Floridian.  Go and visit the newest Disney Resort at Art of Animation or look in on the newly renovated Polynesian.  Even if you aren't staying at a Disney World Resort, you are still able to visit each one and take in the sites.  Each resort is so unique so take advantage of the rain to visit and do some research for your next trip.
Downtown Disney/ Disney Springs also offers shopping and entertainment.   You could always take in the latest Disney movie at AMC.  Tons of unique shops will allow you to see a variety of different souvenirs that you might not see in the parks themselves.  Along with shopping you can find fun food options here as well from relaxing bars to Rainforest Cafe, the renovated Disney Springs has a lot to offer.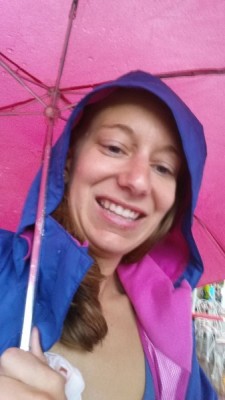 Grab that umbrella and keep going
Finally if all else fails, grab a poncho and carry on.  Jump in those puddles, sing in the rain, and dance in the refreshing coolness.  You are still in Disney World so don't let some rain clouds slow you down.  As many people follow the first suggestion and head out you will be pleasantly surprised at how the crowd levels will drop during and following a rainstorm.
If you are traveling to Walt Disney World during the summer months know that rainstorms will roll in most days.  I hope you can use one of my suggestions to help keep the Disney magic going on your vacation.