This post may contains affiliate links for your convenience. If you make a purchase after clicking a link we may earn a small commission but it won't cost you a penny more! Read our full disclosure policy here.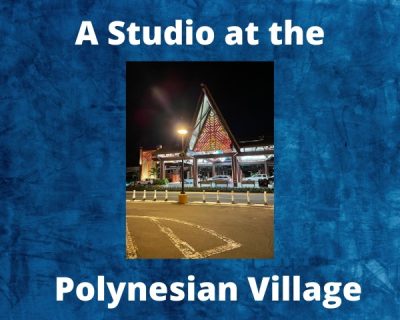 Welcome to the Polynesian Village Resort!
I love the Polynesian Village Resort. I've stayed at the Poly three times, and I cannot say that about any other Walt Disney World resort hotel. My parents are Disney Vacation Club members, and the Poly is their home resort. They sent me photos and told me all about their previous trip. Here is what my mother had to stay about their most recent stay at the Poly!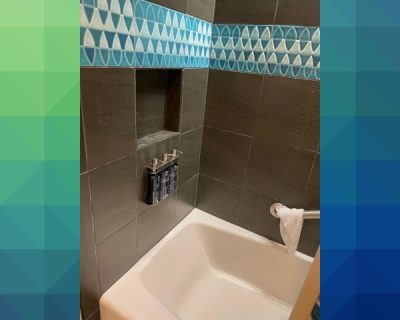 Bathtub.  My mother did not like the placement of the shampoo and conditioner
First of all, they wound up staying in a newly renovated studio in the Pago Pago building. Their room number was 2106 and had a less than glamorous parking lot view with a partial view of the monorail. "This was a wonderful location for the monorail path. It was right outside one of the exits to our building," my mother told me. It was also very convenient to the bus stop, but somewhat of a distance from the main lobby.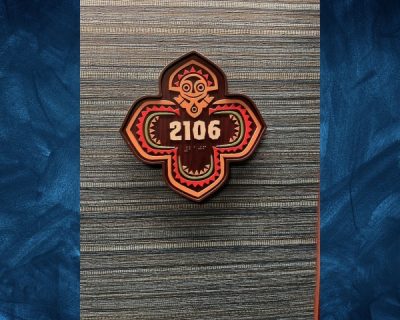 Pago Pago, Room 2106
Since this was my parents' third stay at the Polynesian, and the second time in a Disney Vacation Club studio, I asked what was different about this studio. "Maybe I'm being picky," my mother explained, "but the microwave should be replaced. It is of low wattage and takes forever." She rented a scooter for the first time this trip, and went on to explain that finding a place to store the scooter in the studio was difficult. "We need to charge it overnight and the hallway has only a few outlets." She also says that the elevator in the building was difficult to get into with a scooter. Because of this, if they ever stay here again, they will request a ground floor room so that they don't have to deal with the elevator.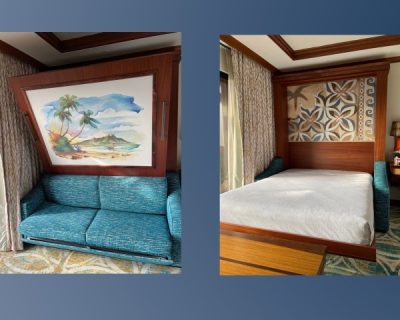 They loved the new pull-down bed!
She has a word of caution for anyone who puts small items on their end tables: "The bed end tables still have 2 inch wide holes in them where the cords for the phone goes into, as well as where the clocks used to be. We still had a phone, but no clock, and the holes are still there. You have to be careful that something doesn't fall into them, as the holes don't go all the way through."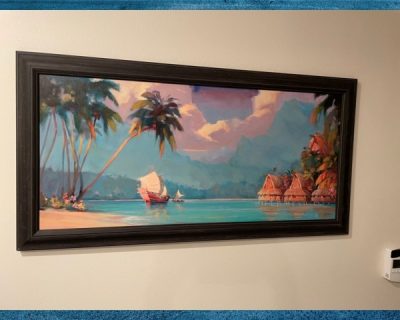 Artwork
However, she really did appreciate some of the changes to the studios at Disney's Polynesian Village Resort. "The color scheme is much better." She also appreciated the new pull-down bed setup. Lots of USB plugs made it very easy to charge all their devices. And she reports that the TV is very crisp and clear.
The design on the shower curtain is echoed in the carpet.
As for the rest of Disney's Polynesian Village Resort, it's gone through some changes through the years, but they didn't notice many huge differences. They spent time at the pool and also ate at Kona Café, 'Ohana and Captain Cook's.




Have you stayed at Disney's Polynesian Village Resort recently? Share your thoughts in the comments or on Facebook or Twitter!
Did you like this article? Make sure to share it with your friends! Check below for easy ways to share!  
Want to visit a Disney Destination? Contact The Magic for Less Travel for more information and a free, no-obligation quote.

Incoming search terms:
https://www themouseforless com/blog_world/studio-polynesian-village-resort/