This post may contains affiliate links for your convenience. If you make a purchase after clicking a link we may earn a small commission but it won't cost you a penny more! Read our full disclosure policy here.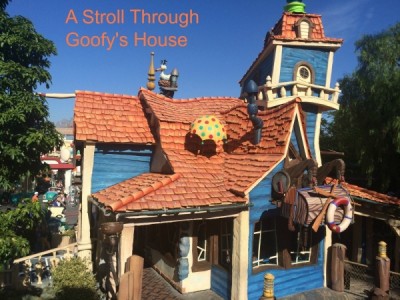 Goofy's House in Mickey's Toontown, Disneyland Park
Let's go back to Mickey's Toontown in Disneyland Park to visit Goofy's House! You'll find Goofy's House right next to Donald's Boat, in Toontown's residential district. Unlike Mickey and Minnie's Houses, Goofy's House is not an elaborate queue to meet Goofy. Although Goofy sometimes meets guests near his House, this place is first and foremost a popular place for the very youngest guests to run around, climb, slide, touch everything, and let off some steam.
When you first arrive, you'll find yourself in Goofy's yard. He's quite the gardener. The Goofy scarecrow is supposed to scare crows away from his corn. Wait a minute, that's popcorn!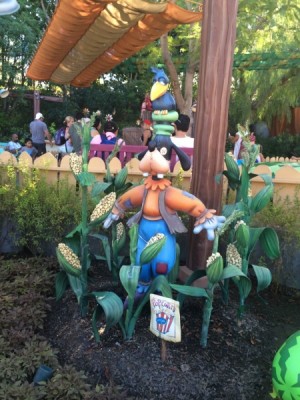 That crow doesn't seem in the least bit scared.
His bell pepper crop looks nice. And when I say bell peppers, I mean BELL peppers!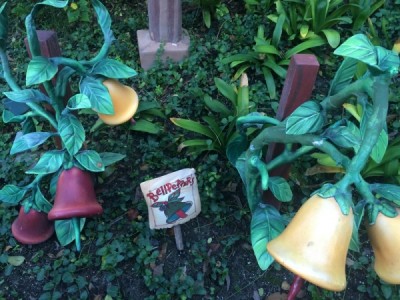 Do these belong in a salad or an orchestra?
The entire area is covered in spongy flooring, so hopefully kids that get too rambunctious don't hurt themselves if they fall. Kids have fun sliding down a slide. Nearby is a giant watermelon, perfect for little ones to crawl through.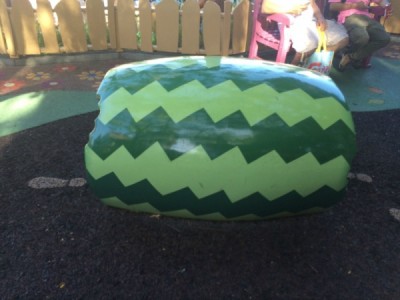 I love the Goofy footprints leading in and out…
Here is a hollow Jack O Lantern that little kids love to hide in!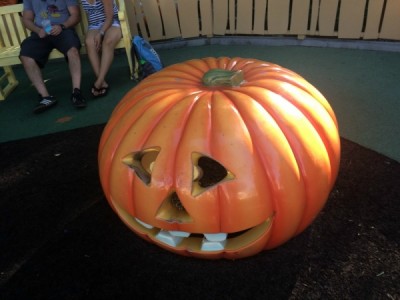 If you can't find your toddler, check in here!
Once inside Goofy's House, kids will find his piano, which definitely shouldn't be used for any classical recitals. Nearby is his wardrobe, which includes a "create a costume" activity and also some sliding doors which reveal surprises behind them.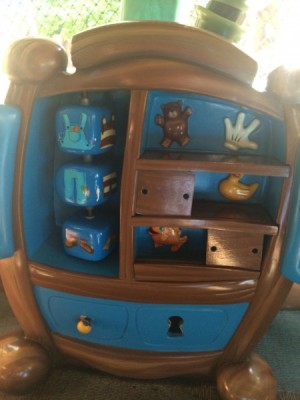 I love the hat on this wardrobe.
The upstairs is off limits, but you can peek up there to see where Goofy keeps his Christmas decorations. And a rowboat. And a kite. Because…okay, don't expect me to explain why Goofy does what he does.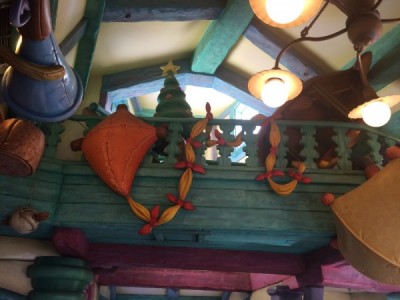 I wonder what else is up there…
Although most visitors will find this simply a cute area to look at and then leave, the preschool set might just want to stay here all day. In fact, when my daughter was that age and we had annual passes, we would often spend hours just in Toontown, and this was always a stop for us.
I hope you enjoyed our little stroll through Goofy's House! What is your favorite part about visiting his house?
Incoming search terms:
https://www themouseforless com/blog_world/stroll-goofys-house/
goofys house living room
goofy\s house living