This post may contains affiliate links for your convenience. If you make a purchase after clicking a link we may earn a small commission but it won't cost you a penny more! Read our full disclosure policy here.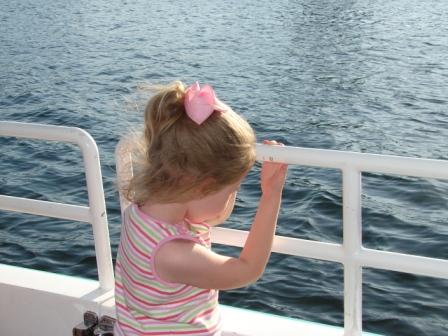 Stopping to smell the roses is a learned art when at Disney World, well at least for me.  Back in 2006 I brought my kids to Disney World for the first time and in the months leading up to the trip I hyper planned EVERY minute!  Then we got there and I realized that in late October/early November you don't need to have every second planned because the crowds aren't bad.  You have time to slow down.  Of course it didn't sink in right away and I had spent so much time planning that I had a hard time relaxing.  During our next few trips, May 2008, June 2009, February 2011, I think I have finally learned to truly relax, let go, and notice the little things around me. 
What does it mean to stop and smell the roses?  Well, I can tell you right off what it doesn't mean.  Stopping to smell the roses is not what you do while waiting in line for a show or attraction.  You are waiting for something, there is specific goal that is trying to be reached, therefore it doesn't count.  Eating a meal doesn't count either, even if you are sitting.  You are preoccupied with food and more than likely you are not fully appreciating what is around you.  Waiting to meet a character doesn't count either.  I don't know about you, but my kids are anything but calm and patient while waiting to meet the characters so this is most certainly not a relaxing time.
So what does stopping to smell the roses look like?  It's those times that the kids notice the ducks waddling to the water and they want to stop and watch them plop in the water.  My kids will stop and watch the ducks for 10-15 minutes if I let them.  At first this was hard for me, to let go of the march to somewhere, just stopping and watching my kids look at the ducks.  My brain was racing, thinking of where we needed to hurry up and get to rather than just breathing.  Now, when my kids want to stop and watch the ducks or the pigeons, or whatever, I pause and smile and enjoy the moment.  When you arrive early to stake out a spot for the afternoon or evening parade and you get a treat and just sit and people watch, I count that as stopping to smell the roses because in all actuality you could be standing in line somewhere to squeeze in one more ride before the parade starts.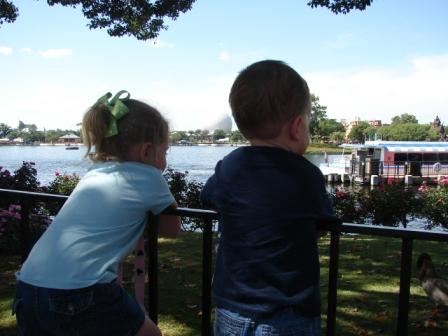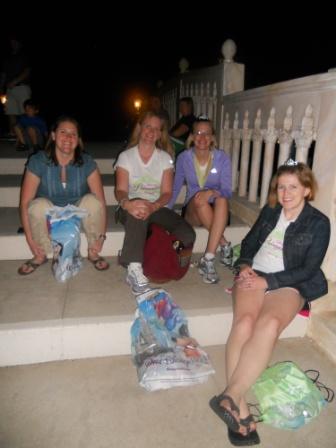 My dad is the master at stopping to smell the roses.  Due to a severe neck injury as a child (he broke his neck diving off the roof into a pool!) and motion sickness he really can't go on many of the rides at Disney World.  Some people would be upset but not my dad.  He embraces the opportunity to sit and people watch (and sometimes grab a nap, the man can sleep anywhere!)  This has a bonus for us as he is the built in babysitter for whoever is too short or unwilling to go on a ride.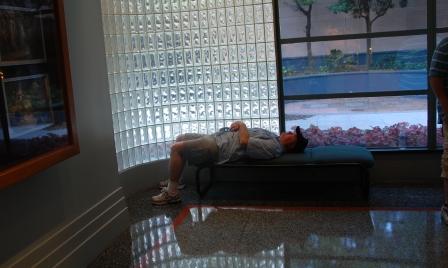 There are a few rides that I count as stopping to smell the roses.  One is the Tomorrowland Transit Authority (the TTA) in the Magic Kingdom because it is quite possibly one of the most relaxing things to do at Disney World.  The quiet glide of the train and the monotone recordings are almost hypnotic.  If your baby or toddler (or you!) need a nap or short break, jump on the TTA.  If it isn't crowded and there aren't people waiting to get on sometimes the CM will allow you to stay on for a few rounds.  I was on there once and both my kids conked out before we were half way around, as we glided into the loading station the CM glanced down at the kids sleeping (he must have seen the panic on my face as I was trying to figure out how I was going to get both kids off by myself) and he smiled and told me to take another round.  I don't remember how many times we went around that afternoon, maybe 4, but my daughter didn't stay asleep long so when she woke up, I picked up my son and we got off refreshed and ready to meet up with the rest of the family.  The riverboat and Tom Sawyer Island can also count at taking time to smell the roses.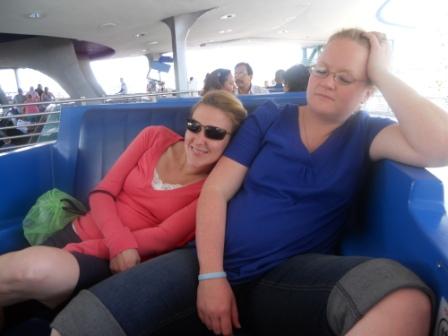 The whole point of stopping to smell the roses is to relax and take a few minutes to notice the magic around you.  It can be planned or spontaneous, but you should allow it to happen.  We plan an in park break every afternoon where we stop, get some ice cream or popcorn or a Dole Whip(!) and just sit for a while.  Disney World has the best thought out and themed attractions of any theme park, but unless you slow down you may miss some of things that make it so unique!