This post may contains affiliate links for your convenience. If you make a purchase after clicking a link we may earn a small commission but it won't cost you a penny more! Read our full disclosure policy here.
Transatlantic Cruise on the Disney Magic May 2011 – Day 4 (2st of 6 days at sea with NO LAND IN SITE)
Cast of characters:
Mic from The Magic for Less Travel
Missy, from The Mouse for Less and of Minnesota mom's runaway to WDW fame, one of Mic's BFF's
Ross, Missy's darling husband (aka DH)
The DH reporting yet again this morning.  What I thought was going to be a quiet day at sea (no sign of mutiny yet) turned out to be pretty eventful!
Woke up before everyone else again and wandered the decks, making my way up to deck 10, aft to watch the sunrise.   I and about three die-hard cruisers watched an amazing display of early morning color – highly recommended!  We went to find Mic and see about breakfast in Lumiere's.  Remembering that we had photo-op with the other DIS group members, we donned our red-shirt day attire and rushed to meet them for what we thought was a 10am gathering.  Finding no one there and deciding we must have the wrong day we headed in for breakfast (we later found out we were 30 minutes early).  Sat down and again had awesome service and awesome food!  This morning for me was perfect eggs Benedict – the ladies tried the banana crepes – Missy's quote:  "2DF" (to die for – she is sooo hip).
Mic and Missy headed to Animators Palate to learn how to draw Goofy.   I headed to the room to lie down – Castaway Cay sun catching up with me – but was blocked from my quest for quiet by that persistently good service from the Cast Members…Michael was cleaning our room.  So – I headed to our next planned stop, Buena Vista Theatre for a lecture on the Deep Blue Sea.  When the ladies showed up, I realized I was too tired so headed back to the room to try and crash again.  They showed up soon after, complaining that the lecture was too "lecture-y", apparently expecting Bill Nye, the Science Guy, they got a professor that was clearly knowledgeable, but a bit….well…dry.
So – my nap plans interrupted, again, we gathered our do nothing equipment (Nook, Kindle and iPad) and headed to deck 9.  Found a nice spot and settled in – realized we were in the "energetic" kids area, we shifted to the adults area – on the way Missy found Alfred (of "Alfred and Seymour" – more on them later) and we had a great chat with him for a while – very funny!  After he realized we weren't very interesting and moved on, we settled in, snacked our way through lunch, read, etc until Missy and I started nodding off in our chairs.  So, leaving Mic behind we headed to the room to get that long sought out nap!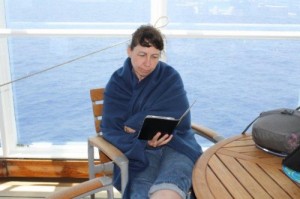 Sometime during our nappy-time, Mic came in, got her stuff and headed off to the Rainforest room again!  Life is so rough on board!  Two hours or so later, Mic came back and we got ready for our evening entertainment – Alfred and Seymour, the Blackstreet Boys!
This was their "family" show – their "adult" show is later in the week.  We all sat right up front for the fun.  Having had a taste of their show at the Welcome Party on the first day we expected to be pointed to and "abused" during the show…we were ready (and fortified with wine)!  Little did I know that apparently a 6' 3" white guy (me) is particularly vulnerable.  After the opening 15 minutes, I was called up on stage to be their fall guy.  I won't go into the gory details, but suffice it to say that 15 minutes later when I left the stage my face was a red as my shirt and my wife, children and friends had many months of ammunition to use against me.  This, coupled with Missy and my appearance on Match Your Mate earlier in the cruise has solidified our infamous notoriety on the ship.  My 15 minutes of fame is assured.   (Mic breaking in here, Ross was EXTREMELY funny, as funny as Alfred and Seymour, and such a good sport!)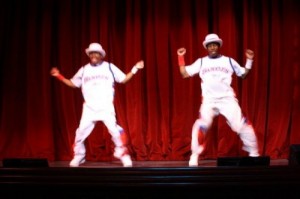 I would highly recommend catching these two if you can.  Their show is a bit off-color, but VERY entertaining and they obviously have great hearts.  Their comedy is very much improv based and they keep the energy going the entire time, and throw in some incredible dance moves as well.  When we were talking to Alfred that morning he mentioned they have a movie project they are starting with Ice-Cube – can't wait!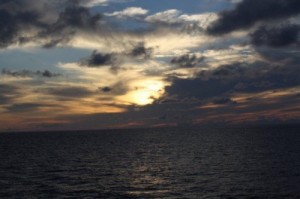 After a quick photo-op of the sunset on deck 4, off to dinner at Animator's Palace with the full show and Sorcerer Mickey!  Very cool!  Music, and entertainment with awesome service, awesome food and awesome friends!  A couple of people at our table had special requests (an off the menu item and deserts to take back to the room) that they handled not only with speed and finesse, but with obvious enthusiasm!  The I-Ketut and Mizar our servers clearly want to make the trip for everyone as perfect as possible!
After dinner we headed to Studio Sea for Karaoke.  For this I was an observer only, but found out there are some amazing voices in our group!  The club was not very crowded so there were plenty of opportunities for the brave souls to partake.  Chris and Ryan in particular were amazing (and brave) – their renditions were perfect!  Mic, Missy and I were not so brave – Mic barely escaped a peer-pressured accompaniment.  The singer before her (Ryan) turned out to be the last of the evening.
After shutting down Studio Sea, we followed the group to the Promenade for a late night gathering of the DIS group.  However, Missy and I soon realized we were wimps and we headed back to our rooms for a well deserved nights' rest – Mic followed about 10 minutes later.
Tomorrow:  Day three of six at sea (with NO LAND IN SITE)!
Incoming search terms:
blackstreet boys alfred seymour