This post may contains affiliate links for your convenience. If you make a purchase after clicking a link we may earn a small commission but it won't cost you a penny more! Read our full disclosure policy here.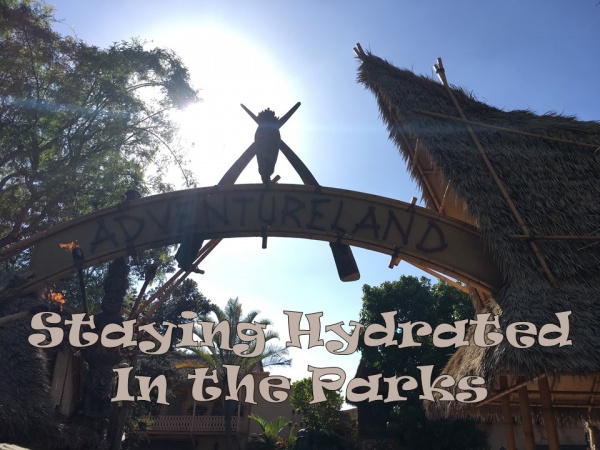 One of the most common complaints at Disney Parks First Aid (especially during the summer) is heat exhaustion symptoms as stated to me as I made my now daily pilgrimage to the first aid station with a family member. Although the Cast Members at first aid are amazing, these tips will help you avoid a visit with them.
What is Heat Exhaustion?
Put simply, heat exhaustion is our body's reaction to heat and dehydration. Symptoms include sweating, hot skin, thirst, headache, stomach cramping, shortness of temper, and, in some cases, confusion. Obviously not what we want to experience at our happy place. If left and not 'treated', heat exhaustion can lead to heat stroke – a life threatening condition.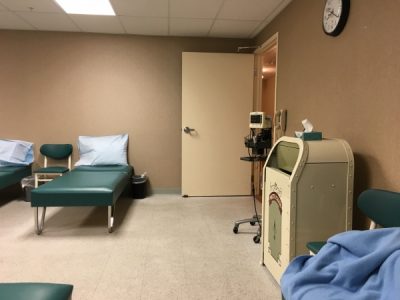 How is Heat Exhaustion Treated?
The 'cure' for heat exhaustion is to get the victim into a cool place where the can rest and re-hydrate. The Disney first aid centers are a good place to go. They are air conditioned, staffed with professional medical Cast Members, and have access to things that can help (beds, cool compresses, and water). If someone in your party has heat exhaustion, this should be your first stop. But be warned, this cure is going to take a chunk out of your park time. And the casualty may still feel unwell the next day. If they do not take proper care, they could succumb again. The best 'cure' for heat exhaustion is prevention.
How to prevent Heat Exhaustion in the Parks
Here are the tried and true methods that Disney Parks Cast Members have passed down to me:
Stay cool: when you are in the parks, try to avoid the midday sun and the hotter part of the day. Go back to your hotel and nap or go for a swim. If you are staying in the park, make sure to seek out cooler experience during the head and drink plenty of water.
Wear appropriate clothing: this can be counter intuitive. Those micro-shorts and singlet may seem like a good choice but they will not protect your skin from the sun like a pair of long shorts and a cap-sleeved (or long-sleeved) shirt might.
Sun Screen: as 'Becky' told me, "I just wish that people would put sunblock on. Especially, on children."
Stay Hydrated: drinking plenty of water is important. Of course, we all like our specially (sugar ridden) drinks at the parks, but limit them and intersperse with water. "But water is so expensive in the park." I hear you. See my next section. This water consumption is important for small ones too. Have a child who would rather go home than drink water? Try diluting juice or adding sugar-free drink flavors into it.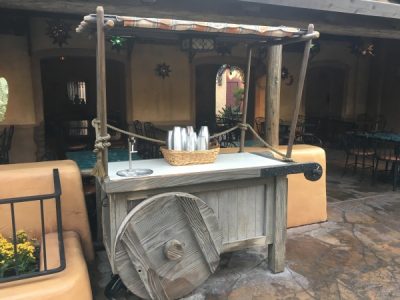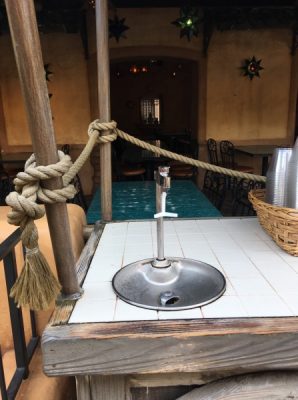 Water without bankrupting the family
Water is overpriced. However, you don't need to buy water in any Disney park. Here are a few money savers:
I always bring a refillable water bottle with me when I go to the parks. I use only metal or plastic bottles. They do not allowed glass bottles in the parks. My daughter uses a water filtering bottle. She is not fond of the chlorine in the drinking water of both Florida and California. I don't notice it as much and so I am happy to carry my normal hiking bottle.
Disney offers free water in a cup with ice at all counter service and table service restaurants. These are generally small glasses but do offer some re-hydration.
Many people don't know that Disney also has many water refill stations, most often they can be found in the counter service seating areas. The water is generally cooled and, in some cases, filtered. I have included a few photos of what to look out for when you are hunting for water. These area also have small cups to serve the water if you do not have a bottle of your own.
If you purchase a bottle of water from a vender cart, be sure to keep it with you and refill it when you pass a water station.
You can also ask Cast Members in the area for the location of water bottle refill stations. I have the best luck with custodial Cast Members when trying to find the closest water station.
If you have a family member who is not feeling well due to heat, the First Aid Stations also have water available.
Enjoy your time at the Parks by staying sun smart and hydrated – even in winter.
What tips do you have for staying hydrated in the parks? Share them in the comments, or on Facebook or Twitter!
Did you like this article? Make sure to share it with your friends! Check below for easy ways to share!
Want to visit a Disney Destination? Contact The Magic for Less Travel for more information and a free, no-obligation quote.

Incoming search terms:
https://www themouseforless com/blog_world/staying-hydrated-heat-exhaustion-disney/
https://www themouseforless com/blog_world/staying-hydrated-heat-exhaustion-disney/#:~:text=Stay cool: when you are this can be counter intuitive