This post may contains affiliate links for your convenience. If you make a purchase after clicking a link we may earn a small commission but it won't cost you a penny more! Read our full disclosure policy here.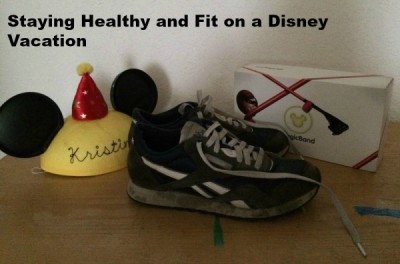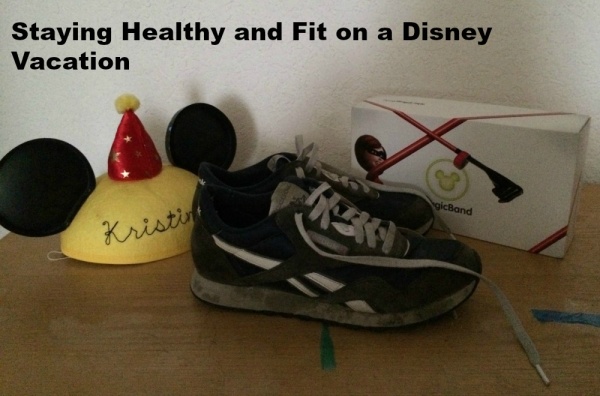 Ears, MagicBands and sneakers – I'm ready to go!
About five years ago, after a startlingly high cholesterol test, I decided it was time to shape up and get healthy. I managed to lose, and keep off, a little over 20 pounds, and put my cholesterol levels back on track.
I was worried, however, how I was going to keep on this healthy path while doing one of my favorite things – enjoying time at Disney parks and resorts. In hindsight, I shouldn't have worried at all. It is much easier than I thought it would be.
FOOD
How was I going to stay at the Polynesian and not indulge in Tonga Toast? And could I possibly make it through the buffet line at Goofy's Kitchen without having a slice or two of macaroni and cheese pizza?
Turns out that there is healthy food throughout Walt Disney World and Disneyland. I just hadn't noticed it before. Every domestic Disney park has at least one stand that sells fresh fruit and veggies. The quality tends to be good, but you might not be near one when hunger strikes. So it might be a good idea to pack your own snacks. Disney will allow you to do this as long as it is in a small, flexible cooler, and you have no glass containers or knives.
Nearly every counter service location has a salad option. And even if you don't call ahead, you'll find healthy selections at the table service restaurants featuring lean proteins, whole grains, low-fat dairy, fresh fruits and vegetables. I was most surprised at the buffets. Not only is there invariably a salad bar at each, but you'll find plenty of interesting and varied lean protein options.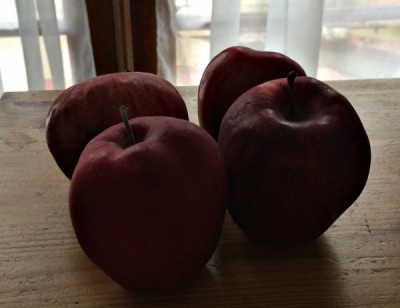 When in doubt, pack your own snacks
At Captain Cook's at the Polynesian Resort, I was able to skip that Tonga Toast (although I had a bite of my husband's!) and enjoy a fruit and yogurt parfait topped with granola. At Goofy's Kitchen at Disneyland, I sampled the catch of the day and made a huge side salad with plenty of fresh fruits and veggies.  I even splurged on a no-sugar-added cupcake for dessert.
There are some places where you're not going to find anything healthy, period. The fish and chips shop in Epcot, for instance, sells fish and chips, period. And don't wander up to a Disneyland churro wagon expecting to find kale.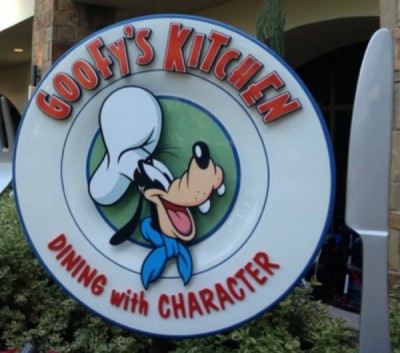 Goofy's Kitchen, at the Disneyland Hotel, has many healthy options
I'm planning for my very first Disney Cruise, and I was delighted to learn that there is a section on each table service restaurant's menu devoted to "Lighter Note Offerings," as well as a selection of no-sugar-added desserts.
And perhaps the happiest moment of all is when I discovered that my beloved Dole Whip has only 80 calories per serving! I'm certainly not suggesting that it's health food, but hey, I'm on vacation.
EXERCISE
About two years ago, I was wandering through the gorgeous grounds of the Disneyland Hotel and peek through the windows of the Goofy About Health Club. I spotted a young woman running on the treadmill. And a year later I spotted another young woman using the jogging path through the beautiful Polynesian Resort on a steamy summer day.
All I could think was: Are these people NUTS? Don't they realize how much WALKING you do at Disney parks?
The theme parks, especially at Walt Disney World, are huge. If you've ever tried to rush from your dinner Advanced Dining Reservation at Be Our Guest to make sure you're in place for your Main Street Electrical Parade FastPass+ reservation, you know that you'll be walking, a lot, sometimes very quickly.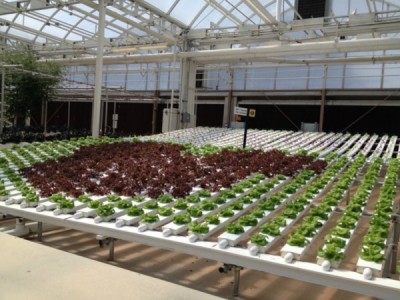 Those veggies you're eating in Epcot restaurants might have been grown in the Land pavilion
Although the parks at Disneyland are smaller, everything is much closer together, which means you'll not only be walking inside the parks, you'll be walking plenty outside them. There are walking paths from the Mickey and Friends parking structure to the entrance plaza. To get from the Disneyland Hotel to Downtown Disney, you walk. To get between the Paradise Pier Hotel and the Grand Californian, you walk. To get between Disneyland Park and California Adventure, you walk. Sure, you can take a tram to the parks from the parking structure, and you can take the monorail from Downtown Disney to Tomorrowland. But other than that, you'll be on a walking path. There really aren't any other options.
If you still feel like you need more physical training, by all means check out your resort's health club. Many of Walt Disney World's resorts have fitness centers, and each of the three Disneyland resorts have one. And of course you can use one of Walt Disney World's jogging paths or rent bicycles and explore the area that way.
And if this isn't enough, you can go big time and sign up for a RunDisney event. Marathons, half marathons and 5Ks are held at Walt Disney World and Disneyland. Disney Cruise Line has even added an informal Castaway Cay 5K for those who stop at the island.
According to my iPhone Health app, during a rope-drop-until-World-of-Color day at California Adventure, I took 18,201 steps. And that's in Disney's SMALLEST park. I shudder to think how many steps I took during my last day in Epcot.
Of course, you'll find a different experience on a Disney Cruise. Although the four Disney cruise ships are massive, you simply won't find yourself in the same GO GO GO mode as you would in one of Disney's theme parks. Happily, there are many opportunities for fun physical activity, both on board and during shore excursions.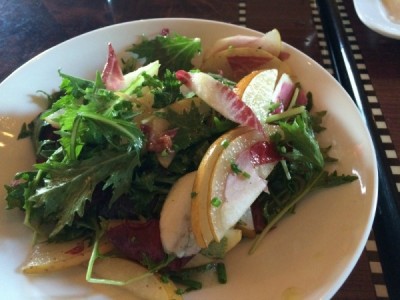 A healthy and scrumptious salad at Carthay Circle Restaurant
Each Disney cruise ship has a fitness center that has weight machines, treadmills and ellipticals. They also feature a sports area, where you can play mini golf, basketball, and a variety of fun sports.
If your ship will be stopping at Castaway Cay, know that in addition to the aforementioned 5K, you have the opportunity to rent bicycles for a fun ride around the island, ride pedal-powered boats and enjoy yoga on the beach. Other ports offer golf, walking tours, and snorkeling.
All in all, I've been on lots of Disney vacations since I adopted my new healthy lifestyle. And I've managed to maintain my weight during all of them! I'm inclined to think it's because of the massive amount of walking, since I will definitely blow my diet when the desserts come out. It's a vacation, after all!
What do you do to keep your healthy lifestyle while visiting a Disney destination? Share in the comments so we can all learn together!