This post may contains affiliate links for your convenience. If you make a purchase after clicking a link we may earn a small commission but it won't cost you a penny more! Read our full disclosure policy here.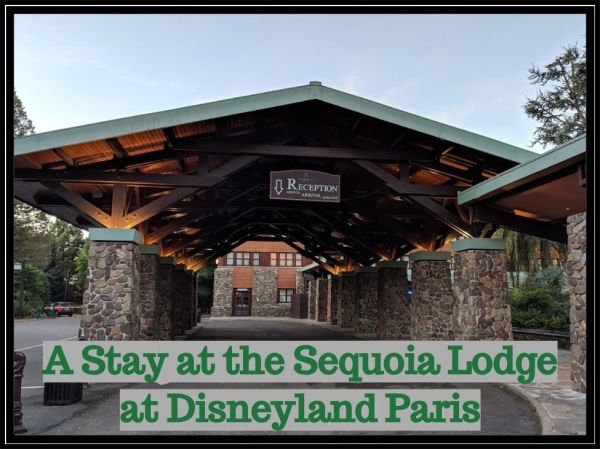 Earlier this year, I traveled to Disneyland Paris to take part in the Magic Run Weekend. This was truly a new adventure for me because I had never been to Paris before! I had also never visited a Disney park in another country. It was very exciting, but also a bit intimidating.
Narrowing the Search
One of the first steps in planning my trip was deciding where to stay. I knew that I wanted to stay on Disney property, so that narrowed my search right away. Even so, Disneyland Paris has several hotels to choose from.
The official website seemed like the best place to start. Each hotel is listed with their amenities and there is also a price calculator. I took a look, did some research, and made a few calls. To avoid long distance phone call charges, I called the Walt Disney World phone number and asked to be connected to Disneyland Paris. It wasn't long before the decision was made. The Sequoia Lodge seemed like the perfect choice!
Our Arrival and Check-In
The day finally arrived and we stepped off the plane in Paris!  A car service picked us up at the airport and we made the 45 minute drive to the Sequoia Lodge. When we entered the hotel, we were asked to place our bags through an x-ray machine. The process was quick and easy. Just a heads up, you will have to put any bags that you carry into the park with you through an x-ray machine too.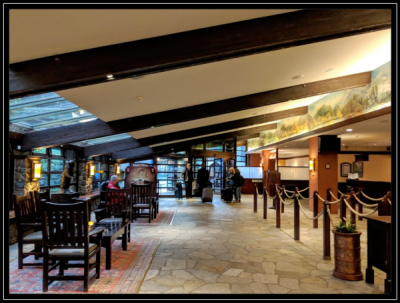 We then visited the welcome desk and checked in. Since it was only 11 a.m., our room wasn't quite ready, so we visited the luggage storage room and dropped of our bags. It was nice to ditch our heavy bags and check out the resort and the parks while we waited on our room to open up.
Our room was ready around 3:00 p.m. as promised. We were in a standard room and it was about the size that I have come to expect. The room itself was comfortable. The beds were a different story. They were really hard! The main purpose of our trip was to run the 36K Challenge. This included running 3 races, so in all honesty, by the time I went to bed each night, I was too tired to even notice or care. I was able to sleep despite the stiff bed. I have a feeling that if I had been on a more leisurely vacation, this would have bothered me a lot more.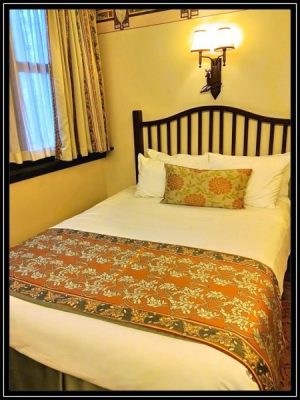 Save up to 5% of Your Vacation Price!
Deal
Travel around the world in Disney style! Book your Adventures by Disney Vacation with The Magic for Less Travel and receive our concierge vacation planning assistance and save up to 5% on the price of your Adventures by Disney vacation!  Get a no-obligation Quote.  Read More
More
Less
Dining
Each morning, we visited the Redwood Bar and Lounge to pick up the breakfast that was included with our half board plus meal plan. Everything was already set up in the mornings, so picking up our food and drinks was very easy. Breakfast was basic and included coffee, water or orange juice, and 2 croissants. We had the option of plain or chocolate croissants.  Both were good, but I preferred the chocolate because, well, it had chocolate in it.  Need I say more?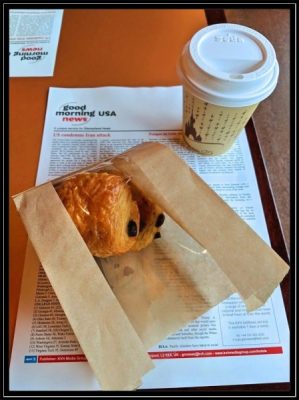 We did visit the Redwood Bar and Lounge again in the evening after the 5K and it was unbelievably crowded. After sitting at the bar for 20 minutes without being acknowledged,  we gave up and headed back to the room.  My guess is that on a normal night, the service would be much better. Unfortunately, we did not go back to find out.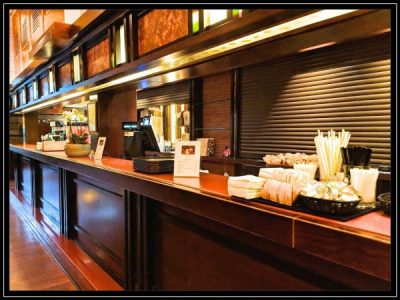 We also ate at the Hunter's Grill inside the resort one evening.  Since we had not used the meal that was included with our meal plan that day, we made a late evening decision to drop in. We had no trouble getting a table since it was well past dinner time, but you can make reservations in advance if you would like to eat at an earlier hour and be assured a table.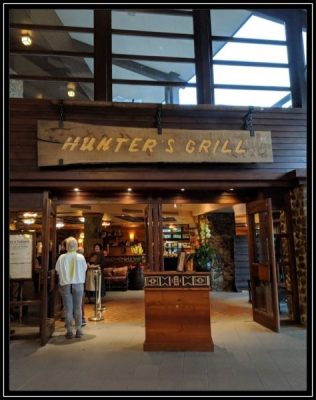 We only planned to snack a little, but there were so many options on the buffet, we ate a whole lot more than we planned on. The variety was very good and most of the food was tasty. We even ordered some celebratory Glowtinis!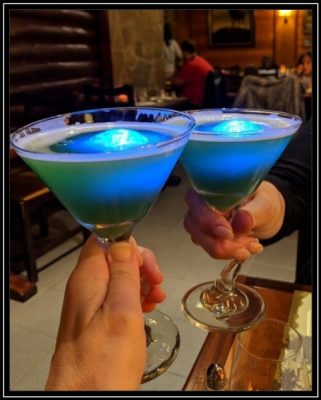 Amenities
One of my favorite aspects of the hotel, and ultimately one of the main reasons I chose the Sequoia Lodge, was the pool. Even though it was a bit chilly when we visited, we were able to swim because the pool is indoors! It opens up to the outside on warmer days as well. The best part? The water slide!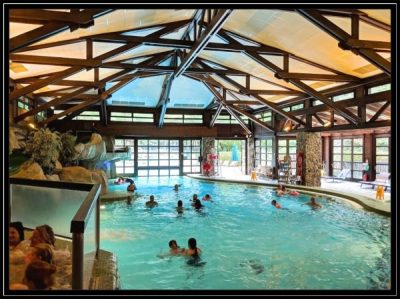 Another feature of this hotel is the sauna. All the running and walking we did across the parks left me a bit sore and it felt amazing to sit in the heat for a few minutes to ease my tired muscles.
The hotel also has a small boutique which had a decent selection of souvenirs, a cooler with drinks, and some snacks. I was also able to purchase postcards and stamps to send back to the US.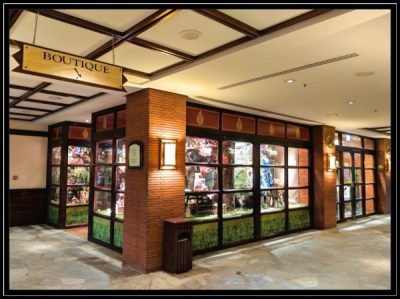 One of the biggest draws of this hotel, is the close proximity to Disney Village and the parks. In 15 minutes or less, you can walk to either park. The hotel also has a shuttle, but we never took it since the walk was so quick and easy. You can't beat the convenient location of the Disneyland Paris hotels!
I enjoyed my stay at the Sequoia Lodge very much! It had all of the amenities I was looking for, so I was willing to overlook the not so fabulous beds. The location made it perfect for our race weekend and Disneyland Paris vacation. I hope that someday I have the opportunity to stay again!
Have you stayed at the Sequoia Lodge at Disneyland Paris? What were your impressions? Share your experience in the comments, or on Facebook or Twitter!
Did you like this article? Make sure to share it with your friends! Check below for easy ways to share!
Want to visit Disneyland Paris? Contact The Magic for Less Travel for more information and a free, no-obligation quote.

Incoming search terms:
https://www themouseforless com/blog_world/staying-at-the-sequoia-lodge-at-disneyland-paris/