This post may contains affiliate links for your convenience. If you make a purchase after clicking a link we may earn a small commission but it won't cost you a penny more! Read our full disclosure policy here.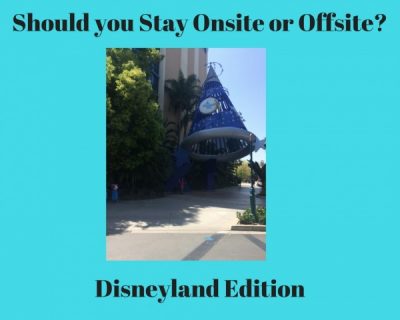 The Disneyland Hotel, an onsite option
One of the biggest decisions you'll make when planning your Disneyland vacation is where to stay. Disneyland has three onsite resort hotels that are owned and operated by Disney. There are also many offsite options, run by other companies, that are within the city of Anaheim.
Because of the massive amounts of choices available, this decision can feel overwhelming. But let's talk about the decision whether or not to stay on property. There are pros and cons to both.
STAYING ON PROPERTY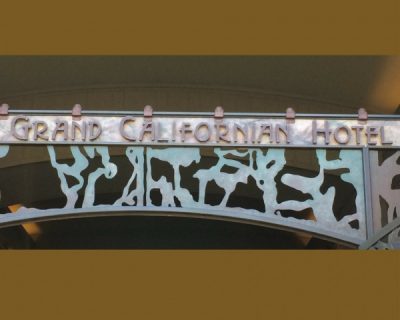 The Grand Californian Hotel, an onsite option
THE PROS
– You will feel immersed in Disney magic from the moment you step into your hotel. Each lobby has Disney touches, from the teacup shaped seats in the Disneyland Hotel, the Goofy statue in the Paradise Pier, and the hidden Mickeys sprinkled throughout the vast and beautiful Grand Californian.
– You can take advantage of Early Entry! On most days, either Disneyland Park or California Adventure opens an hour earlier to guests of Disney owned and operated resorts. These blissfully uncrowded early mornings are the best times to get on rides with historically long lines (Radiator Springs Racers, Peter Pan's Flight, etc.) without a tremendous wait. And in the summertime, the weather is much cooler, as well. I absolutely love early mornings at Disneyland and take advantage of this perk whenever we stay onsite.
THE CONS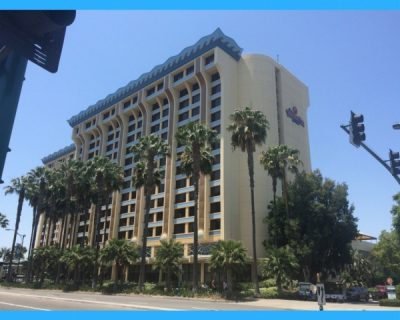 The Paradise Pier Hotel, an onsite option
– These resorts are not cheap. There are no Value or Moderate resorts here on the West Coast.
– Even if staying at one of these resorts is your first choice, there are only three Disney owned and operated hotels. That means that you might not find any availability when you want to book.
STAYING OFF PROPERTY
THE PROS
– You will find much more economical options off property. There are several hotels in the area that also offer small kitchenettes, giving you the option to eat some of your meals at your hotel. This can add up to big savings.
– This is going to sound bizarre, but it's true. There are some off property hotels that are actually closer to the parks than the three on property hotels! When choosing an off property hotel, do a quick Google Maps search to see how long it will take to walk from your hotel to the park entrances. The hotels on the 1300 – 1600 block of South Harbour Boulevard are all within easy walking distance of the pedestrian entrance to both parks.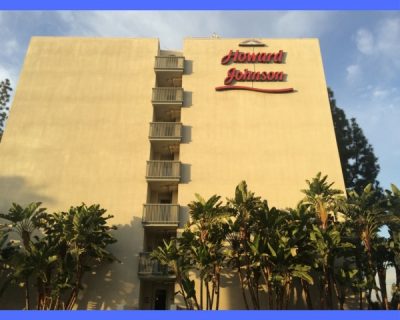 The Howard Johnson Anaheim, an offsite option
THE CONS
– You will be within the confines of the city of Anaheim, a large, bustling, busy city. Certain hotels will be noisy, and if you are not within walking distance of the parks, traffic can be awful.
– Theming varies widely. The décor will range from bright and cheerful to dreadfully boring and mundane. The same goes for the pools. All the pools on Disney property are very nicely themed. Pools off property vary. For example, the Howard Johnson Anaheim has a fun pirate themed pool. But the Best Western Park Place Inn and Mini Suites has a rectangular slab of concrete. If you're only looking for a place to shower and sleep, this might not matter to you. But if you want a resort, vacation feel, do your research when booking offsite.
Up to $75 Disney Gift Card!
Deal
Book a Disneyland package of $1500* or more and receive a $25 Disney gift card. Packages of $3000 or more receive a $50 Disney gift card. Packages of $5000 or more receive a $75 Disney gift card. Gift cards are accepted at many Disneyland Resort locations and can be used to pay for shopping, dining, and so much more. We are sure you will find a way to put this to good use!   Read More
More
Less
MY ADVICE
We like to stay onsite when we can afford it. But we have no qualms whatsoever about booking offsite if we can't find a good deal at the Disney hotels. I'm a theme park commando: I wake up at the crack of dawn and am in sprinting position, ready to hit the attractions, as soon as those parks open. I'll stay in the parks very late and then collapse into bed. So for me, amenities like fabulously themed pools and characters in the lobby are not a deal breaker.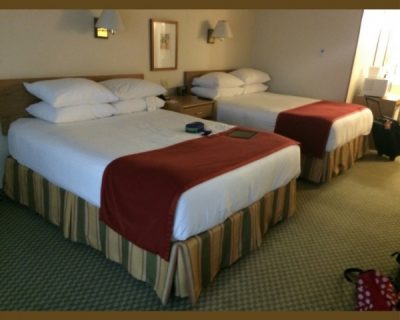 a room at the Howard Johnson Anaheim
So, my advice? Stay on property if you want to have a total immerse experience, but otherwise, you can still have a fabulous vacation staying off property.
What do you think? Do you always stay on-site or do you tend to head off-site when visiting the Disneyland Resort? Share your thoughts in the comments.
Did you like this article? Make sure to share it with your friends! Check below for easy ways to share!