This post may contains affiliate links for your convenience. If you make a purchase after clicking a link we may earn a small commission but it won't cost you a penny more! Read our full disclosure policy here.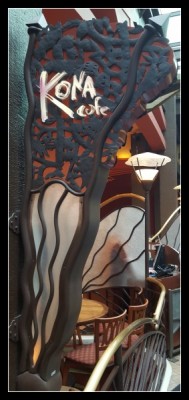 The Kona Cafe is located upstairs in one of my favorite hotels, Disney's Polynesian Village Resort. The theme of the Polynesian can be felt in every corner of this little cafe. It has an open, relaxed feel even though the lobby is usually bustling with guests ready to begin their day.  Reservations are recommended, especially if you have a large party like we did.
Although I have visited the Polynesian many times, this was my first visit to Kona Cafe. I was really looking forward to my breakfast, especially after a 5:00 am wake up call to ensure that I could make it in time for our reservation!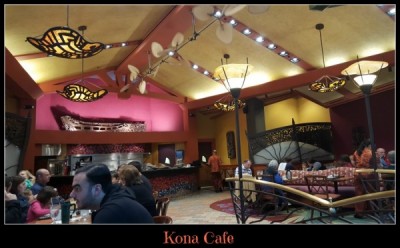 After looking over the menu, I chose the meal that I had heard the most about, the Tonga Toast. This is not your ordinary French toast! Sourdough bread is coated in cinnamon and sugar, then stuffed with banana and served with a strawberry compote topping. It is accompanied by a side of ham, bacon, or sausage.
When my breakfast arrived, I knew immediately that I was not going to be able to finish the whole thing.  My first thought was, "That looks like half of a loaf of bread!" It was huge. I couldn't wait to dig in!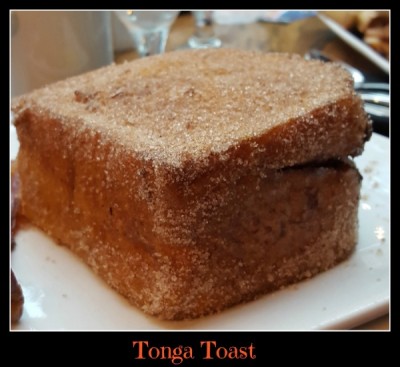 The bread was lightly crispy on the outside, but perfectly soft on the inside. The best part was the strawberry compote topping. I tried the toast with maple syrup as well, but the combination of the strawberry flavor with the banana inside the toast was perfect.  I ordered my toast with bacon.  As you can imagine, the Tonga Toast is incredibly sweet, so I enjoyed having something salty to balance out all that sugar.
I am embarrassed to admit that I was out-eaten by a 9-year-old, who not only ate every bite of her French toast and bacon, but also about a third of my Tonga Toast. As much as I wanted to eat it all by myself, I was thankful for the help!
My friend Lisa ordered the Big Kahuna and by the looks of her meal, I would say that this breakfast is the best bang for your buck. You get a little of everything: eggs, potatoes, bacon, and the menu item I envied the most, the macadamia-pineapple pancakes. Savory and sweet, it's all there on one plate!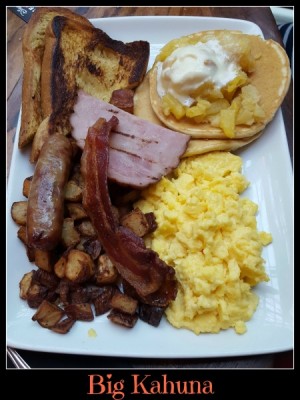 The kids in our party loved the french toast and pancakes. I don't think there was a crumb left on any of their plates. They obviously enjoyed their meals as much as the adults did. Overall, our meal was a hit with everyone.
If you plan to visit the Magic Kingdom, Kona Cafe is a great place to start your day. Here you will find a hearty, delicious breakfast and it is conveniently located near the Transportation and Ticket Center. I really enjoyed breakfast and will definitely visit again since there is so much more I would love to try!
Have you been to the Kona Cafe?  What is your favorite menu item?