This post may contains affiliate links for your convenience. If you make a purchase after clicking a link we may earn a small commission but it won't cost you a penny more! Read our full disclosure policy here.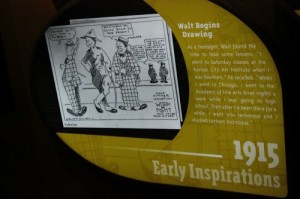 Yes, I know the title of this post starts with 1923, but there is just a little bit before 1923 that I want to start with.  This is one of the reasons that I LOVE Walt Disney: One Man's Dream.  There is just so much information there, and when my kids don't want to take the time to read it all, I take pictures for later.  That way, I have the information to read over later.  I know you may not be able to read what is on the sign, so I will type it out here.
As a teenager, Walt found the time to take some lessons.  "I went to Saturday classes at the Kansas City Art Institute when I was fourteen," he recalled.  "When I went to Chicago, I went to the Academy of Fine Arts three nights a week while I was going to high school.  Then after I'd been there for a while, I went into technique and I studied cartoon technique."
Have you read this before?  He showed so much determination at an early age to fit in extra classes in addition to high school!
So, now, let's fast forward to October 16, 1923.  This date is the start of The Disney Brothers Studio, and of course, it is now The Walt Disney Company.  It was at this time that Walt Disney signed a contract with M. J. Winkler to produce a series of Alice comedies.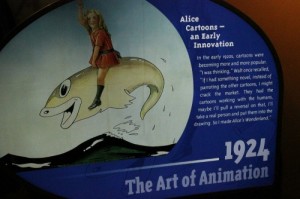 Walt Disney wanted to "break out" of the crowd with the Alice cartoons.
In the early 1920s, cartoons were becoming more and more popular.  "I was thinking," Walt once recalled, "if I had something novel, instead of parroting the other cartoons, I might crack the market.  They had the cartoons working with the humans, maybe I'll pull a reversal on that, I'll take a real person and put them into the drawing.  So I made Alice's Wonderland."
It was Walt Disney's willingness to take risks that him made a long-term success.  Oh yes, there were ups-and-downs throughout the years, but without his taking these risks, we would have missed out on so much!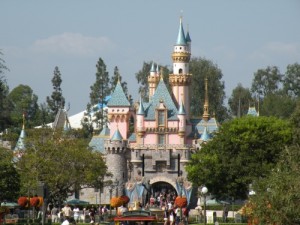 Walt Disney left such a mark on our society!  Could you imagine life without Sleeping Beauty's Castle in Disneyland?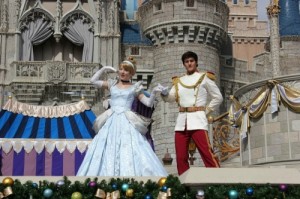 Could you imagine a trip to Walt Disney World without seeing Cinderella?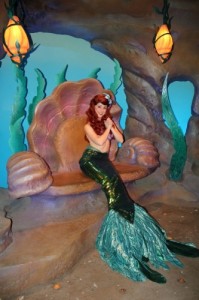 Or seeing your daughter's eyes light up when she sees Ariel in her grotto?  (Yes, I know that Ariel wasn't one of Walt's princesses, but we wouldn't have Ariel without Walt.)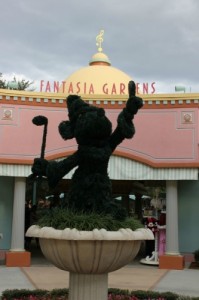 Walt Disney's movies have even left a mark on miniature golf at Fantasia Gardens!  And there is even a chance to see some movies while at Walt Disney World on vacation.  The Walt Disney World Resort shows "Movies Under the Stars" most nights at many of the resort hotels.  Could you think of a better place to see Walt Disney movies?  If you are heading down to Walt Disney World on vacation, you might want to check out our "Movies Under the Stars" page to see what will be showing while you are there.
Incoming search terms:
https://www themouseforless com/blog_world/started-october-16-1923/