This post may contains affiliate links for your convenience. If you make a purchase after clicking a link we may earn a small commission but it won't cost you a penny more! Read our full disclosure policy here.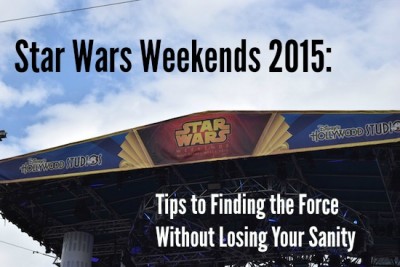 For the past 15 years or so, Star Wars fans have been able to come to Disney's Hollywood Studios in May to satiate their Star Wars hunger, and since Disney's acquisition of the Star Wars franchise, these events have only grown. I had the opportunity to head to Star Wars Weekends 2015 for Weekend 1 and wanted to share a few tips for anyone planning on going for future weekends.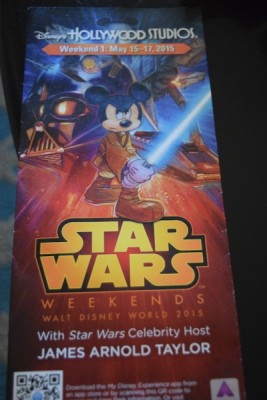 Week One Map and Info
Tip One: Arrive Early
Officially, Disney's Hollywood Studios opens at 8:00 a.m. for Star Wars Weekends (check the officially posted park hours for the days you intend to go) but the day we went, they opened well before that time. Even though we arrived around 7:50, the initial lines to get in the park were already cleared and the Storm Troopers were finishing their first patrol (note: they come back out throughout the morning so if you really want to see them, hang out around the park entrance).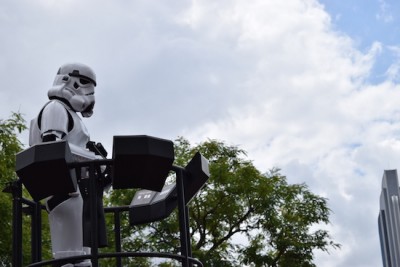 Storm Troopers patrol the park entrance at opening
We went straight to the Chewbacca meet and greet and the line at about 8:03 was already behind the DVC info station across from the Sci-Fi Dine-In Theater. Arriving earlier would have helped considerably with some of that.
Tip Two: See Chewbacca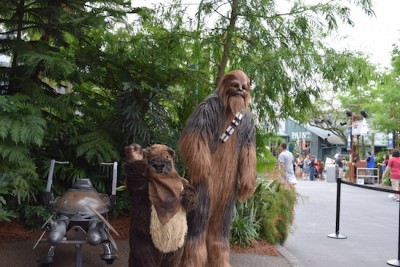 What a Wookie!
Okay, maybe this is personal taste, but the Chewbacca meet was one of the most fun character meets I have done. He had a ton of personality and was incredibly interactive with guests of all ages. And there was an Ewok.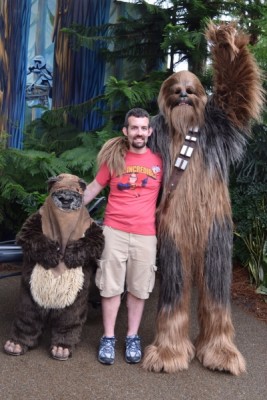 Chewbacca meets at the speeder bike across from Star Tours and his lines heads down Commissary Lane, so depending on when you get there you might be able to get to the line fast by heading toward the Great Movie Ride instead of cutting through Echo Lake by Indiana Jones.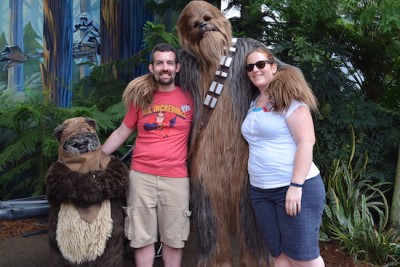 Need a Christmas card picture?
Tip Three: Have a Plan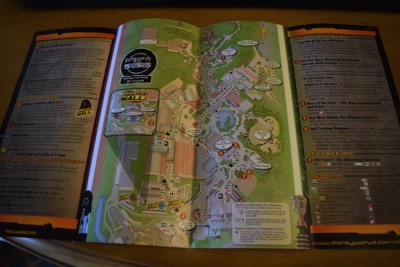 The special weekend maps will show you the locations of events and information about the celebrities
While you have probably already done a good amount of planning with Advanced Dining Reservations and FastPass+, if you want to get the most out of special events like Star Wars Weekends you really need to have a plan going in. Part of that is deciding what special activities are the most important for you.
Some of the events, such as Obi-Wan and Beyond with James Arnold Taylor, Star Wars: Rebels, and Stars of the Saga have the opportunity for FastPass+, so if some are available that can be a time-saving option. Also, remember that availability for FastPasses changes constantly, so check back often, especially the day of if there is something you really want.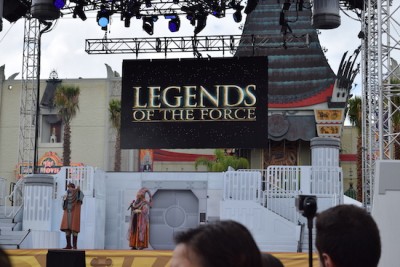 Outside of that, prioritizing and being realistic about what you can do ahead of time will save you some aggravation in the moment. For example, people started lining up for the Legends of the Force Celebrity Motorcade at least an hour and a half before it's scheduled start, and some were likely lining up well before that.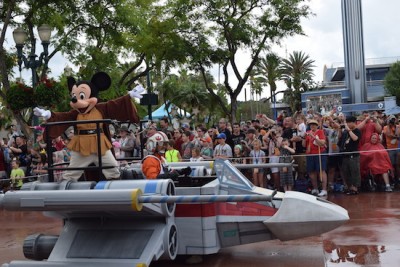 Jedi Mickey on an X-Wing leads the motorcade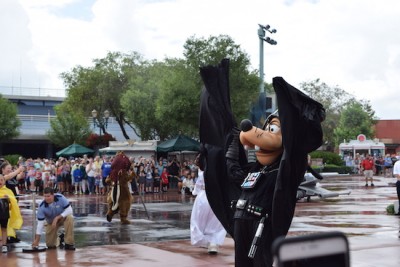 Darth Goofy is there too
If you are spending that much time waiting so you have a good spot for the parade it might mean you can visit one less character or won't have time to go to Darth's Mall.
Also, deciding what to do first can really help you out. If you and/or your child really wants to take part in the Jedi Training Academy, you need to sign up for that right away, but you also need to know that the line for sign ups is in Echo Lake past the 50's Prime Time Cafe. Cast members are there with signs to help you, but knowing where you are going and the best way to get there can make all the difference.
As an aside, if you are an Annual Passholder, make sure you stop by Mickey Avenue and get the special free poster for each weekend, but don't forget your AP card and ID or you won't get one.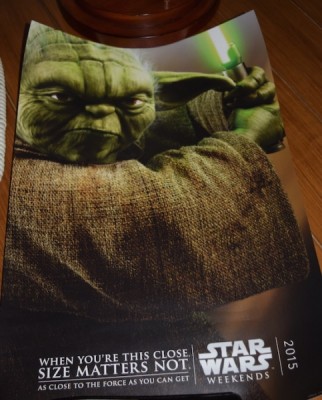 A different character is featured each weekend
Tip Four: Scope Out the Terrain in Advance
As a part of your planning process, it is definitely a good idea, if you can, to head into Disney's Hollywood Studios in one of the days that doesn't have the special events so you can get an idea of what to expect. You can see how the park is laid out and figure out where the "Forest Moon of Endor" or "Jedi Council Chamber" are, or where the best entrance to Darth's Mall actually is.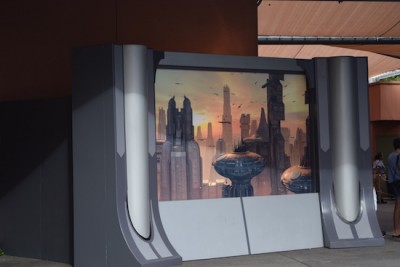 Character meet backdrops stay out during the week so you can find them or take your picture in front of them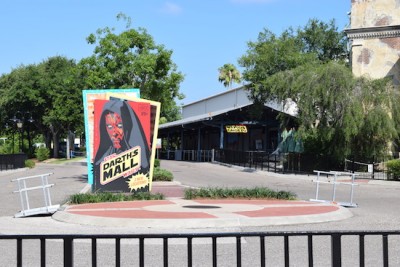 Darth's Mall is at the end of the Streets of America, where Wandering Oaken's had been
More than that, some of the special merchandise for Star Wars Weekends is available throughout the week, so you can get some of those items without losing valuable time during the actual event.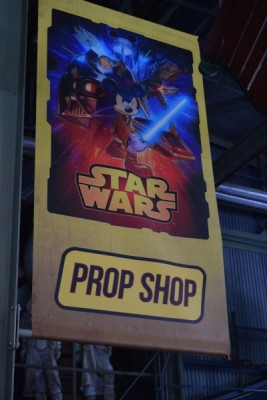 Probably the best spot to do this is the Prop Shop, located just off the Streets of America next to the Studio Catering Company. This area will have a line during the weekend itself, but Monday-Thursday you can just head over and get your Star Wars Weekends pin, shirt, bag, and more, or find your favorite Star Wars Lego set or toy.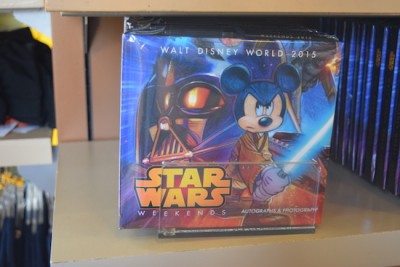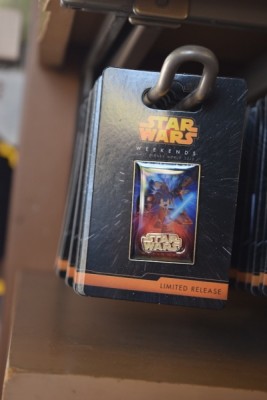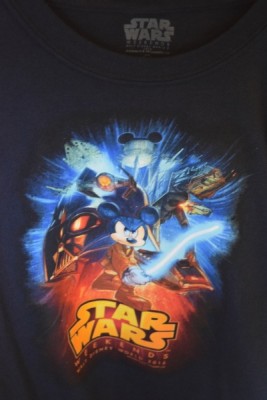 Also, many of the other stores in Hollywood Studios have Star Wars Weekends and other Star Wars merchandise
In addition, you can check out some fun Lego replicas of your favorite Star Wars characters.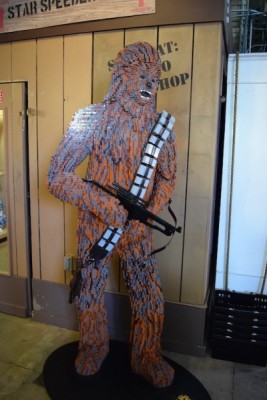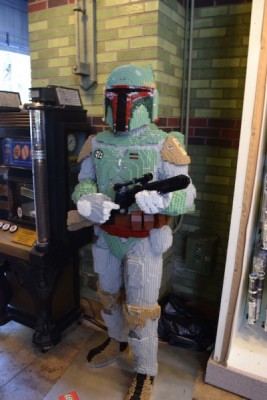 Tip Five: Spread it Out Over Multiple Days
Star Wars Weekends take place from Friday to Sunday, and each weekend has pretty much the same activities each day, so use that to your advantage and spread out your important events so you don't tire yourself out, or to expand the time you have at your disposal. Personally, I went to see the fireworks on Friday night and came back Sunday morning for meets and the parade. Days in the Florida sun can be draining and spreading out the fun can really help you in the end.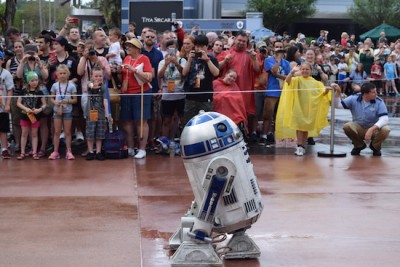 One of the Droids you should look for
Tip Six: See the Fireworks
That being said, Symphony in the Sky is great and you should make every effort to see it. We don't get a lot of fireworks in Hollywood Studios so any time you get that opportunity you should take it. And I once again might be biasing myself, but Disney fireworks with John Williams music is pretty much about as good as you can get.
As a side note, the fireworks are generally scheduled at 9:45, however they don't really start then. That is when James Arnold Taylor (voice of Obi Wan in the cartoons and host of the weekends) comes out and introduces characters from every generation and iteration of Star Wars. As you might imagine, this takes a while, and if you are towards the park entrance end of Hollywood Boulevard, you will mostly be able to see a big screen where the big Sorcerer's Hat used to be, and your view will look something like this: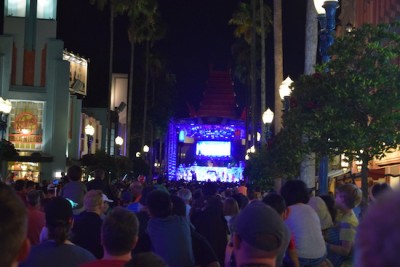 However, this is really a great spot to see the fireworks themselves from, and you can find a spot without waiting for hours (we watched the 9:00 p.m. Fantasmic show and still have a pretty good spot for the fireworks).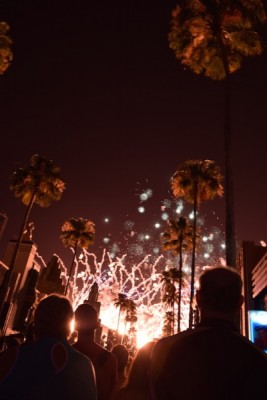 If you do come early to claim your spot, you will at least have a DJ leading a Star Wars themed dance party to pass the time.
Tip Seven: Have Fun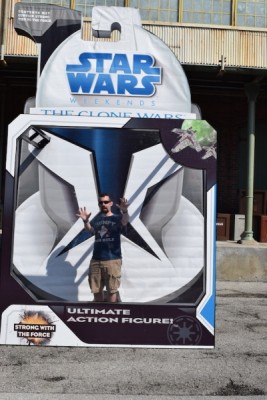 One of the great things about fandom, whether it is Disney, Star Wars, sports, or superheroes is that it brings a community together for a common purpose.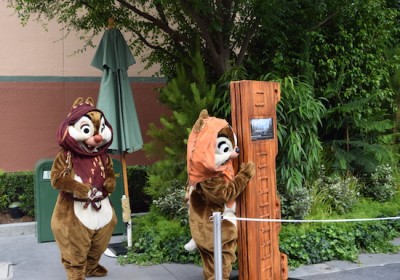 Ewok Chip and Dale had lots of fun coming out to their meet
Star Wars Weekends exemplify this, whether it is participating in cosplay, cheering on the 501st Legion, erupting in applause for the latest Force Awakens trailer, hanging out with Chip and Dale as Ewoks, or just taking it all in.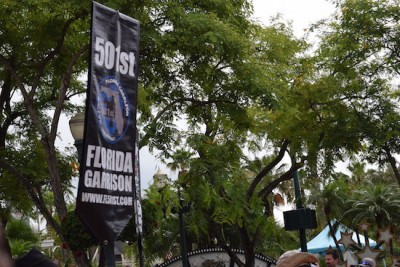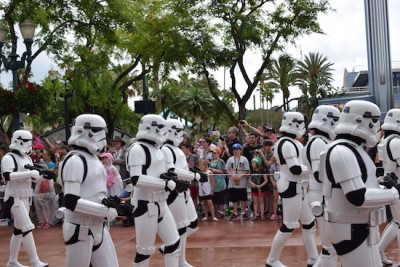 Even if you aren't the biggest Star Wars fan, being around the kind of appreciation and energy this event brings is sure to have you feeling the Force.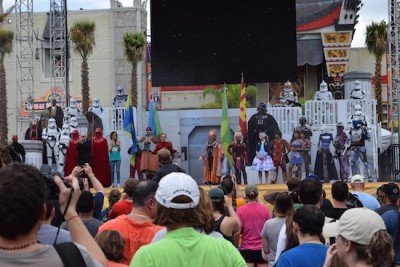 Characters and celebrities on stage at the end of the motorcade
Overall, with a solid plan, you can have a fantastic experience at Star Wars Weekends.
Are you planning on visiting this year's event? What are you most excited about experiencing?