This post may contains affiliate links for your convenience. If you make a purchase after clicking a link we may earn a small commission but it won't cost you a penny more! Read our full disclosure policy here.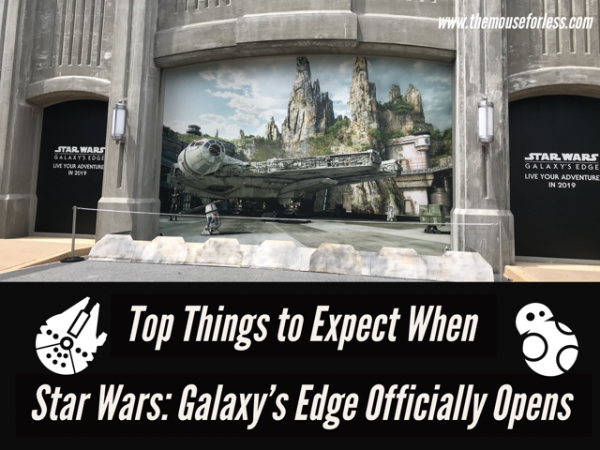 Are you excited about finally experiencing Star Wars: Galaxy's Edge when it officially opens at Disneyland later this summer and at Disney's Hollywood Studios later this fall? We are definitely excited here and now we have a lot more information about what to expect when you step inside the planet of Batuu and experience Black Spire Outpost.
The Land Itself at Star Wars: Galaxy's Edge
So, just what is it that Guests will experience when they visit Star Wars: Galaxy's Edge? Well, as the story goes, Batuu is a port for explorers, smugglers, and traders, all of whom are looking to fly underneath the radar, since Batuu is located on the outer rim of Wild Space. The Resistance has temporarily set up shop in an abandoned, ancient base that is encircled by forests, mountains, and rivers here on the outskirts of Black Spire Outpost all in an effort to defeat the First Order.
At Disneyland, Guests will be able to enter Star Wars: Galaxy's Edge from one of three entrance points – Critter Country, Fantasyland, or Frontierland. At Disney's Hollywood Studios, there will only be two entry ways. One thing is for certain though, when entering the land, the grand entrance is designed to compress and then expand the views of visitors, so that when you step into the land, the first thing you are going to say is WOW!
The land in Star Wars: Galaxy's Edge itself feels extremely lived in and Guests will feel as though this really is a moving and breathing city; that Batuu is indeed, a real place. Oh and yes, we are in present time in the Star Wars story, so, Kylo Ren, Rey, and Finn are bound to be found here.
The area is split into two sections; the woodsy Resistance Forest, where the Star Wars: Rise of the Resistance attraction is located, and the second is the Black Spire Outpost, the main trading port on planet Batuu. Listen for the music, which has been composed by famed composer, John Williams. (He's the guy who's written all the music you hear in the Star Wars films.)
Star Wars: Rise of the Resistance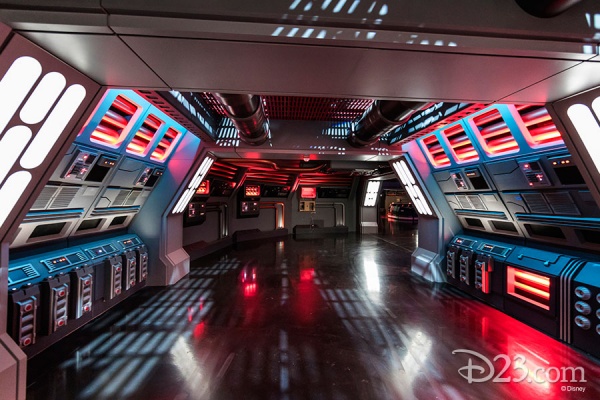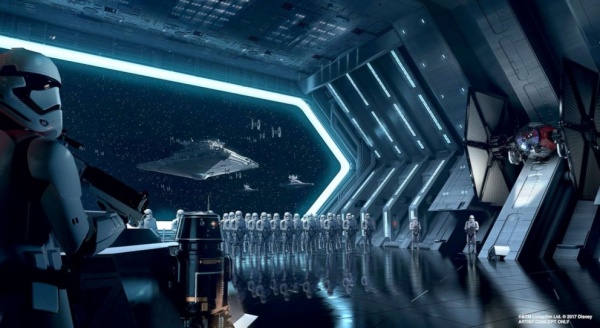 The attraction in Star Wars: Galaxy's Edge that I'm looking the most forward to is Star Wars: Rise of the Resistance. This has been stated to be like four attractions in one and will be the most advanced and immersive experience.
Guests will enter the attraction and will see a section of 'laser cut' through rock, as there would be an army trying to make due in natural and unnatural caverns. Guests will also come across rooms that are piled high with medical, utilitarian and military equipment. There is also an armory with blasters and pilots uniforms in cages. Yes, this attraction will offer FastPass and the line will merge with the Standby queue in a communications hub.
From there, Guests will head into a briefing room that will feature an animatronic BB-8 that interacts with a video of one of your favorite Star Wars characters from the current trilogy. (Which I believe to be Rey.) From there, Poe Dameron will be your escort on this mission.
Guests will then make their way across a landing pad as Poe's X-Wing warms and you'll board a U-Wing transport ship. During this part of the attraction, you'll experience a simulated takeoff and flight, facilitated by Nien Nunb and Poe. But as with most Disney attractions, something goes horribly wrong and in this instance, you are captured and pulled aboard a Star Destroyer.
From there, the door opens to a stunning, full size Star Destroyer hangar bay. You truly feel as though you have left Batuu and are on an actual Star Destroyer. In this area, there will be a bunch of action taking place on a 100-foot screen. There will also be about fifty Stormtroopers, mostly stationary but a few animatronic, who will greet you. There is also a full-size First Order TIE ship on the wall, docked and ready to go.
Guests will then be split up into groups of 16 and led down the corridors to a holding cell. At this point, you will have an encounter with Kylo Ren.
But that's only the first part of the the experience! From there, there's the vehicle portion which features encounters with more First Order troops, AT-ATs and more! The unique thing about this attraction is that it is partially completed on foot but there also will be trackless vehicles that will take guests around the Star Destroyer as they try to make their escape.
Millennium Falcon: Smuggler's Run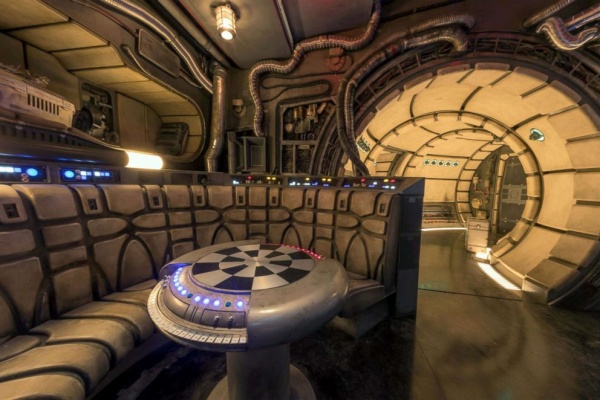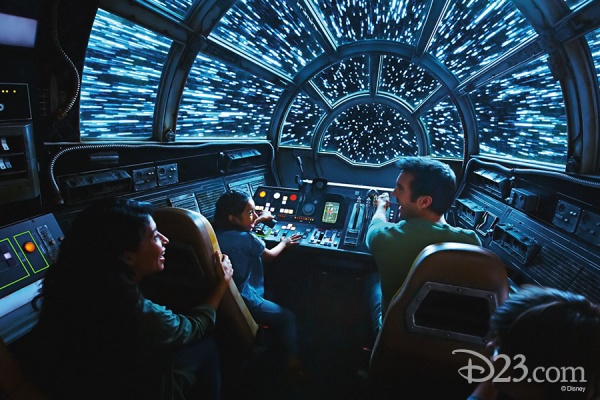 Moving on to the second attraction and the one that I think the majority of people are excited for. During Millennium Falcon: Smugglers Run, Guests will be able to climb into the cockpit and take control of the ship.
While in line for the ride, Guests will keep rising higher until they believe they are actually boarding the Millennium Falcon. As you enter the maintenance bay, you pass into the queue inside Ohnaka's Transport Solutions. Guests will climb gantries through a working shipping and machine shop, all while getting views of the Falcon from every angle.
The plot of Smuggler's Run involves helping space pirate leader Hondo Ohnaka (who appears in the attraction's queue as one of the park's most advanced animatronics ever.) Hondo has bargained with Chewbacca to use the Millennium Falcon to smuggle goods, but he needs a flight crew, which is you. While waiting in line, Guests will be handed boarding cards and you'll move to the waiting cockpit.
As I mentioned, the Hondo AA looks extremely lifelike. He will have 51 total functions, including 10 in his head alone and a speaker in his chest to provide directional sound. There's even a bend in his knee that helps to create the illusion that Hondo can walk.
When the doors of the attraction open, you are on the Millennium Falcon. The cockpit is exact down to every last detail. There are six seats (for two pilots, two gunners and two flight engineers) and all the buttons and levers work.
On the attraction, all the Guests in the cockpit will be responsible for how smoothly the Falcon completes its mission. I know many had worried that those that failed would crash the attraction after like 30 seconds, but the mission is always completed. The difference is that you will come through either pristine or more battered, depending on your efficiency. And yes, the people of Black Spire Outpost will react to your team's performance and how well you all flew.
Each cockpit has its own real time rendering system for multi-projection feedback across five screens that completely surround the cockpit seamlessly. Any decision you make as a member of the crew will result in an action on screen. It's all done in real-time, so none of the major stuff is pre-rendered.
Millennium Falcon: Smuggler's Run will also offer a single rider line. It will be curious to see how much quicker Guests are able to get on this attraction with that, versus the Standby.
Dining Establishments in Star Wars: Galaxy's Edge
In Star Wars: Galaxy's Edge, there will be five different dining establishments to choose from. The most talked about is Oga's Cantina.
Oga's Cantina
Oga's Cantina is the most talked about because it will officially (a first for Disneyland) sell alcohol. The establishment is run by Oga Garra and Guests are invited to share enjoy exotic beverages served in unique vessels. Guests will find Oga lurking in the shadows. Oh and you won't want to miss DJ R-3X—formerly known as Captain Rex, the Starspeeder 3000 pilot droid from Star Tours who will now call this establishment his home.
Alcoholic options will include Bespin Fizz, Bloody Rancor, Dagobah Slug Slinger, Fuzzy Tauntaun, Jedi Mind Trick, Jet Juice, The Outer Rim, Spriran Caf, T-16 Skyhopper, and Yub Nub. Those looking for non-alcoholic libations can enjoy Black Spire Brew, Blue Bantha, Carbon Freeze, Cliff Dweller, Hyperdrive Punch It!, Jabba Juice, Moogan Tea, and Tarine Tea; and provisions include a Cantina mix.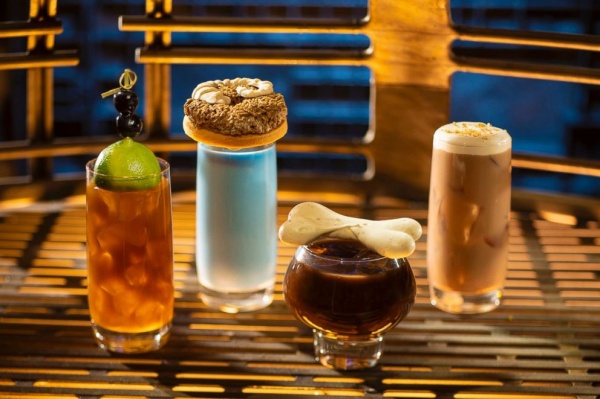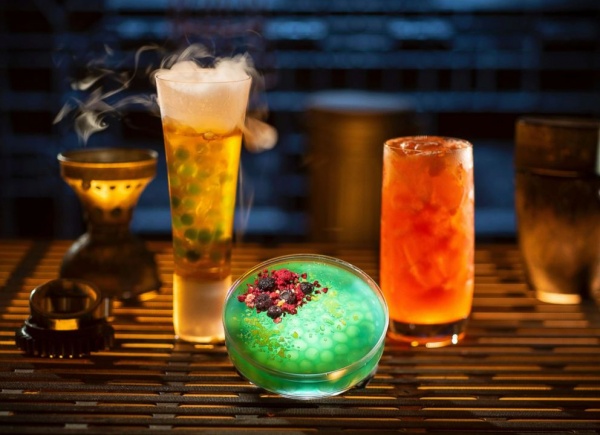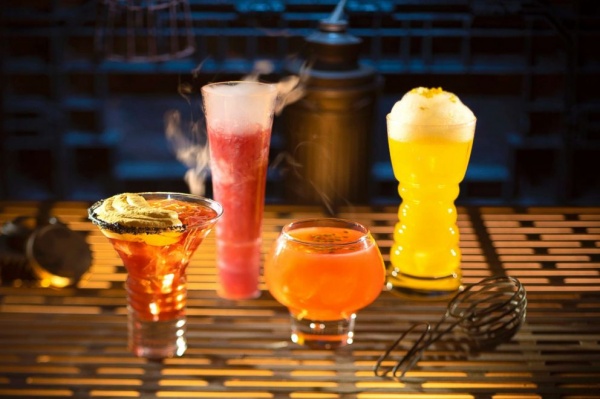 Docking Bay 7 Food and Cargo
This will be a quick service dining location and is themed after a multi-purpose transport shuttle docked atop a large hangar for traveling food shuttles. Here, Chef Strono "Cookie" Tuggs has converted his modified Sienar-Chall Utilipede-Transport into a popular mobile kitchen and restaurant.
Entrées include the Braised Shaak Roast, featuring beef pot roast with cavatelli pasta, kale, and mushrooms; the Fried Endorian Tip-Yip, a decadent chicken dish with roasted vegetable mash and herb gravy; the Felucian Garden Spread, a plant-based kefta "meatball" dish with herb hummus and tomato-cucumber relish with pita bread; the Ithorian Garden Loaf, a plant-based "meatloaf" dish served with roasted vegetable mash, seasonal vegetables, and mushroom sauce; the Smoked Kaadu Ribs, featuring smoked country sticky pork ribs with blueberry corn muffin and cabbage slaw; the Oven-roasted Burra Fish, featuring Dijon-crusted sustainable fish with mixed greens, roasted vegetables, quinoa, and pumpkin seeds with a creamy green curry ranch dressing; the Oven-roasted Tip Yip, featuring roasted chicken with mixed greens, roasted vegetables, quinoa, and pumpkin seeds with a creamy green curry ranch dressing; and the Yobshrimp Noodle Salad, a marinated noodle salad with chilled shrimp.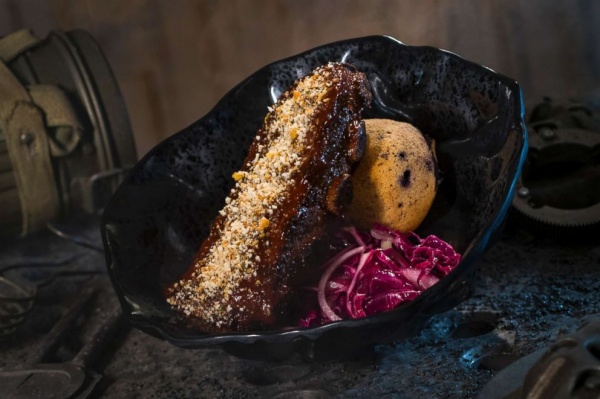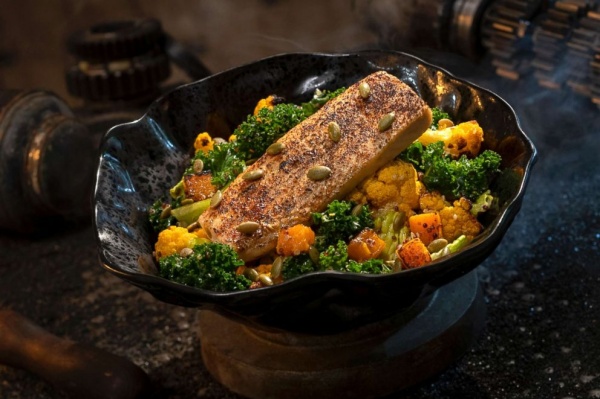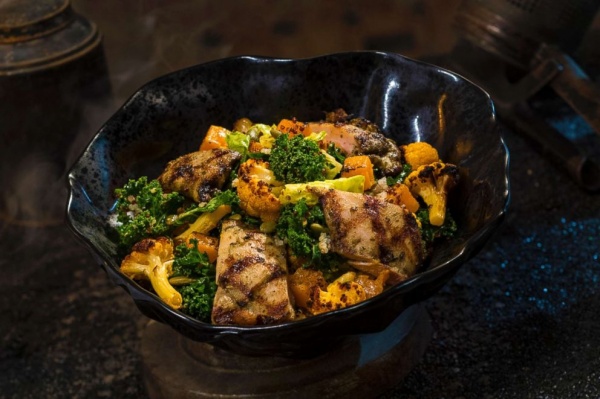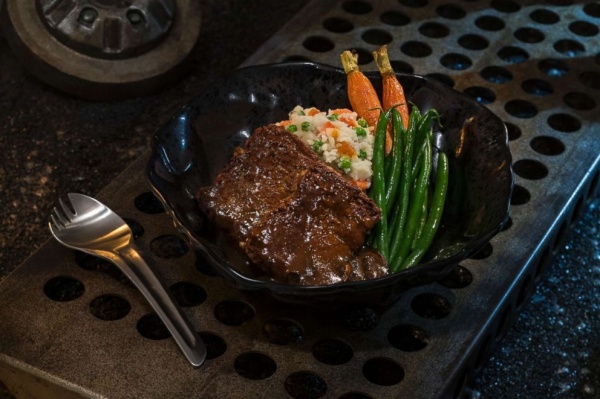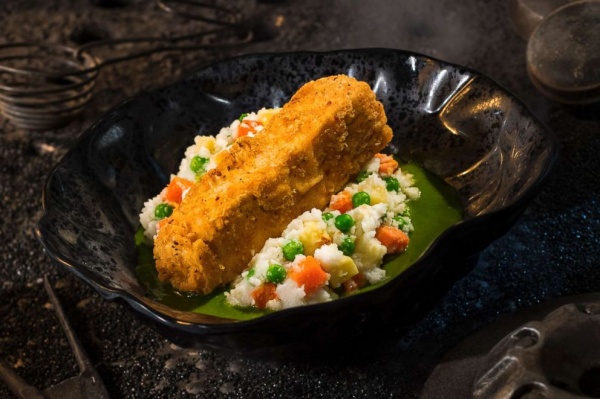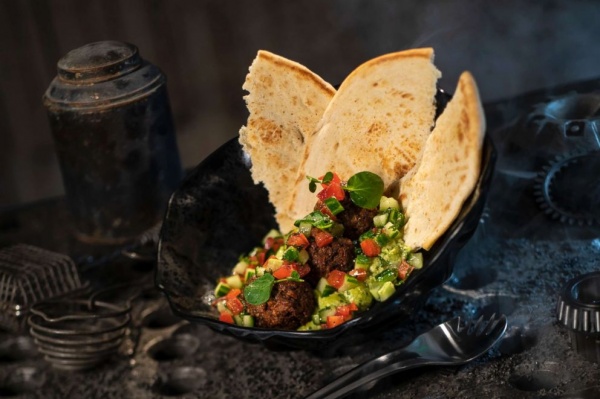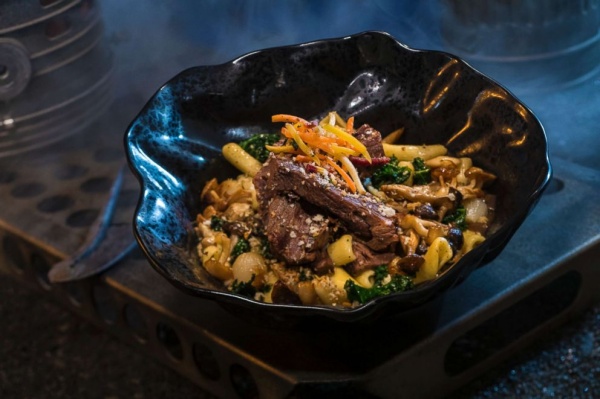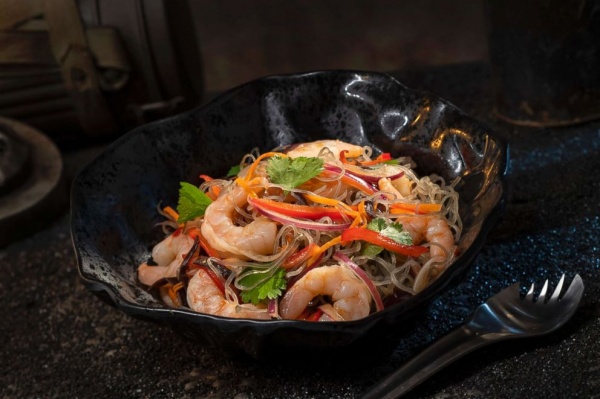 For dessert you can choose from a raspberry crème puff with passion fruit mousse, and chocolate cake with white chocolate mouse and coffee custard.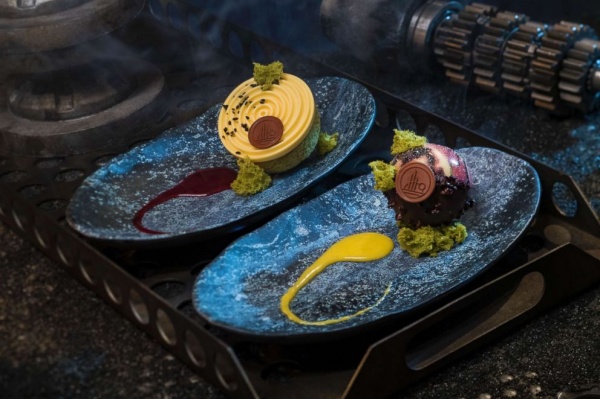 Two children's menu options will include fried chicken with macaroni and cheese; and chilled shrimp with vegetables and rice noodle salad (with sweet orange dressing).
Beverages here will be non-alcoholic and will include the Phattro and Moof Juice.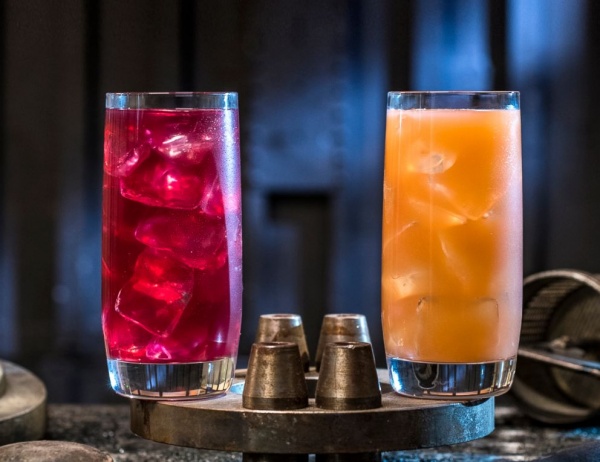 Ronto Roasters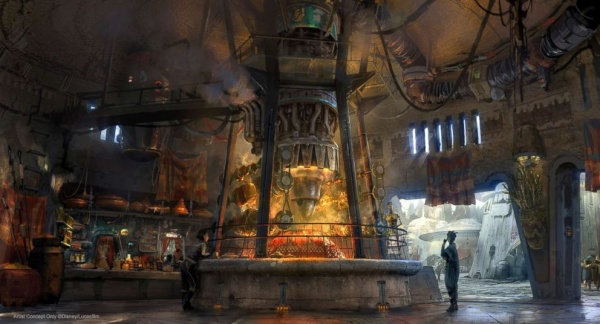 Ronto Roasters will feature a large podracing engine all with the goal of serving as a barbecue pit for mouth-watering sandwiches. Here Guests will encounter a former smelter droid, carefully turning the spit of meats.
Items include the Meiloorun Juice, the Turkey Jerky, and the Ronto Wrap filled with spiced grilled sausage and roasted pork.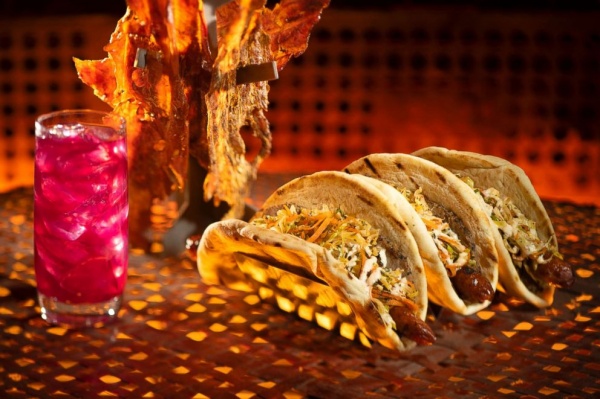 Guests will also be able to choose from a variety of non-alcoholic drinks, like the Sour Sarlacc or Tatooine Sunset.
Milk Stand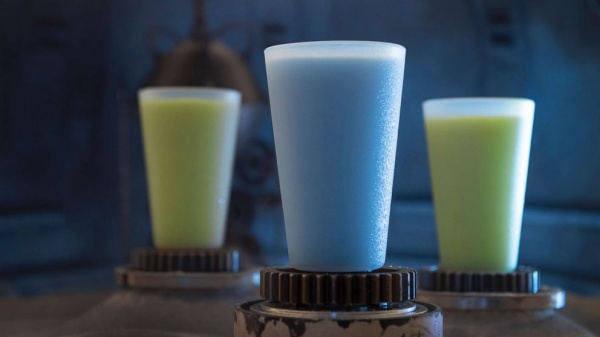 Don't miss your opportunity to grab either a blue milk or a green milk at the Milk Stand. To figure out how each one of these drinks should taste, teams brainstormed and figured out that both should be plant-based dairy drinks with bases made from things like coconut and almond milk combined with berry, melon and other tropical flavors.
Kat Saka's Kettle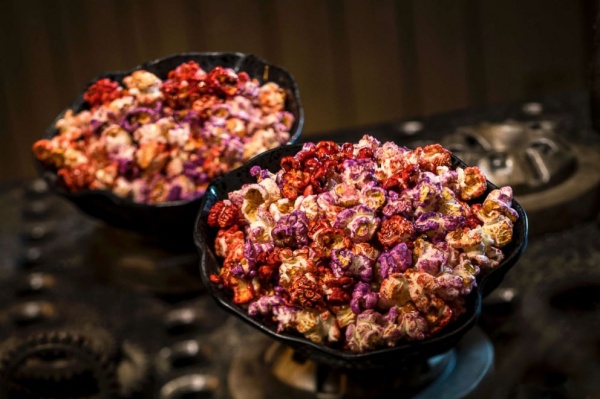 Guests wishing to have a quick snack can stop and pick up the Outpost Mix, a popcorn snack combining savory, spicy, and sweet flavors.
Shopping
Of course, there will be an opportunity to shop in Star Wars: Galaxy's Edge, but you won't find a t-shirt here brandishing the name Batuu. Instead, items are a bit more like you would see, as if this was a real, living city; that the planet really existed in the galaxy. Guests can pick up more "realistic" souvenirs.
The Droid Depot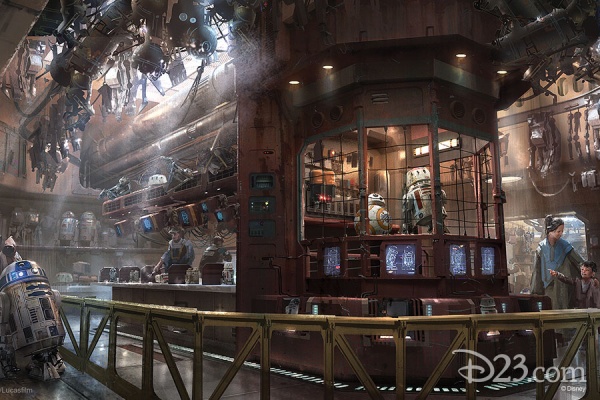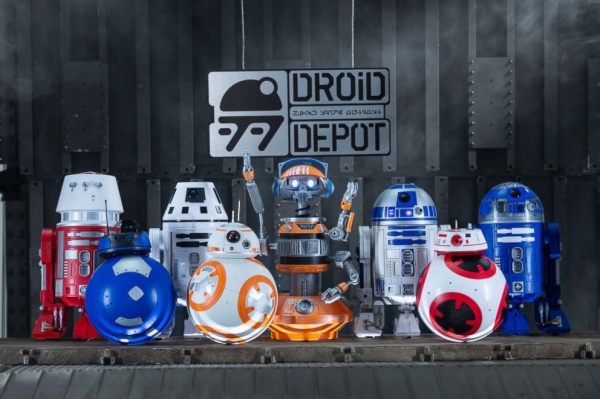 The Droid Depot in Star Wars: Galaxy's Edge is located in the market and invites Guests to pick parts and pieces off a conveyor belt, then build and customize their astromech droids (R-series or BB-series). The unique thing is that these droids are capable of interacting with elements in the land and responding to guests' behaviors.  The Droid Depot will also offer guests pre-built droids, including a C-3PO and a Rex who will happily play whatever music you have on your smartphone through an intergalactic Bluetooth connection.
Sa'vi's Workshop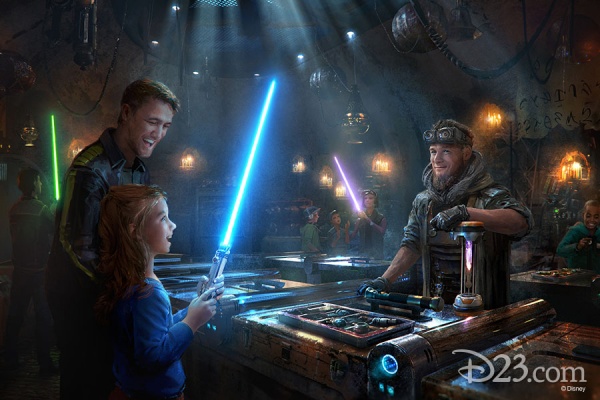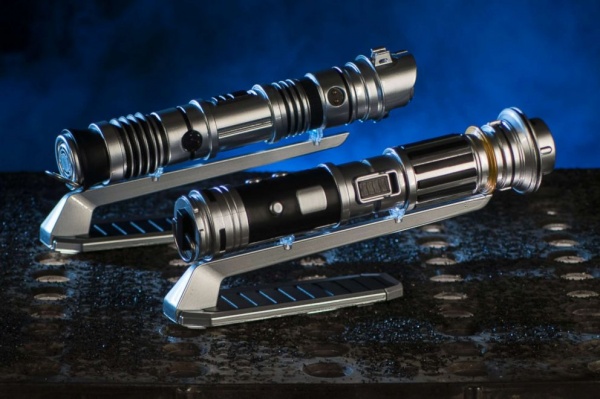 Do you want a lightsaber? Head over to Savi's Workshop! The story goes that Savi is a scrapper who has been collecting little pieces of lightsabers throughout the galaxy for years in hopes that one day, a true hero would come to his shop with the ability to actually put them together. That hero is you, as well as the 13 other people who can participate in this experience at the same time. (Expect long lines!)
Here at Savi's Workshop, Guests will be able to build their own lightsaber. Oh yes, and at the heart of every saber is a kyber crystal. Each guest will have four options to choose from to include in their saber: Peace Justice (modeled after Jedi from the Republic era); Power Control (a nod to the Sith); Elemental Nature (harnessing air, earth, fire, and water); and Defense (shrouded in mystery).
Dok-Ondar's Den of Antiquities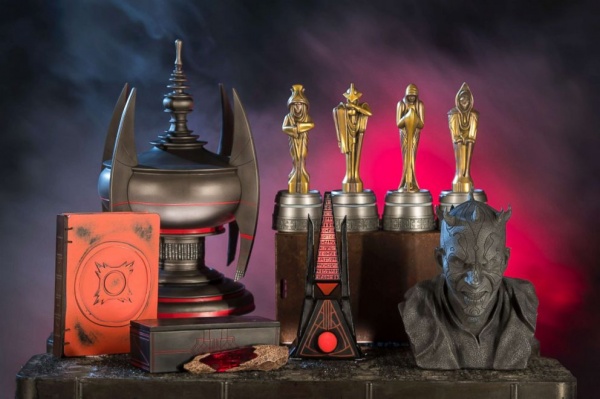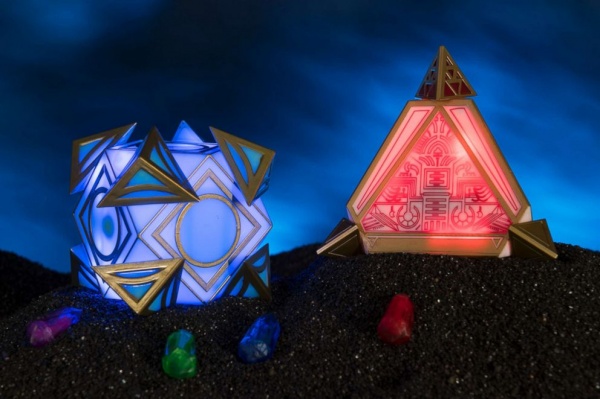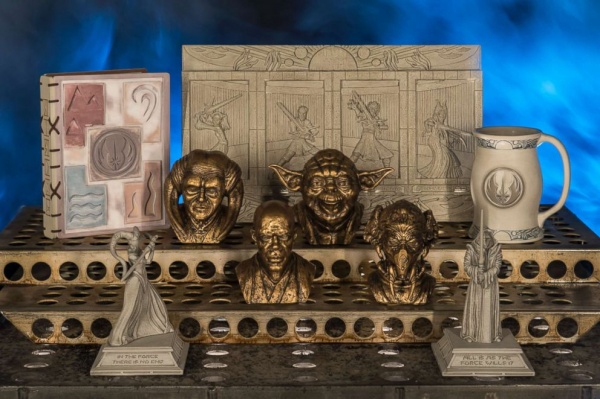 Inside Dok-Ondar's Den of Antiquities, visitors will find a selection of mysterious and rare items for sale representing different eras of the Star Wars galaxy, including ancient Jedi and Sith artifacts, holocrons, lightsabers, and more. As they explore the two-story shop's nooks and crannies, they will find Dok at his desk, checking his inventory, taking calls, and barking orders at his assistants.
Creature Stall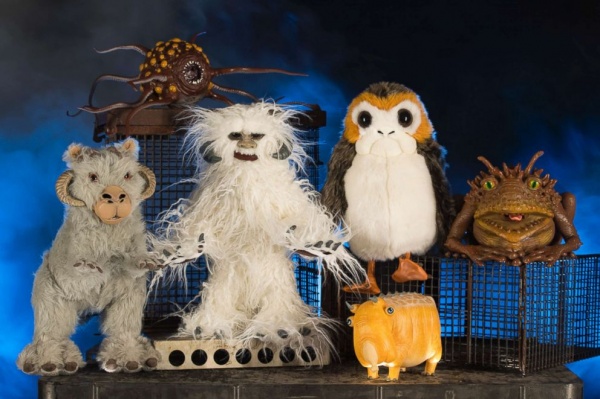 Guests who visit the Creature Stall will find some fascinating beasts from all across the galaxy, ranging from the friendly (porgs, tauntauns) to the not-so-friendly (rathtars, wampas).
Toydarian Toymaker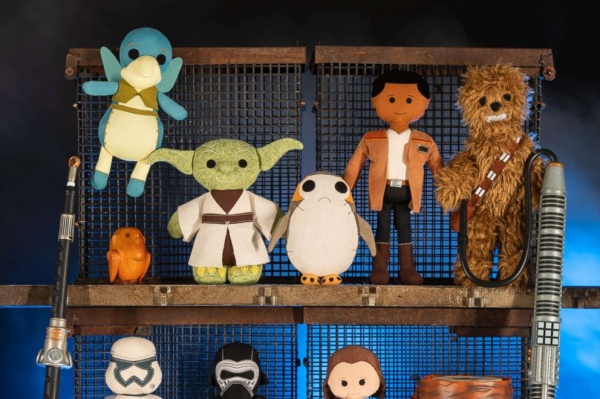 Nearby, you'll find the Toydarian Toymaker which will offer artisan-style plush characters, wood and tin toys, and instruments.
Resistance Supply
Resistance Supply will sell badges, hats, pins, and other accessories to help guests feel like part of the cause.
First Order Cargo
First Order Cargo will be easily identified by a never-before-seen First Order TIE echelon and gives tourists a chance to pledge their loyalty to the First Order by purchasing caps, gear, model ships, pins, and more.
Play Disney Parks App
Star Wars: Galaxy's Edge is officially the first land that has been designed to integrate with the Play Disney Parks app and it will offer interactive adventures and experiences.
When you enter the land, the Play Disney Parks app switches over to a Star Wars mode, allowing you access to several tools including Scan, Translate, Tune and Jobs. Through these, and dozens of bluetooth beacons located throughout Batuu, you can activate droids, download schematics from hacking ships, download secret messages from door panels and listen to transmissions from three factions inclined the First Order, the Resistance and the Smugglers. You can also translate some of the alien languages that are spoken or written throughout the land.
You can choose to complete jobs wit the app and there is an over-arching game that allows you to use scannable to try to tilt the balance from the Resistance to the First Order throughout your visit all while rewarding you with digital collectibles. There are even missions to complete in the app during ride queues.
Whew, so that about does it. What do you think about the information that's come out about Star Wars: Galaxy's Edge? Does this make you even more excited to visit? What are you looking forward to experiencing when visiting Star Wars: Galaxy's Edge? We want to hear your thoughts. Share with us in the comments, or on Facebook or Twitter!
Did you like this article? Make sure to share it with your friends! Check below for easy ways to share!
Want to visit Star Wars: Galaxy's Edge? Contact The Magic for Less Travel for more information and a free, no-obligation quote.